M Long Haulage & Daughters Ltd are an aggregate haulage company based in Dagenham Dock, in close proximity of London. M Long Haulage & Daughters Ltd works hand in hand with its sister company Neptune Contract Services Ltd who are our recycling partner. With this combination of our Haulage fleet and recycling plant, we can reduce the distance travelled for demolition waste from local areas including central London. Coupled with the fact that the same material can be recycled and reused by construction developments locally, is a huge plus for the environment and the reduction of carbon footprint and Co2 emissions.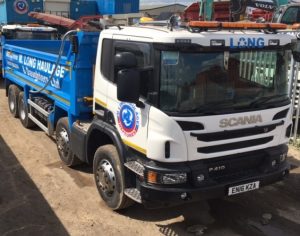 Christopher Benn The Operations Manager explains how M Long Haulage have made reductions in fuel use / and CO2 emissions. We have worked hard over the last 12 months assessing routes, mileage, Co2 emissions, the areas we are visiting and the affected stakeholders to analyse and evaluate the impact to then identify the best course of action to benefit all affected parties. We have worked with our drivers to find the best routes to sites, using local knowledge, driver experience, mapping tools, co2 calculators and costing tools. We then use this information to plan the best route looking at road safety avoiding high-risk points and time such as schools, Hospitals etc.
As the Operations Manager, it's my goal to reduce Co2 emissions and to move the business forward with the environment in mind. We have achieved this through planning, control and training which we have found has had a positive effect on decreased transport related fines and charges
M Long Haulage & Daughters Ltd has been with FORS for many years and was originally recommended to it by our External Transport Auditor and we are proud to say we are FORS GOLD the standards that we work to, with FORS as our standard measure it drives our business to be cost-effective, CO2 aware and safe!
M Long Haulage has found that FORS auditing has been a great success, passing all first time. We are confident in the knowledge that we are delivering what we say we are, we have found the auditors have been a valuable source of information with great knowledge sharing of best practices throughout the in industry.
We have utilised the tools given to us by FORS with us now having several FORS practitioners, the use of the driver licence checking, driver training including online training as well as the management tool.
'FORS has improved safety and compliance across the Fleet' – Billie Benn – Office Manager
From a business perspective, a key benefit of FORS has to be a cost reduction, by giving our staff training (Practitioners for example) it has given them the tools to look at Co2 and cost and through identification of issues and staff training (toolbox talks) things such as excessive idle can be reduced, turning the vehicle off and sitting waiting or having a break, small issues resolved to save money.
'Training is Key, FORS is a provider of framework for driver training' – Frank Fitzpatrick 
M Long Haulage & Daughters Ltd benefited from becoming a member of FORS and because of that success decided to progress to silver and finally and proudly to Gold. With this comes an increase in standards throughout our fleet from fuel consumption to trained staff all through the progression of FORS levels but the true reflection is the recognition for being FORS GOLD something at M Long Haulage & Daughters Ltd we are all very proud of.
Quantify your improvements
Performance data – Use figures (these may be performance management KPIs) that you have already provided to back up your words, see example below but it could be other sets of figures
| | | | |
| --- | --- | --- | --- |
| | MPG | Incidents per 100,000 Kms | Number of PCNs |
| Jan-Dec 2016 | 4.79 | 0 | 0 |
| Jan-Dec 2017 | 5.65 | 0.32 | 1 |
| Percentage improvement | 15.22% | | |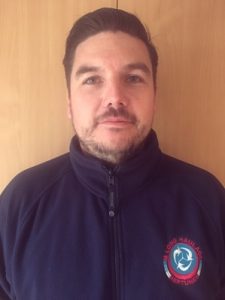 M Long Haulage & Daughters Continually works hard to improve on or mpg across the fleet, With the fleet replacement programme which is our set plan to co-inside with the Mayor of London's Emissions Plan, allowing us to ensure all our vehicles have the more efficient Euro 6 Engines before the Mayors role out. We look heavily into routes and planning as well as our new drive of "Turn it Off" where drivers are encouraged to shut their engines down when sat in traffic, on a break, waiting to be loaded/unloaded etc.
We Have only had two incidences this year, one accident which clearly wasn't our driver at fault and could not have been avoided by our driver. We have had one PCN which staff have received further training on.
Driver health and fitness review – We have worked hard with our team this year promoting Health and Fitness. One area we have looked at is cycling to work, we provide safe storage for bikes and promote the use of cycling to work and for exercise. This is a fantastic incentive for our business as this reduces Co2, promotes fitness and wellbeing in our teams also this helps charities as well as we as a company will be sponsoring our staff with charity cycle rides over the next 12 months to encourage others in our team to follow suit and increase the overall health of our team.
Communication is key, we encourage our staff to talk to us so we can help and support them with any health problems they have, giving someone time to deal with a problem early and the support to do so can reduce the chance of long-term sickness. If the relationship between the employer and the employee is current and positive, then the employee is going to seek help and advice earlier. This coupled with regular medical forms from GP's give us the chance to get a full picture and provide support.
Driver Recruitment, with 10 lorries on the road we pride ourselves in the retention of staff and find it very unusual to need to recruit a new driver, we also have a waiting list of drivers who have approached us for a job.
However, should we need to recruit we look for the basics first,
1)  How long they have driving experience. (minimum of 2 years' tipper experience)
2)  Licence check
3)  Work history
4) Standard of written and verbal communication
This is all assessed before an interview which would be followed a driving test to ensure the capability, customer service and general standards of the individual.
One alternative we are working on at the moment is a driver apprenticeship this is in conjunction with our local transport college and would involve the college providing training for customer service, maintaining a vehicle, environmental factors etc. and for us to train the driver who has already passed their HGV test with all the skills that follow that driving test in order to become a positive example and a reflection of our company values with top rate customer service skills.
M Long Haulage & Daughters Ltd takes noise pollution very seriously and below are a few of the ways we try to reduce this pollution.
Turning off engines. All engines are to be turned off when not in use, including sat in traffic, waiting to load or unload, or on break. At no time, should an engine be left idling for no reason.
Driver training. We pride ourselves on our team and our training with a good education and a knowledge and understanding of the issue we find drivers bringing new suggestions to us to reduce noise which is great as it shows their understanding and support.
Route planning, route planning is an important part of ensuring all environmental factors for a lorries journey helping to avoid sensitive areas and work with traffic flow, timing, costing and Co2 emissions.
Working times our yard opens at 7am till 5pm Monday to Friday we don't make deliveries out of this time.
Communication we work well to communicate with everyone in the delivery chain from collection at source, the driver, route planning and travel advice such as TFL and especially with third party involvement such as developers and groundwork teams to ensure the best delivery times to suit all, the route taken, the access to site, the availability to offload and all areas in-between.
Modal shift and alternative vehicles –
M Long Haulage & Daughters Ltd have a plan in place to update all our vehicles to Euro VI in line with the Mayor of London and TFL plans for emissions in London. We are continually talking to our major supplier of Vehicles Scania UK and discussing our needs and requirements for an electric vehicle to which we are keen to see Scania concepts for the future. 
As a family run business, we are proud of all our achievements especially being FORS Gold. This achievement shows our business as being an Industry leader with high standards and pride in what we do! We look forward to working with FORS in the future and developing our business with the tool from FORS.
Our future plan is to continue to make fleet improvements in line with FORS GOLD and governmental plans for a safer and more environmentally friendly London. We will continue to keep safety and emissions in our thoughts with all the decisions we make to our fleet.
To conclude, we have been proudly FORS Gold for 3 years now and hope to make this our 4 year. We look forward to promoting and using FORS aids such as 'Tool Box' talks, training, warning stickers and audits to continue to better our fleet and thanks FORS for providing such valuable aids.
M Long Haulage & Daughters Ltd LinkedIn Account
Please note: All published FORS Gold case studies have been submitted by the accredited company named above and transcribed verbatim