I, Mervyn Patrick Corr, started as a contract haulier, M P Corr Haulage, at Harper Lane, St Albans, to Redlands in 1985 delivering asphalt and aggregate. Redlands have been taken over by different companies and is now Tarmac a CRH company. I have expanded over the years and now operate two 8 wheelers and an artic. However we still deliver the same materials. My company has developed massively over the past ten years where I now employ 6 members of staff, including two of my three daughters, My third daughter previously worked for me but has since moved on with a family of her own. Over the past year I have really taken notice of trying to reduce fuel, CO2 emissions and NOx. The way I have tried to reduce these is by ordering two new 8 wheelers which will be Euro 6 and have features on them so the drivers will be more aware of how they drive to try and reduce these levels. I also monitor this by using the performance management that FORS provide us. To be fair I have not received any transport related fines, however with the online training that is provided by FORS keeps my drivers aware of road safety and especially vulnerable road users.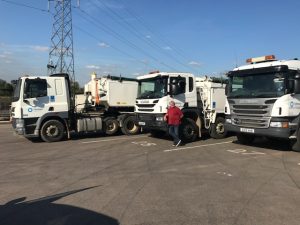 Approximately 6 years ago Tarmac introduced us to FORS. I was not initially aware of what exactly it was for and how it would benefit my company, however I did it as Tarmac required us to. Over the years I continued to do my Bronze audit and pass successfully, My daughter then decided she would come on board and help with the preparation for the audit. She is more computer literate than me and started finding useful tools that FORS offers to help with running a better company. Within a year she had made me go nearly completely paperless and made my audit quicker and easier. She recommended we went as paperless as possible as she knew that in the future FORS would offer more thing and benefit my company with organisation.
The initial FORS Bronze audit went very well. I had everything that was required however I was not very well organised. I had very few things that I needed to do to improve my score. However at the time I was not aware that I could progress to silver and gold. I was encouraged to input more detail into my evidence and go one step further than what was required. The audit showed me that I was complying with the industry standards and that I was running an efficient company, which was encouraging. However the main thing I needed to improve on was receiving and distributing more news and information on what was actually happening in the industry.
Once I was Bronze accredited I continued to run the business. It's only when my daughter explained in detail how to progress to silver and all the amazing tools available. We have really used the performance management tool as it produces information on fuel usage, CO2 and NOx on an easy read level. I can glance at the graphs and see that we are running at a good level. I am also able to make any rectifications needed very quickly. Personally, I have enjoyed the practitioner workshops available with the couple I have attended. I will attend all workshops as it refreshes my memory and gives me a good insight in reducing potential dangers.
There are three main areas I have seen improvement from being FORS registered and at silver accredited. The first being that I am very confident in my drivers' ability and general care for others. They have completed many of the e-learning topics and taken substantial knowledge from that. The second being that my whole business is more organised than before. With upcoming FORS audits I feel confident when going to do these. I also feel that I have good knowledge and a clear understanding of the industry as a whole. The third improvement has been that I am now able to reduce the amount of diesel being consumed. This is down to having a clear understanding from using the performance management system. I have ordered two new lorries to replace the two 8 wheelers which will be Euro 6. I have also gone out with each of my drivers for the day to see how they are driving and giving them tips to reduce the fuel consumption and ensure the lorries are running at the best efficiency possible.
Our main reason for progressing from bronze to silver and then going for gold is work motivated. Tarmac want everyone to be running a gold accredited business. Now tarmac distribute work on nights in accredited score. So gold get priority on work and so forth. My daughter has also been one of the reasons for progressing. She and I want the business to flourish and so she has taken on the task of progression. I feel that FORS has helped so much in a business concept that why wouldn't I progress to being the best I can be and use all of what FORS are offering.
In the table below you can actually see that there was not an improvement of MPG. However being able to analyse it I know why this has happened. The month of August the MPG was excessively high meaning the average of the 6 months has been affected. However over the next 6months with the drivers doing their E-Learning they should get better tip to ensure this drops again.
| | | | |
| --- | --- | --- | --- |
| | MPG | Incidents per 100,000 Kms | Number of PCNs |
| Aug- Jan 2016/17 | 5.9 | 0 | 0 |
| Feb-Aug 2017 | 8.26 | 0 | 0 |
| Percentage improvement | 40% | | |
I currently have a driver form for health and fitness which is in my gold accreditation. I have a very close relationship with all my drivers and if they ever are unwell or have a continuing problem I insist they go to the doctors.
As you can see in my application I have a strategy to employ new drivers, however they tend to be people I know or are recommended. But I do provide all training needed.
I have P series Scania's which are recommended to reduce noise. I have also ordered new trucks to replace my old ones so they will be fitted with the most current noise reduction pollution. Washing the vehicles are done at my operating centre where the washing facilities are up to date a noise efficient.
Tarmac move the majority of raw materials via train, but then it is our job to move them to smaller areas. The route planning is key to reduce road usage. When we deliver to somewhere near where raw materials come from we then bring the material back to the plant.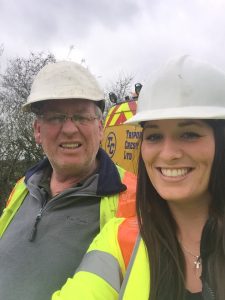 For the company we have so much in plan for the future. Eventually when alternative fuel vehicles become available I will be replacing my current ones, but until then I will continue to train my drivers to drive better and continue with their online training. My new vehicles that have been ordered are Euro 6 so will be at the best standard possible. My daughters will continue to help with the business and giving opportunities to people who need it.
Becoming Gold accredited will mean good things for my business. It will give me more motivation to run the best and most efficient company I can. Using all the FORS tools available this will enable me to do this. I would like to become more involved in developing the industry. It has not always been easy running a business but with FORS and all their support it has become a bit easier. Going forward I would like to continue maintaining an efficient business. However I am not anticipating or particularly wanting to grow anymore.
Please note: All published FORS Gold case studies have been submitted by the accredited company named above and transcribed verbatim.