MP Moran and Sons is a well-established builders and plumbers merchant. We have been supplying the construction industry for more than 40 years. We supply and deliver over 22,000 products from our 5 strategically placed stores across London and Hertfordshire. We believe that our transport fleet is an essential part of the business.
Nick Biddle, Group Transport & Fleet Compliance Manager at M P Moran & Sons Ltd explains how the company have benefitted from the FORS accreditation and improved on operational efficiencies such as fleet safety, compliance and environmental impact.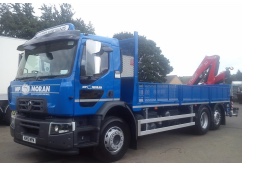 As a continually growing company, we have the drive and passion to meet and further the ever- changing requirements towards our legal and moral obligations as to industry standards and Vulnerable Road Users (VRU). This is one of the reasons behind us joining FORS, as we believed it would benefit us greatly, by aiding our already extensive level of health and safety, and fuel efficiency within our transport fleet operation. One of the things that stood out when researching FORS was their opinion on fuel efficiency, which we see as identical to our own ethos.
Nick Biddle, Group Transport & Compliance Manager & FORS Practitioner, says,
'Fuel efficiency is as important for operating success today as it has ever been.'
We originally passed our Bronze assessment back in 2014. As well as the extensive use of FORS performance management toolkits available which include eLearning modules and SUD courses (safe urban driving), we were able to improve our compliance systems and procedures to help aid us in progression towards our Silver status in 2015, and in the consecutive year achieving the coveted Gold accreditation. This is now the standard to which we aim to work to at all times, whilst also understanding new technology and all safety initiatives that we believe will help maintain safety for all Vulnerable Road Users within our daily interaction whilst carrying out daily business operations.
MP Moran & sons have seen some strong positive changes in the way that we can communicate and improve operational improvements towards driver personal development, Road Safety and Vulnerable road users. One significant benefit comes from the FORS Toolbox talks. These are especially helpful for the Managers & Health & safety Representatives in each branch to brief drivers on key areas related to the FORS standard and any other legislative updates to help promote a positive safety culture, Whilst improving efficiency and environmental Awareness.
'Drivers are even more engaged with the operational team in communicating daily encounters, delivery restrictions and feedback towards compliance issues since becoming FORS accredited back in 2014.'
Since completing the FORS Practitioner workshops & RoSPA Driver Assessors Qualification, MP Moran have been able to bring a new perspective and knowledge to the transport operation, through driver assessments, incident investigation and Driver performance. Being able to highlight and communicate these key areas to assist feedback to both operational and driving teams we have seen significant improvements with our co2 emissions & incidents being reduced while fuel consumption has been enhanced.
| | | | |
| --- | --- | --- | --- |
| | mpg | Incidents per 100,000 Kms | Total CO₂ Output |
| Jan-Dec 2016 | 5.55 | 0.37 | 1023.25 |
| Jan-Dec 2017 | 6.19 | 0.24 | 941.75 |
| Percentage improvement | +11.4% | – 29% | – 11.6% |
*Annual improvement in MPG and Incidents per 100,000 Kms
Driver health and fitness review – We are currently conducting six monthly health declarations with all fleet staff, confirming they are fit to drive, alongside a six monthly eye test, to meet legal requirements set by the highway code and DVSA.  Drivers can easily notify ourselves towards any changes in health or personal circumstances that may affect their fitness to work through our Health & safety management portal at any time 24/7 .
Strategy for recruiting new drivers – As a company we believe that Driver retention is the best way forward, However not always an option. Measures such as internal progression through licence categories, employee referral schemes and the use of recruitment agencies have been very productive in the past.
Modal shift and alternative vehicles – Although alternative modes of transport and fuels have not been a viable option, we continue to learn and investigate all routes and avenues possible to reduce our carbon footprint for the future. While this is not an option at present for the company, we continue to train all staff in the benefits of the FORS eLearning modules 'fuel-efficient driving/ Lo-City: Time to clean up', which in turn has positive impact on fuel reduction and emissions improvements.
To continue to make company improvements towards our fleet, we will only procure Euro VI vehicles and have done since 2014. All our vehicles are fitted with camera systems, close proximity sensors and left turn alert, and all of our vehicles in scope have been ordered with direct vision panels to the nearside door panel to aid and improve blind spot minimization. Driver standards and personal development (DPD), is at the forefront of our philosophy and ethos. Proactive training assisted by being FORS Members, will help increase economic driving skills and awareness towards Vulnerable road users by the eLearning modules and SUD (safe urban driving) courses, offered from other FORS associates.
Achieving and maintaining the FORS Gold standard for MP Moran & Sons has been beneficial and rewarding at the same time  We are incredibly proud of our fleet and what is represents about our company's ideologies surrounding health and safety and compliance.
Visit us: Facebook, Twitter, Instagram and  Website