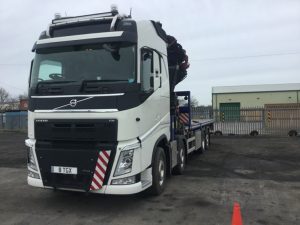 Mark Bevins Haulage are based just outside Heathrow Airport and have been supplying specialised long reach hiab vehicles to the construction and haulage industry for more than 30 years. Mark Bevins explains that FORS have enabled us to reduce our CO2, NOx, PME improve our road safety record and decrease any transport related fines and charges.
We first became involved with FORS through our work with London Underground and several major infrastructure projects and as we have always taken Health & Safety very seriously, FORS was a natural progression for us leading on from our work at LU, Heathrow Airport and for the MOD.  FORS has helped benefit us by enabling us to achieve better driving standards through their driver training programme – both classrooms based and through the e-Learning modules. The FORS toolbox talks combined with our own task specific toolbox talks, raising the awareness of our drivers and improving our vehicle safety equipment have led to all our drivers and sub-contractors having a better understanding of both on site and road safety and has raised their awareness of the needs of other vulnerable road users and over the last 4 years our accident rate has been reduced by 100%.
We passed our initial bronze audit the first time round and as Health, Safety and Compliance have always been important to us it was simply a matter of aligning our systems with FORS.
Once accredited we put one of our employees through the FORS Practitioner Workshops which proved to be most informative and our drivers have completed the SUD course and the eLearning and have given it some positive feedback.
"Achieving FORS accreditation, and adhering to the FORS Standards, has helped us to improve every aspect of the running of our company, ranging from improved driver awareness and training to the environmental impact that our vehicles are making" Mark Bevins – owner.

"Progression to FORS Gold will be a natural progression for our company and will further demonstrate our commitment to the FORS Standards, it will assist us to raise our company profile and help us further promote FORS within the industry" Mark Bevins – owner.
As a company we are always looking at ways reduce the environmental impact of our vehicles, through driver awareness and training, and through the monitoring of vehicles fuel and emissions, which may highlight any trends in driver behaviour. But with the nature of the vehicles we operate, with the engine potentially idling for long periods of time, whilst the load is carefully lifted and maneuvered into position, we are mindful that any fluctuations of these figures are not always related to driver habit but reflect not only the change to a larger heavier vehicle but also a change in the kind of work being undertaken.
| | | | | | | | |
| --- | --- | --- | --- | --- | --- | --- | --- |
| | MPG | Incidents per 100,000 Kms | CO2 | NOx | PM10 | Number of PCNs | Proportion of fleet that uses alternative fuels |
| Jan -Dec 2017 | 8.33 | 1 | 101.32 | 210.75 | 3.15 | 0 | 0% |
| Jan -Dec 2018 | 7.93 | 0 | 101.62 | 201.89 | 3.09 | 0 | 0% |
| Jan -Dec 2019 | 7.25 | 0 | 93.49 | 160.70 | 2.78 | 0 | 0% |
| Percentage improvement | -0.6% | 100% | 7.73% | 23.75% | 77.75% | 0% | 0% |
Driver health and fitness review – at the beginning of each year all of our drivers and office staff are required to fill out an in-depth medical declaration – this is repeated on an annual basis and in addition to this we require our drivers to pass a 'Safety Critical Worker' medical every three years carried out by and independent SEQOHS approved provider – or as required by our current projects, in addition to this medical our drivers are also required to meet our clients' project specific requirements which involve attending and passing all job specific safety critical medicals, D&A testing and an on-site vehicle specific driving awareness assessment. We also have an extremely strict cloud based reporting system in place which requires drivers to report any medications taken on a daily basis.
All staff attend the optician every 12-months – and we carry out an onsite vision assessment ever 6-months to ensure that they can read a number plate at the legal distance as mandated in the Highway Code.
The drivers have all been issued with a driver's handbook, which requires the drivers to report any change to their health & vision to the company and forms part of their contract of employment.
If one of our drivers were to inform us of a health problem meaning that they were unfit to drive, they would be taken off of driving duties, and this would lead to an investigation and we would require medical evidence from the driver's Doctor informing us that they were fit to drive again. The company would only allow the driver to driver once we had received the letter. The driver would then be subject to recommended reviews, until we were satisfied that they were fully fit to drive and compliant with all DVSA requirements. Whilst awaiting clearance to drive again the driver would be assigned to other works wherever possible.
We also take the mental health of our workers very seriously and strive to achieve a good 'work/life' balance wherever possible – for example re-arranging shifts to enable drivers to attend school/family events and providing paid time off to attend funerals and associated events wherever possible.
We have recently implemented a recruitment policy for the company, that outlines that we as a company are committed to employing young drivers/employees where possible and training them into that role. As such we are currently training up our female vehicle technician to drive and operate our hiabs. She has recently passed her Class 2 and Class 1 driving test, her ALLMI hiab operators test – which she passed with flying colours and now just has to complete her ALLMI Slinger Signaller course, NPORS, IPAF, SUD, FORS e-learning modules and some driver CPC modules before she takes to the road in an 'apprentice driver & hiab operator' role.
As our operating centre is only used for the parking up of our lorries, we generate very little noise except during idling when we are carrying out our defect checks or when we are carrying out works for our neighbours. The vehicles are fitted with white noise reversing alarms which further help to mitigate the noise impacts. The vehicle repairs and servicing are carried out off-site at main dealers.
Apart from our MOD work the majority of our work is on the UK road network and it would be impractical to move electrical equipment from the factory to the work face on the road other than by road. We have investigated electric, hydrogen and gas vehicles but due to the weights of loads carried, workface location and the specialist equipment carried there are currently no alternative fuelled vehicles on the market at present – but … this is something that is kept under constant review and should a viable alternative fuel vehicle come onto the market then it is something that we would consider. We have also spent a considerable amount of time searching for a low entry cab with good all round vision but they at the time of purchase of the latest Euro-6 vehicle there were none on the market that were compatible with our business requirements – again this requirement is being kept under review vis a vis our next vehicle.
Our 8-wheel Euro 5 equipped with a 66t/m Fassi Lorry Loader crane was recently replaced with a Euro-6 vehicle equipped with a long-reach 82t/m Fassi compete with a winch and fly job which enables us to meet the changing needs of our clients. This means that all of our vehicles are now Euro-6 and are compliant with the current Direct Vision Standards. Our future plans  for the company are to ensure that our safety & environmental record continues to be of the highest standard, through driver training, personal development and fitting the very latest in vehicle safety & monitoring equipment.
All our future vehicles will be equipped to the highest safety standards, including mirrors, door windows, cameras, lane departure warning, anti-collision management systems, stop start technology, larger foot pads etc while paying attention to the environment, and of course our drivers will continue to be trained to the highest standards possible.
We have also moved our operating centre to enable drivers to walk or cycle to the yard from either their home or station.
As part of our commitment to FORS and improved Health & Safety standards in general we have encouraged all of our subcontractors to join FORS, and we have implemented FORS throughout our supply chain wherever possible. All of our vehicles have the FORS livery on them, and we are in effect constantly promoting FORS within the construction industry. We are more than happy to answer any questions put to us by people on site regarding FORS, and what it is all about. Equally, all of our company correspondence and paperwork contains the FORS logo.
Achieving FORS Gold Accreditation will enable the company to show our clients how dedicated we are as a company to improving not only onsite good health and safety practice but also road safety and the safety of all vulnerable road users not only in London but nationally as well. We will continuously use what FORS has taught us to help reduce our carbon footprint and make the roads so safer for everyone that uses them.
We are also committed to continually improving the industry's safety standards, whilst looking towards reducing our emissions through the use of quieter and less polluting vehicles and better driving standards.
*Please note: All published FORS Gold case studies have been submitted by the accredited company named above and transcribed verbatim