Mark Smithson Transport was set up in 1989 providing a service to the general haulage industry, we quickly made our mark in the abnormal and crane loading and offloading sector. We now specialise in machinery removals and installations as well as abnormal load deliveries and general haulage. My name is Mark Smithson and I am the Owner & Managing Director of Mark Smithson Transport. My Case study is called Fuel Efficient Driving. Mark Smithson Transport are based in Ossett, West Yorkshire and supply a general haulage service with Crane Assistance and an Abnormal Load Service to companies nationwide. Paul Smithson, FORS Coordinator & Compliance Officer, explains how Mark Smithson Transport have decreased transport fuel costs through using FORS led initiatives.'
We were first made aware of FORS in the early stages with companies asking us to adopt the best practices FORS had to offer. We realised it would help us to achieve best practice and benefit us by using the toolbox to communicate the companies polices and procedures to our drivers. Site Assessment sheets are completed by our drivers and then used to contest any PCN's issued during loading/unloading operations, toolbox talks on Fuel & Tyre Management were held where best practices were highlighted and put in place. Daily fuel reports provided by Fleetcheck allowed closer monitoring, with engine idling and Driver Behaviour managed by Gtrak Telematics. Using lorry mounted cranes doesn't allow for much engine idle times, however new stop/start technology fitted to the new V8 Scania and the 62t/m Palfinger Remote Control Crane, allows the operator to stop the engine whilst awaiting instruction from the Engineers.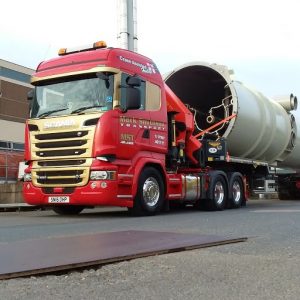 We worked hard on our first audit to ensure we had all the policies and procedures in place. We used our first audit as a benchmark in best practice and slowly improved year on year. Mark Smithson Transport gained Silver accreditation on our first attempt as 2 years on Bronze prepared us perfectly for the transition. From this point Mark Smithson Transport had FORS Gold in their sights.
Once we were Bronze we used all the benefits provided by FORS to improve our SSOW and ensure all WRRR were reduced where reasonably practicable. Driver CPC Training was provided by FORS Associate Protea Training Co Ltd and Fleet Source. We used the toolbox talks and the Elearning provided by FORS to ensure our drivers were aware of their responsibilities in helping Mark Smithson Transport operate safely and maintain the FORS Standards.
Completing the FORS Approved SUD Training changed the way our drivers operate around Vulnerable Road Users. Paul Smithson, FORS Coordinator and Compliance Officer 
The Drivers at Mark Smithson Transport were quite reluctant to attend FORS approved SUD Training, but all agreed it was the best Driver CPC Course they had attended. The course helped our drivers understand their part to play in protecting VRU's.
Once we had achieved FORS Bronze, we realised the benefits of Silver were within our grasp. At the time of going for FORS Silver, no other general haulier had achieved FORS Silver in our area, so we wanted FORS Gold to show we were the best in our field – Paul Smithson, FORS Coordinator and Compliance Officer 
Better Fuel Figures and Lower Engine Idle Times
Following the advice provided by the FORS Toolbox Talks, Drivers attending Driver CPC Training, which included fuel efficient driving and the benefits of reducing engine idle times and close monitoring of Driver Behaviour an increase in MPG's was achieved across the fleet. This was a great achievement considering the weights the vehicles are carrying.
| | | | |
| --- | --- | --- | --- |
| | MPG | Incidents per 100,000 Kms | Number of PCNs |
| April-March 2016 | 6.9 | 2 | 0 |
| April-March 2017 | 8.5 | 3 | 1 |
| Percentage improvement | 23.1% | 50% | 100% |
*Annual improvement in MPG and Incidents per 100,000 Kms
We use Fleetcheck to record Driver Health Declarations, at induction and then every 12 months thereafter, eye sights are conducted at induction, every 6 months or following an incident or near miss. All our drivers are required to inform the Transport Manager of any changes in health which may affect their ability to drive. Drivers are also required to inform the Transport Manager of any medications being taken (prescribed or non-prescribed). Driver Health & Well-being are subjects covered during toolbox talks.
Mark Smithson Transport are members of ALLMI and require any new driver to complete ALLMI approved Training, FORS Approved SUD Training and any relevant Driver CPC Training as a matter of cause. Taskmaster Driver Recruitment are used to source new drivers insisting they only provide SUD qualified drivers. All our driver's complete a thorough induction explaining how the FORS Standards are used as a benchmark in best practice, toolbox talks are used to communicate company policies and procedures and driver assessments are used to ensure we only recruit the right driver for our operations.
Mark Smithson Transport take great care Noise Pollution and assess all their activities carefully to reduce noise where reasonably practicable. Drivers are required to drive off when leaving the operating centre using low revs and as quietly as possible. Lorry Loaders are fitted with either power on demand or stop start technology to reduce engine noise whilst loading. Whilst the washing facilities are limited to between 09.00 and 17.00.
Whilst Mark Smithson Transport have considered both a modal shift and an alternative fuel, due to the nature of the business (Abnormal Loads) neither using the canals, railways or pallet networks were an option, as we're using an alternative fuel. Any changes in fuel types shall be considered in the future.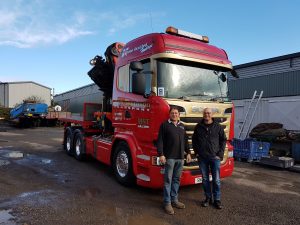 We are constantly monitoring changes in the transport industry and will take on board any changes which shall benefit both the company and the environment. In order to make continual fleet improvements, all our new trucks will be fitted with Euro 6 engines and engine idle cut off devices fitted to the lorry loaders. Any new safety equipment implemented to protect vulnerable road users shall be embraced to ensure our drivers are operating safely and complying with the FORS Standards.
Continuing our FORS Gold accreditation shall provide evidence we are maintaining the best practices required to meet the Gold Standard. Achieving the Gold accreditation shows customers how serious we are about reducing WRRR and the part Mark Smithson Transport play in ensuring all vehicles share the roads safely.
FORS Gold is the benchmark in the Transport Industry all operator should strive for.
Please note: All published FORS Gold case studies have been submitted by the accredited company named above and transcribed verbatim.
Mark Smithson Transport: Facebook
Mark Smithson Transport: Website
Mark Smithson Transport: Twitter
Mark Smithson Transport GooglePlus
Linkedin Mark Smithson Transport
Mark Smithson Transport Email Address: traffic@mst.uk.com