Mark Smithson Transport are based in Ossett, West Yorkshire and have a fleet of various specialist trailers as well as lorry mounted cranes used to make moving our customers products as safely and painless as possible. Janet Warner Armstrong our FORS Coordinator and Fuel & Emissions Champion explains how embracing the FORS ethos in to our company has both improved our fuel consumption and improved our environmental impact as well as reduced our incidents and collisions.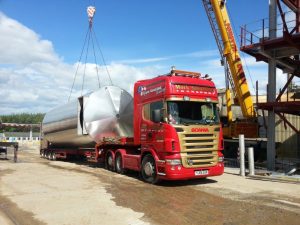 We were first introduced to FORS in 2009 to meet contractual agreements. We quickly embraced the FORS Standard and used it as a bench mark in our Health and Safety Policies and procedures.
We took the FORS accreditation seriously and quickly realised the potential FORS had to offer. Mark Smithson Transport passed the Bronze accreditation and then progressed to Silver. Using the toolbox talks and approved training providers on the FORS website and associates, ensured our drivers were trained to the highest standards. Monitoring Penalty Control Notices and Fixed Penalty Notices using the templates provided on the FORS website, ensured each case was recorded, investigated and reacted to accordingly. This resulted in less PCN's being issued and more being overturned at appeal. Our Compliance Manager attended a FORS Practitioner Course and we recently took on board FleetCheck to control our filing systems, allowing everything from a Vehicle PMI report to a Drivers eyesight check renewal date, available at the touch of a button.
 'FORS has assisted Mark Smithson Transport in total compliance'
All our Drivers have completed Safe Urban Driver Training whilst all our vehicles are fitted with a full complement of safety equipment to ensure a safe delivery every time. Using Toolbox Talks provided by FORS has improved the way Mark Smithson Transport communicate company policies and procedures. FORS Practitioner courses provided the perfect opportunity to network with other FORS members. Using the Performance Manager allows us to monitor individual vehicles as well as vehicle types, reacting to spikes and trends.
 'Mark Smithson Transport' 'proud to be part of the ever increasing FORS family'
Operating  5 vehicles on STGO2 plates comes at a cost, seeing an upturn in heavy haulage over the last 12 months has increased our overall fleet MPG but it was reduced thanks to G-Trak Telematics monitoring the engine idling and drivers attending Fuel Efficient Toolbox Talks. We have reduced non productive engine idling over the previous 12 months. Using the FleetCheck system allows maintenance and fuel costs to be monitored closely reducing down time and ensuring the fleet runs efficiently.
| | | |
| --- | --- | --- |
|   | MPG | Incidents per 100,000 Kms |
| Apr-Mar 2015 | 7.89 | 0 |
| Mar-Apr 2016 | 6.94 | 0 |
| Percentage improvement | -13% | 0 |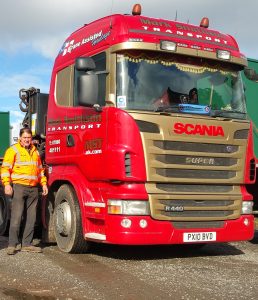 Gaining the FORS Gold accreditation, shows how committed we as a company are to ensure both road safety for employees and for vulnerable road users alike. We have taken on board many new procedures on our journey to Gold accreditation and will continue to develop our skills as a safe and competent haulier operating throughout the UK.