Mark Smithson Transport are based in Ossett and supply general haulage, abnormal loads and specialist crane off loads to customers across the UK and into Europe. Paul Smithson, FORS Coordinator, explains how Mark Smithson Transport have seen reductions in fuel used per mile, reduced CO2 emissions, lowered NOx and Particulate Matter emissions, improved their road safety record, decreased transport related fines and charges through FORS.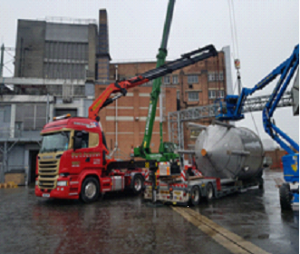 We came across FORS in 2009. We soon realised it would help us to achieve best practice and benefit us by taking on board the FORS standard as a benchmark in best practice.
Mark Smithson Transport passed their initial audit first time round, this encouraged to use the tools and advice provided on the website to make the transition easier from Bronze to Silver.
'Once we were Bronze we really made the most of the benefits on offer, in particular using the toolbox talks and the information within the TruckSmart Toolkit as well as searching the website for approved equipment installers.' – Paul Smithson FORS Coordinator.

'FORS workshops have been a practical way of both improving our knowledge, sharing best practices and learning from others. We have implemented toolbox talks, Health Declarations and now use the collision Manager to record any incidents. Since the implementation we have seen improvements in collision reporting procedures and safe loading practices.'- Mark Smithson Owner.
Once we were Bronze we decided that we should progress to Silver because no other operator in our area had achieved the Silver accreditation, in particular we wanted to show our customers we were not only using the accreditation to meet contractual obligations but in fact we were two steps ahead of any competition regarding best practice and compliance.
| | | | |
| --- | --- | --- | --- |
| | MPG | Incidents per 100,000 Kms | Number of PCNs |
| Apr-March 2015 | 7.89 | 0 | 0 |
| Apr-March 2018 | 6.99 | 3 | 0 |
| Percentage improvement | -11% | 300% | 0% |
All our new drivers are required to complete a health declaration, which is followed up by an annual driver declaration, eyesight checks are completed at induction, periodically every 6 months or following an incident, collision or near miss.
Mark Smithson Transport operate STGO vehicles and take on drivers with likewise experience, any driver showing an interest in driving abnormal lorries are trained in the use of the vehicle and put through their ALLMI Lorry Operator training Course.
Noise has been monitored on site using the Xdb app recommended on workshop 10 of the FORS Practioner workshop. Drivers are advised to access the motorway via the local bypass rather than pass the local school during peak times. Truck washing may only take place during 09.00 & 17.00, whilst times the machine may be used are reduced to 30-minute intervals. Drivers operating lorry loaders are issued hearing protectors, whilst the latest crane lorry is fitted with stop start technology on the crane.
Due to the nature of our business which specialises in abnormal loads the option to use alternative modes of transport are restricted. We have considered using alternative fuels and have attended the CAZ seminar in Leeds, but again access to fuel cells is restricted, however we have spoken to Calor Gas as an alternative fuel provider. Any future alternatives shall be investigated and chosen once they become available.
In order to make continual fleet improvements we will be purchasing Euro VI vehicles, purchasing Eco ramp trailers, revising the way we monitor driver fitness and health, procuring high visibility vehicles and fitting 360′ cameras as this will help our company to run efficiently and play our part in protecting both the environment and the Vulnerable Road Users.
Retaining the Gold FORS accreditation, shows how committed we are as a company to ensure both road safety for employees and for vulnerable road users alike. We have taken on board many new procedures on our Long Haul to Gold accreditation and will continue to develop our skills as a safe and competent haulier operating throughout the UK and into Europe.
Contact our email, and visit our Facebook, Website, Twitter and LinkedIn