Marshalls are one of the largest suppliers of hard landscaping materials to the construction sector. Steve Clarkson, Southern Regional Logistics Trainer, explains the importance of being a FORS Gold member. During my 20 years in the transport industry I have seen massive improvements in vehicle design, driver training and health & safety. It is important for Marshalls to demonstrate that we are fully committed not only to the safety of all our employees but also any members of the public that we should come in contact with. Reducing blind spots and increasing all round visibility on our vehicles enables our drivers to stay safe and keep others safe at all times.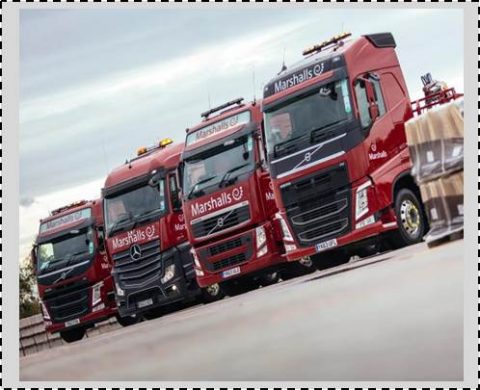 We have been a member of FORS for many years now, although being a member is for contractual reasons it is also important for us to demonstrate our commitment to FORS within the industry, always focusing on new and even better ways to deliver our products, reduce fuel consumption and work with other FORS members.
We have recently renewed our Bronze accreditation, we were audited at 3 sites, Sandy, St Ives and Halifax. We passed 2/3 with the third only being minor issues which were all addressed on the post audit which we then passed. We are now in a very good position whereby all of our depots are fully involved in maintaining our FORS membership and continue to work towards maintaining our Gold accreditation.
As mentioned above we are committed to maintaining our Gold accreditation. Steve Clarkson has completed the FORS Practitioner workshops and we are currently rolling out the FORS toolbox talks to all of our drivers. At the start of this year we covered safe loading and driving as part of our in-house Driver CPC modules, we are regularly monitoring driver performance with the objective of accident reduction and achieving a better mpg through in cab training.
'FORS toolbox talks have not only been useful for our drivers, but they have also given Managers more awareness when it comes to the roles of an LGV Driver'
SUDS training has made a huge difference with the way our drivers view vulnerable road users such as cyclists. As much as drivers can be a little apprehensive when it comes to the on road cycle training, they certainly come away learning so much more which enables them to not only anticipate what a cyclist is going to do, but also to appreciate the room/space cyclists need when the vehicle is overtaking them or turning left at traffic lights. We believe the training has made drivers and cyclists respect each other more when on the road.
'By continuously implementing training to our drivers, we are confident in knowing that we are offering a first class service when it comes to delivering our products '
 The following shows the improvements over the last 2 years.
 

 

Average MPG
Incidents per 100,000 Kms
Jan-Dec 2015
7.74 taken from Masternaut
15,631,890 km – 79 incidents
Jan-Dec 2016
7.67 taken from Tom Tom
16,717,155 – 69 incidents
Percentage improvement
 
21%
Annual improvement in MPG and Incidents per 100,000 Kms
Being a member of FORS means that we can demonstrate our commitment to the industry when it comes to health & safety, we can also show our customers that our number one priority is to ensure the safe delivery of their products and to manoeuvre in a safe way when on their premises with all drivers having all round observation by using the built in equipment on our trucks and trailers.
Please note: All published FORS Gold case studies have been submitted by the accredited company named above and transcribed verbatim