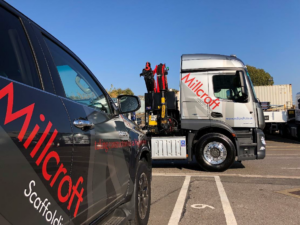 Millcroft Services Company Head Office is based at Salutation House, 1 Salutation Road, Greenwich, London, SE10 0AT. It is from this location that the Directors, Estimating, Design, Planning, Contract Management, Accounts, Administration & Scaffolding Materials Depot operate.
Brian Duffy, Millcroft transport manager, explains how Millcroft Services has achieved significant improvements through FORS (including reductions in fuel use / reduced CO2 emissions, lowered NOx and Particulate Matter emissions. Millcroft Services has improved its road safety record with the FORS e-learning & workshops where we have seen a decrease in transport related fines and charges.
'We came across FORS back in 2013 working on London Underground projects & Crossrail.
We realised it would help us to achieve best practice and benefit us by improving road safety & environmental best practice.
Millcroft passed their initial audit first time round back in 2013. The Bronze audit showed us how to review our transport road safety and driver training to achieve a higher standard.
Once we had earned Bronze we decided that we should progress to Silver and improve our overall standard of road safety and environmental footprint in the transport industry. We have since achieved FORS Gold thanks to the Health & Safety team who have managed our FORS accreditation right from the start back in 2013.
Once accredited, we really made the most of the benefits on offer, in particular their driver training programme, both classroom based and through e- Learning modules,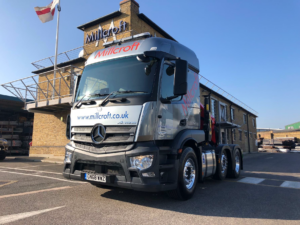 along with FORS toolbox talks. These have led Millcroft Services to have a greater understanding of road safety, whilst raising awareness of the needs of other vulnerable road users.
As part of our endeavour to improve our environmental impact, Millcroft has invested in a new range of Euro 6 HGV, ULEZ compliant vehicles since April 2019. All of the vehicles have the latest in vehicle technology to help drivers be more aware of vulnerable road users and have been fitted with vehicle telematics to help us improve safety and monitor driver behaviour, which in turn encourages more fuel-efficient driving.
FORS workshops have been a practical way of both improving our knowledge and learning from others, we have implemented driving licence checking, recording camera systems, anti-idle policy's and seen improvements in fuel costs and reduced insurance premiums.
FORS has helped us achieve compliance and safety – Brian Duffy Millcroft Transport Manager.

All drivers complete an annual company driver's medical questionnaire. Drivers receive free annual eye tests and an online number plate eye test is carried out every 6 months. Drug and alcohol testing are carried out randomly. Our company takes the health and well-being of our staff very seriously as they are the heart of the company. This is done by gathering all relevant health data and information from employees. All drivers receive a yearly heath check from the companies appointed safety critical medical nurse.
Strategy for recruiting drivers – Recruitment for new drivers is usually from a recommendation from the contracts department or drivers who see the workforce on a weekly basics.
Noise assessment – Our fleet has all the latest suitable vehicles available at the moment and our drivers keep loading and unloading noise to a minimum.
Modal shift and alternative vehicles – We have considered alternative powered vehicles & our new range of company cars now are all fuel-efficient and Hybrid.
In order to make continual fleet improvements we have introduced a new fleet of Euro 6 vehicles, to not only push driving best practise but also environmental as every investment pushes us closer to our goal of lessening emissions.
Achieving FORS Gold Accreditation shows how we are dedicated to improving road safety and the safety of all vulnerable road users in London as well as nationally.
We will continuously to use what FORS has taught us to help reduce our carbon footprint and make the roads safer for everyone that uses them. We have also managed to make a significant saving by reducing our fuel usage and improving our MPG.
Millcroft Services Plc social media contact links are listed below so you can follow our organisation.