MixIt (Formerly Modern Mix) has been servicing the concrete requirements of domestic and commercial clients for over 20 years. We provide Ready Mix Concrete in London for every possible project, ranging from laying the base of a shed to the foundations for a new office building.
My name is Glen and I am the company Operations Manager. I have 20 years' experience in transport and logistics and I am an accredited FORS practitioner and International CPC holder.
FORS is helping us to continually be the preferred supplier to major players in the construction sector in and around London.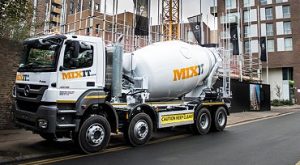 Mixit have year on year seen major improvements in fuel consumption, reduced CO2 emissions, lowered NOx and Particulate Matter emissions and improved operator compliance risk score with the help of FORS.
We have been FORS members since 2012, gaining Silver accreditation in July 2014 and Gold in July 2015. From early on we knew the FORS benefits would help us to grow and continually improve.
From the first Bronze audit we could see the benefits and need to develop and grow our business using the FORS principles. We have been using the performance management tools, online training and supplier benefits since they have been available to us.
'FORS has helped improve our MPG figures for over 5 years' – James Taylor – Owner and Managing Director
The key benefits seen this year have been covering over 1 million kilometres and gaining a miles per gallon increase of 8.77 percent across the fleet. We also scheduled 2 driver cpc courses through accredited bodies that has improved driver knowledge and attitudes towards greener driving and environmental impacts.
'The driver training has been a major benefit to us and the drivers enjoy it' – Glen Beckwith Operations Manager.
This year we have gained Bronze accreditation for 2 of our other depots and with continual improvement we have in place we will apply for the Silver and Gold accreditation for these sites as well.
| | | | |
| --- | --- | --- | --- |
| | Fuel | Mileage | MPG |
| Mar 2015-Feb 2016 | 531611 | 879505 | 7.52 |
| Mar 2016-Feb 2017 | 640421 | 1152902 | 8.18 |
| Percentage improvement | 20.46% | 31.08% | 8.77% |
*Annual improvement in MPG
All drivers when starting employment are required to complete a full set of medical forms, disclosure forms and complete an eye test before they can start work.
As well as this we have an induction scheme whereby our lead drivers accompanied by the new drivers are taken out on the road in vehicles and first shown what the requirements are then once confident they are then assessed on all aspects of the work. Our induction programme is normally around 1 week for new drivers, but this can be more for inexperienced starters.
We follow guidelines from FORs with regard to driver handouts and information for drivers which allows us to regularly monitor and assess the individual drivers to enable us to maintain a consistent level of service to our customers.
We often have drivers from Eastern European countries that have held an appropriate HGV licence but would not have driven in the UK or certainly not within London and the M25. We actively encourage and support the newly qualified drivers as far as we can with continual development and our induction processes.
Noise is a big concern in the construction industry as often we are delivering to urban areas with many restrictions. We currently use a white noise reverse beeper system fitted to all of our vehicles to reduce the impact we have when delivering. We also have an anti idling policy where as we will not run vehicles unnecessarily for long periods of time and our training programme for 2017 saw all of our drivers complete the LoCity module to enable drivers to better understand the environmental impacts of using HGV's in built up areas.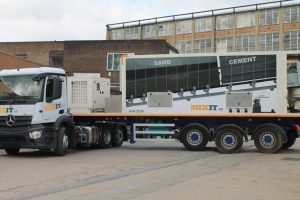 Our new 10 acre site in Barking is helping us to control the vast majority of our goods in deliveries through the use of waterways by barge and ship. This is enabling us to reduce movements by road to all of our depots. At present all of our new vehicles are specified with Euro VI engines and we are in talks with Mercedes Benz regarding their new Econic urban chassis.  We also have a new mix on site vehicle, Kaizen, which was designed by our owner and operates legally at 44,000kg and delivers up to 10 metres of concrete. This enables us to make multiple deliveries on 1 vehicle load.
Being a FORS Gold operator is a big deal for us as we continue to grow as a company and FORS gives us the tools required for continual improvement and helps to guide us in new ways of thinking and helps us to gain new ideas and concepts to ensure we continually improve our operation.
MixIt: Website
MixIt: Facebook
Mixit: Twitter
Please note: All published FORS Gold case studies have been submitted by the accredited company named above and transcribed verbatim.