Mobile Mini are a provider of portable storage solutions with a hire fleet of portable storage containers, portable site units and self storage facilities through a network of branch locations in the UK, the US and Canada. Chris Watcham Health & Safety Director (Europe) explains how Mobile Mini have utilised modern technology to improve safety & efficiency by modifying driver behaviour.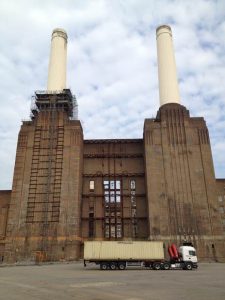 Mobile Mini have been a FORS member since 2012, at first it was as a result of customer demand / contractual conditions of serving some customers. The progression from Bronze, through Silver and now Gold has demonstrated the benefit of FORS and the associated policies not just as a client requirement but with real safety (and commercial) benefits. Accidents, incidents & injuries have reduced (along with all of the associated costs). Statistics relating to; fuel efficiency, carbon emissions and road traffic incidents have also improved.
Once we received Bronze; with our qualified FORS practitioners; and started to get a taste for the improvements we were making with our transport we soon progressed up to FORS Gold, of which we are extremely proud of as a company. We believe it serves as a clear indicator to all of our customers of how seriously we take our responsibilities as an operator in the City.
"FORS was the direct catalyst for our advances in vehicle technology."
Once Gold was achieved the challenge that Mobile Mini faced was on how to continue to improve and in doing so exceed the standards already achieved. The review of Mobile Mini's systems focused on how to further improve three key areas, our vehicles, our people and our processes. In addition to the FORS required accessories that are fitted to Mobile Mini's vehicles further items were added to make it easier for the driver to keep everyone safe. This included upgrading the camera system from a forward dash cam and a reversing camera to a full all round 360 camera system. This provides the driver with additional scope to view blind spots around the vehicle. The company is making a significant investment in a new fleet of Scania vehicles;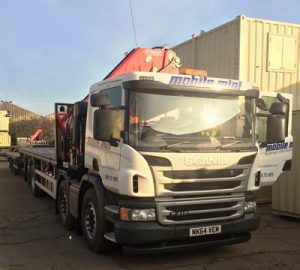 all of which have this camera system. Retro-fitment of items has also been rolled out to older fleet vehicles.
Back Watch a company that first became known to Mobile Mini via FORS were contacted to fit reversing sensors to all vehicles and trailers. This system provided an audible and visual warning in the cab to warn the driver that an object was in close proximity when reversing.
Mobile Mini is further investing in people and has recruited a National Transport Manager (Kevin Buckler) to oversee the entire UK transport operation and further improve safety, reduce costs and increase quality measures. Kevin is a JAUPT approved DCPC trainer and his expertise will be used to provide bespoke training to all Mobile Mini drivers to further improve safety and reduce WRRR. Mobile Mini also intends to make best use of the available FORS on-line training tools / modules. All Mobile Mini drivers have already undertaken the SUD, SAFED, load security and professional driving courses. This significant investment has helped in not only satisfying the DCPC requirements but in also reducing the companies transport accident rates by developing the skills of the drivers.
The company has strengthened its processes to ensure that the Gold standards are upheld. The processes that have been im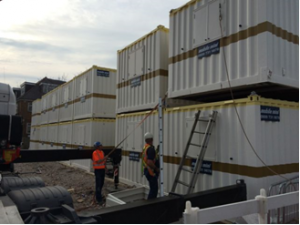 proved are wide and varied. The induction and recruitment process is now more stringent and focuses on driving experience, attitude, culture and expectations. The regular driver safety meetings include information relating to driving safely, reports all incidents and near misses and shares the learning outcomes to prevent recurrence. These meetings further evolve and improve the content of both induction & refresher training.
The follow up investigations to accidents & incidents has been improved to help prevent recurrence and training is now structured and planned more efficiently, always with the aim of seeing a continuous improvement of the organisations transport operations.
Since embracing the FORS scheme Mobile Mini has seen a 100k reduction in the company's motor insurance premiums. This demonstrates that not only do the initiatives make transport operations safer they also provide a return on investment due to reduced road traffic incidents.
 Please note: All published FORS Gold case studies have been submitted by the accredited company named above and transcribed verbatim