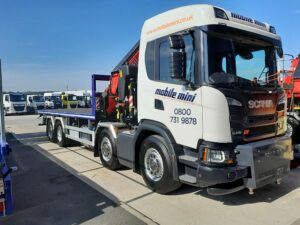 Mobile Mini are a provider of portable storage, welfare and accommodation solutions with locations in the US and Canada as well as 16 locations in the UK.  With its headquarters in Stockton-on-Tees it has a fleet of 60 truck mounted loader cranes, one of the largest of its kind in the UK. Andy Cowell, National Transport Manager, explains how Mobile Mini have managed to improve its safety track record year on year.
Mobile Mini became FORS Bronze members back in 2012 as a result of demand from a number of our larger customers in and around London.  We have been Gold standard for over 8 years and now looking to roll this out nationally.  What we find with FORS accreditation is it provides an easily recognisable mark of competence and provides us with a framework around which we can build on our training, compliance and fleet management. Once we passed our initial audit we quickly realised that we needed to up our game to really demonstrate our credentials and we continue to bring our third party contractors with us on the journey.
The Mobile Mini board fully support the FORS association and future national rollout. Once we had gained Bronze accreditation we quickly progressed to Gold in 2013 and continue to use the services FORS has to offer and in particular the Safe Urban Driving and LoCity courses that are incorporated into our CPC module training.  Elearning modules are completed to keep drivers up to date and focussed on key areas and we are part way through a programme of ensuring all senior transport team members at the different branches become FORS Practitioners.  In 2019 we decided to combine our Silver/Gold accreditation to enable us to manage the process more effectively.
Mel Brown (Transport Manager, London) said ' the FORS accreditation has without doubt opened new doors for us and allowed us to be even more competitive in the market'
We are the busiest branch in Mobile Minis network and operating in probably the toughest driving conditions due to congestion, traffic restrictions and changing road priorities.  Despite this we have been able to demonstrate a significant drop in the number of incidents per km travelled and no personal injuries.  We have achieved this through driver training, better planning, increased awareness of vulnerable road users and an increased use of technology to alert 3rd parties of our presence and alert our drivers of their presence.
Louise Arnold (People and Strategic Director) said 'the new safety equipment now fitted as standard to all our fleet totally supports our no1 priority – We Dont Hurt Anyone!!'
Whilst our overall kms have increase due to additional workload we have managed to improve fuel productivity and reduce our fuel consumption with the resultant reduction in gas and particulate emissions.  This has been achieved through training out more defensive driving techniques and better planning.  The area of real pride, however, is the reduction in incidents per 100,000kms which is showing significant improvement due to increased focus on vulnerable road users, improved detection and warning alert technology and roll out of full 360 camera coverage.  PCNs have increased YOY, partly as a result of the additional runs we are doing into the capital but also commensurate with the additional number of cameras now operating.
KPL
Incidents per 100,000 Kms
CO2
NOx
PM10
Number of PCNs
Proportion of fleet that uses alternative fuels
2019
2.62
0.684
451
846
12.67
18
0%
2020
2.71
0.670
360
689
10.31
25
0%
2021
2.72
0.493
400
769
11.50
37
0%
Percentage improvement
2.5%
28%
11%
9%
9%
-105%
0%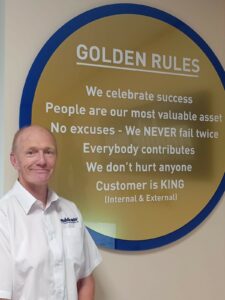 All new drivers complete a health and safety declaration and eyesight test which is repeated every 6 months.  This is backed up with regular briefings and tool box talks on relevant health and safety issues, such as prescription drugs and good mental health.  There are now over 30 qualified Mental Health First Aiders in the company. Random D&A tests are carried out across the branch.
A recent poster campaign across the company has encouraged a further 6 current employees to start our driver development programme which takes them through from beginner to class
1.  This approach has constantly proved its worth especially in the current environment as we know we are recruiting drivers who are already embedded with our values and product knowledge. We try to ensure our drivers cause minimal disturbance to our neighbours and customers.
Our Code of Conduct and Respect Our Neighbours are regular tool box talks.  All driving and crane-lift operations have been recorded using equipment recommended on FORS Practitioner courses and are within acceptable tolerance levels.  Higher noise activities on site are segregated and specific ear protection areas created. Whilst there are no suitable alternatives to diesel coming onto the market we expect to be able to switch our heavy van fleet in the next 2-3 years and have changed our leasing terms to ensure we are not tied in to long leases on diesel vehicles.  Electric charge points are being implemented within the next year.
We have used the learnings from the London fleet to roll out a new generation of fleet nationally. These all have SMUK HALO systems, 360 cameras, cut-out high visibility doors and once linked with improved driver and fuel efficiencies will drive a safer more fuel efficient fleet.
We have been proud to promote our FORS membership through a number of trade and social media outlets and in particular at the British Safety Council where we won the 2021 International Safety Awards Team of the Year.
In summary we know FORS has not only opened up new contracts to us but ensured a consistent and documented approach to managing the operation that we are looking to roll out nationally over the next year.
Web: www.mobilemini.co.uk
Follow us on Twitter: @MobileMiniUK
Follow us on Linkedin
View our Brochure
Section 11– FORS members' feedback questionnaire
Please could you take the time to complete a short questionnaire and provide feedback about FORS. Please note all answers you provide will be strictly confidential and will only be used by FORS to help us to improve the scheme. To access the survey, please click the link here: https://www.snapsurveys.com/wh/s.asp?k=153908006313