My name is John Moriarty and I am the Transport Manager for Moriarty Concrete Services Ltd, based in London and we run a small fleet of concrete mixers working with Cemex and Hanson Concrete. Moriarty Concrete Services through joining FORS have invested in telematics which has helped us monitor our fuel usage, improving performance. Investment in recording camera as well as driver training has also seen us improve on accident and collisions benefitting us through reduced insurance premiums.
A lot of the construction industry began moving towards FORS and it became clear that soon we would not be able to operate if we didn't move towards it as well.
Our initial Bronze audit went well. Once we had achieved Bronze we did not want to stop there and soon progressed to Silver and are now looking for Gold.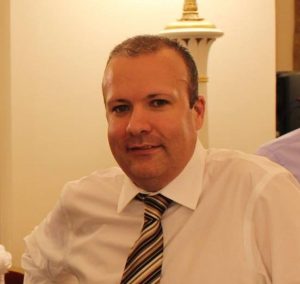 Once we had reached Bronze, we wanted to progress. We invested in a lot of technology. New trucks were specified with 4-way reversing cameras and older trucks were fitted with Smart Witness forward facing cameras. We invested in TomTom telematics, which allowed us to monitor our fuel usage and try to reduce excess idling. Training that was offered by FORS was brilliant as we found courses easy to book on days suitable to us.
"Once we had reached Bronze, we wanted to progress." John Moriarty
Since Moriarty Concrete Services joined FORS we have seen a year on year reduction in our traffic incidents and collisions. I'd like to attribute this to the additional training that has been given to drivers. Also a number of the incidents we have had, we have been able to prove that we have been not at fault with the use of recording cameras. Being able to obtain footage and store it had proven its weight in Gold and has seen our insurance premiums reduce.
"Training offered by FORS was brilliant as we found courses easy to book on days suitable to us." John Moriarty.
Our reasoning for wanting to progress from Bronze to Gold was that we wanted to be known as a reputable haulier. Also we see more avenues being available to a Gold haulier rather than a Bronze haulier.
As you can see from the performance data in the table, we are seeing steady improvements with regards incidents and fuel usage and hope to progress further particularly on the fuel side. Incidents have been unlucky as they have mostly been non-fault.
| | | | |
| --- | --- | --- | --- |
| | MPG | Incidents per 100,000 Kms | Number of PCNs |
| Apr-Mar 2016 | 3.72 | 3.3 | 5 |
| Apr-Mar 2017 | 4.01 | 2.7 | 1 |
| Percentage improvement | 7.79% | 22% | 80% |
*Annual improvement in MPG and Incidents per 100,000 Kms
Driver health and fitness review – We currently get our drivers to complete health questionnaires every 6 months and encourage our drivers to declare any medical issues for which we would try to assist where possible.
Strategy for recruiting drivers – We actively recruit new drivers through recommendations from our existing pool of drivers or by people making contact with us through the office. Our vehicles are quite specialised so we cannot just put any driver into a seat, they need to be trained and we are more than happy to do this for a minimum of a week. A new driver would firstly shadow one of our lead drivers before then taking over driving duties where they are then assessed. At the end of the training period we would speak with our lead driver and assess whether we feel they are competent to drive or require additional training which we would then feedback to the new driver. New drivers would also need to book themselves onto an MPQC EPIC Driver Skills Card course which is mandatory for our industry.
Noise assessment – We are currently in discussion with our approved mixer body builder to see what can be done to reduce noise in transit from the mixer body.
Modal shift and alternative vehicles – Delivering concrete, our deliveries are time critical and rely on the road network so we are restricted in terms of modal shift. Also due to the nature of our vehicles requiring the drum constantly turning we are restricted with regards alternative vehicles. We do however look to invest in the latest Euro VI vehicles with Low Entry Cab where possible. Also when attending meetings in London where possible we would look to use Public Transport.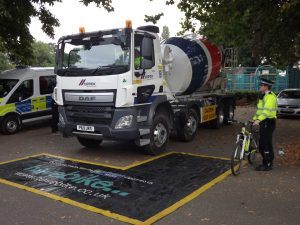 Being based in London for the future we'd like to continue to invest in the latest Euro VI vehicles, in particular low entry and are looking at the Mercedes Econic full of safety/warning devices. We will continue to look at the latest technology with regards to side scan sensor systems and cameras to ensure we feel we have the best systems available to protect vulnerable road users.
Becoming a Gold accredited company would be a good boost to the company. It would offer assurance that we are reputable and open up avenues for more business. Seeing our insurance premiums reduce by implementing measures proposed by FORS has more than paid for the investment.
Please note: All published FORS Gold case studies have been submitted by the accredited company named above and transcribed verbatim