AJ Morrisroe & Sons was founded by Brian Morrisroe in 1983 to meet with a growing demand for reliable sub-contractors specialising in ground works and reinforced concrete frame construction.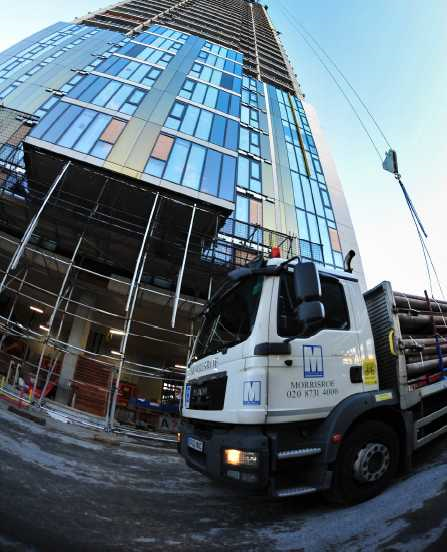 The Morrisroe Group has since grown into a multi-faceted business, incorporating the groundwork, civil engineering and structures contractor, temporary & permanent works design company, PT design and installation company, fit out and joinery contractor, joinery manufacturer.
Another key part of the group is the Morrisroe plant hire division which is operated and based in Ampthill, Bedford and provides plant and equipment to A J Morrisroe & Sons sites across Greater London.
We were introduced to FORS in 2014 by a client who required Bronze accreditation as part of their contractual requirements. This fell right in place with the direction that we saw the company heading with regards to safety and environmental issues.
Since obtaining Bronze accreditation in 2014 we have continually looked at improving, culminating in us obtaining Silver accreditation in 2015 and going on to maintaining it till now.
Not only has FORS accreditation helped Morrisroe to stand out from other companies within out sector but it has more importantly helped us continually improve in areas such as road safety and the environmental impacts surrounding the running of a fleet of vehicles.
Head of HSEQ Hakim Nazerali said 'The health and safety of our workers and the public, and care for the environment in which we live and work are our number one priority. The continual development of our drivers and improvement of equipment to eliminate any harm to people and the environment is something we are proud to embrace.'
We have noted significant benefits from FORS e-learning in that this enabled us to assist with the educational development of our managers and fleet drivers. The introduction of camera kits, warnings, silent kits, corner scan kits etc. has also provided extra visibility to our drivers, not to mention the peace of mind that it has provided the drivers and ourselves.
| | | | |
| --- | --- | --- | --- |
| | MPG | Incidents per 100,000 Kms | Number of PCNs |
| Jan-Dec 2015 | 10.28 | 0 | 3 |
| Jan-Dec 2016 | 11.31 | 4 | 2 |
| Percentage improvement | 10% | N/A | 33% |
*Although we saw an increase in incidents from 2015 to 2016 the measures that have been put in place in 2016 has seen a marked decrease in the number of incidents in 2017.
Morrisroe run a comprehensive health and fitness review scheme for our fleet drivers which includes safety critical workers assessments for all drivers, regular eye tests as well as a comprehensive driver's fitness declaration.
We have developed a people and communities' strategy as part of a sustainable approach to employment. Part of the strategy encourages and promotes work for disadvantaged groups (e.g. NEETs, long term unemployed) and ex armed forces.
Various measures are currently being taken to reduce noise pollution which includes: the implementation of environmental policies on sites such as run silent policies, the active monitoring of noise levels on sites and fleet driver's awareness training.
In addition to these measures we are also currently investigating different tyre options available for our current fleet which would provide improved noise reduction, the replacement of standard alarms fitted to plant and vehicles with white noise alarms (where these are not fitted as standard) and selection of quiet vehicles once the current fleet comes to the end of its life cycle.
Although research into modal shift and alternative vehicles has indicated that at present this is not a viable option for Morrisroe, we are continually looking at reducing our environmental impacts through fleet driver's awareness training, various environmental policies implemented on sites.
We are also investigating the selection of more economical vehicles once the current fleet comes to the end of its life cycle and the selection of tyres that would improve fuel economy.
After having achieved FORS Silver Accreditation and managing to maintaining it, the natural progression would be to progress to FORS Gold.
Obtaining FORS Gold accreditation would demonstrate to all employees and clients or commitment in the professional development of our employees, the safety of vulnerable road users and environmental impacts of our operations.
LinkedIn:
Website:
 Please note: All published FORS Gold case studies have been submitted by the accredited company named above and transcribed verbatim