Murrill Construction Ltd is a growing, family owned, civil engineering company, carrying out highway repairs and maintenance work for local authorities in London and the home counties.
We have been a FORS member since 2013 & a Gold member since 2015. I, Mike Lally, have been the Transport Manager since May 2016 and this is my 2nd year of working with FORS. In this time, I have seen a significant improvement in our transport operations, it is obvious that there is a direct correlation between our improvements and the implementation of the FORS scheme. Working with FORS has highlighted the modern working practices of a transport office. We operate 29 vehicles ranging from 3.5t transit pickup trucks to 26t tipper grab trucks.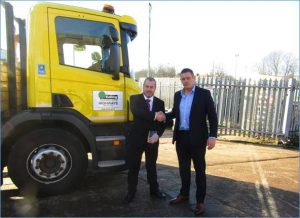 We have been awarded the most improved standards of pedestrian and cycle safety according to Cycle Safety Shields, European Wide Study. Pictured to the right is our Managing Director, Andy William's, receiving the award from Jon Guest from Cycle Safety Shield.
Being ever conscious of environmental considerations, we are continuously looking at ways to improve road safety and air quality within our working and living environment.
"London based construction company leads the way in fleet safety" – Cycle Safety Shield
Once we had achieved Bronze we decided that we should progress from Silver to Gold to ensure we are constantly improving with the times, and keeping up to date with modern transport practices. We strive to improve the environment we work in by minimalizing our impact on the air quality, improving the road safety for other road users.
Our fuel figures have shown an improvement this year. For instance, our annual mileage has been reduced, even though our work load has increased. This is due to the enforcement of our 'Anti-Idling Policy' and by being more efficient with the size and type of vehicle being used.
Our levels of reported incidents have increased this year. This is due to the implementation of a new reporting procedure. This includes a driver assessment, which can be carried out should a more serious incident be reported. However, this isn't restricted to size or severity and so encourages our drivers to report any incident no matter how minor, this in turn has had a positive effect on the willingness of our drivers to report all incidents.
Our PCN's have increased this year. This is mainly due to some new road layouts, which have had a change of restrictions. Once these were made apparent we ensured all drivers were made aware, we also endeavour to keep up to date with future works and keep all drivers notified.
We have implemented a new Telematic system which has helped us to track and monitor driver behaviour and vehicle usage, mainly anti-idling.
Km/lt
Incidents per 100,000 Kms
Number of PCNs

April-March

2015/16

3.66
0.7
6
April- March 2016/17
4.7
3.2
10
Percentage
28%
357%
65%
*Annual improvement in MPG and Incidents per 100,000 Kms
This year we carried out an occupational health screening for our workforce. This included visual and audio checks as well as other work related health issues.
We have not had the need to recruit drivers this year, instead we have focused on improving and upgrading our current drivers.
As we are primarily a construction company working on behalf of local authorities our vehicles aren't the main source of noise pollution, this being said when on site we ensure that the vehicles engines are not running, this is enforced with our Anti-Idling policy.
We have trialled various electric vans for our fleet, we have also been looking at low level, high visibility cabs for our tipper/grab trucks. This has been made one of our priorities after a management meeting was held, where it was discussed that we would plan to have a fully sustainable fleet once the relevant technology is more efficient and available. And so, it has been agreed that we will upgrade a significant part of our existing fleet by 2018.
We have also carried out site surveys to install charging points for electric vehicles within our yard, these came back positive and so attached is a copy of our estimate.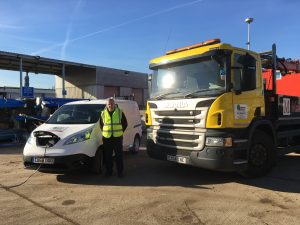 Over the last 2 years I have built up a credible transport department, within our construction company. As I have been working with the FORS standards and attending the
courses this has improved the standards of our transport operation, resulting in the value-added assistance of winning new contracts. Therefore, I believe it is imperative that I maintain the high standards and reputation that I have achieved working with FORS.
Please note: All published FORS Gold case studies have been submitted by the accredited company named above and transcribed verbatim