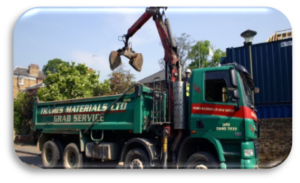 Thames Materials Ltd formed in 1995 by Martin Clarke. Initially starting out as an owner driver the core of the business has always been the removal, transfer and recycling of construction waste materials and the supply of primary and recycled aggregates. Nearly 3 decades later TML operate one of the largest aggregate recycling operations in London and the South East working for many prestigious clients on high profile sites. TML currently operate a modern fleet of tipper and grab lorries as well as facilities for recycling of construction materials in Harefield in West London.
My name is Tom Hardiman, I am the Transport Manager at Thames Materials. Being new to the business I could recognise immediately the influence the FORS accreditation has on the company by its robust management system and safe vehicles. I have learned that TML have been FORS accredited for several years and I am proud to be a part of their fourth Gold reaccreditation.
TML first heard about FORS through transport publications and then as a result of their involvement in large scale projects in central London. The construction industry really took on the FORS scheme and pushed it forward. Being a part of FORS has benefitted TML in many ways such as influencing more robust procedures and policies, offering toolkits and toolbox talks to further educate and analyse drivers and vehicles and has aided in obtaining work from new clients who use FORS as a measurement of good practice at tender. Displaying the FORS Logo shows existing and potential new clients the quality of service and standards they are to receive from TML. You only have to look at the TML FORS number to see how early they believed in the standard!
'Displaying the FORS Logo shows existing and potential new clients the quality of service and standards they are to receive from TML' – Tom Hardiman MSOE MIRTE, Transport Manager
TML take compliance and safety very seriously and have maintained FORS Gold for 3 years, regularly passing our FORS Bronze audits and successfully submitting for Silver year after year. The consistent retention of the Bronze standard always encourages us to aim higher and achieve Silver and Gold.
The biggest positive to come from joining FORS is the reduction in road traffic incidents. Since joining FORS we have seen reductions year on year. Following this is the reduction in fuel usage. By reducing the amount of fuel and investing in the newest vehicles with cleaner engines TML have reduced the amount of harmful gases produced. These reductions can be directly linked to FORS training tool kits, performance management tools and safety equipment.
Progression in FORS puts emphasis on safety equipment and driver training. We feel this is a good direction and in line with FORS have done the same resulting in reductions across the fleet. 
In 2021 TML changed their fuel management system to allow more accurate mileage, fuel usage and CO2 emissions readings. This is evident in the table below that is now monitored quarterly instead of annually. This allows TML to take a more proactive approach to dealing with fuel monitoring rather than waiting a year. 
| | | | | | | |
| --- | --- | --- | --- | --- | --- | --- |
|   | No of Vehicles | Distance Travelled (km) | Fuel Used (l) | CO2 Output (ton) | RTIs | PCNs (Charged) |
| 2021 Q1 | 55 | 797556 | 301996.28 | 809.35 | 5 | 10 |
| 2021 Q2 |   |   |   |   |   |   |
| 2021 Q3 |   |   |   |   |   |   |
| 2021 Q4 |   |   |   |   |   |   |
At TML all drivers are regularly checked for their health and fitness. TML complete 6 monthly eyesight checks & medical declaration as well as random D&A testing. TML are following all government guidelines regarding social distancing & enforcing quarantine where applicable with regular updates and information distributed to the drivers.
TML recruit by word of mouth. When there is a vacancy, drivers talk to drivers and it is mostly from TML drivers' recommendations that we get drivers. TML have opened their doors to younger less experienced driver who are willing to be taught. This has worked in recent times. TML do not use agency drivers.
In line with FORS all vehicles have been fitted with white noise beepers which operate on a switch. The fleet has also had night heaters fitted to cut out excessive idling on cold morning. Noise assessments are carried out in our yard and steps are in place to reduce noise where possible. All employees are issued with ear protection. All lorries also fitted with 4 way recording cameras and new lorries are fitted with the passenger door window. All trucks are DVS compliant and hold permits.
Due to the nature of TML works, modal shift is difficult. They have looked at a number of options such as rail and water. TML do now dispose of some material by rail however lorries are still required to the transport the material to the rail depot. Disposal by water isn't an option unless the job is located on the banks of the river.
At TML we are keen to continually improve, learn form best practice and ultimately make the working environment safer, cleaner and more efficient for all concerned. All vehicles have been fitted with the lower passenger door glass for increased visibility. We did trial low cab alternatives however they did not suit the nature of our works as it involves a lot of 'off roading'. We have looked at increasing driver monitoring when it comes to their health and fatigue and have implemented fatigue awareness and encouraged the 'Van Smart' E learning module due to the information contained withing regarding driver stress and fatigue. We will also continue with driver training. We believe that a more alert and better educated driver is a safer driver.
More clients are using the FORS standard as the pinnacle of haulage compliance and request the standard as a minimum. Many more are now requesting Silver & Gold.
We are proud to be able to confirm that we have been associated with the scheme for many years. TML are incredibly proud of their prestigious Gold status and would like to maintain it for many years to come.