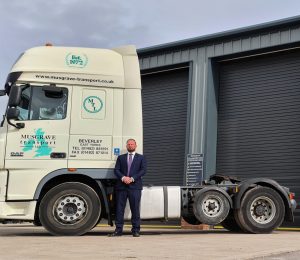 Section 1 – Introduction
Musgrave Transport Ltd is based in East Yorkshire and specialise in abnormal loads and modular building transportation. James Musgrave, Director, explains how Musgrave Transport Ltd has achieved significant improvements through FORS (including reductions in fuel use / reduced CO2 emissions, lowered NOx and Particulate Matter emissions, improved its road safety record and decreased transport related fines and charges etc.
Section 2
'We were first introduced to FORS in 2014, when we tendered for a modular building delivery in Newcastle. We realised it would help us to achieve best practice and benefit us by providing a platform to ensure compliance and safety. Musgrave Transport Ltd introduced a transport management system using the toolkits on the FORS website to help us reduce our environmental impact and reduce incidents, collisions and near misses.
Section 3
Musgrave Transport Ltd passed their initial audit first time round, this confirmed we were compliant and operating safely, from here we were encouraged to embrace the standard as a best practice which resulted in reduced collisions, improved efficiency and a reduced environmental impact.
Section 4
 'Once we were Silver, we decided that we should progress to Gold because we wanted to show the abnormal load sector that FORS Gold is achievable nationally and across all sectors'.

'Once accredited, we really made the most of the benefits on offer, in particular the FORS Fleet Management System (FORS FMS), FORS Practitioner workshops, and FORS approved training providers. 'Protea Training helped us to improve our driver training and remain focused on specific topics relevant to our operations. We have implemented a training matrix, and now record fuel used by distance travelled by vehicle type. This allows constant fuel and emissions monitoring on a monthly basis, highlighting any spikes or trends'.

-James Musgrave Director.
Section 6 –
| | | | | | | | |
| --- | --- | --- | --- | --- | --- | --- | --- |
| | MPG | Incidents per 100,000 Kms | CO2 | NOx | M10 | Number of PCNs | Proportion of fleet that uses alternative fuels |
| 2019 | 12.6 | 2 | 1881.72 | 3670.1 | 64 | 0 | 0% |
| 2020 | 15.5 | 2 | 1703.97 | 4069.9 | 70.9 | 0 | 0% |
| Percentage improvement | 23% | 0% | +10.43% | -9.8% | 10.7% | 0% | 0% |
Driver health and fitness review – All our drivers are subjected to a health questionnaire at induction, which is reviewed at least every 12 months and confirmed by a driver declaration. Eyesight checks are completed at induction periodically and following a blame worthy incident, collision or near miss. Musgrave Transport Ltd have an open-door policy where any driver can disclose underlying health problems.
Recruitment of drivers – Whilst Musgrave Transport Ltd have a loyal workforce with a staff turnover of less than 3% for the previous 12 months, we actively encourage drivers into the abnormal load industry, offering on the job training for established drivers.
Noise assessment – All of our drivers have been issued with a noise monitoring app which is used to confirm the noise pollution the drivers may be subjected to, ear defenders and time restraints are then used to control the noise pollution.
Modal shift and alternative vehicles – Musgrave Transport Ltd have worked closely with Premiere Modular Ltd on previous contracts which included modular buildings being transported down the river Thames on barges as a means to overcome site restrictions and reduce congestion. Alternative fuelled vehicles have been considered, however due to the large distances travelled between re-fuelling stations (due to fuel station access when abnormal loads) those models available are not suitable. 
Section 7
'In order to make continual fleet improvements we have a fleet replacement program in place, which includes all our fleet including the escort vehicles shall be fitted with Euro 6/VI engines by 2022. Our new operating centre based in Brandesburton is fitted with heat source central heating to provide energy efficient heating and a better working environment for the bespoke offices and the onsite workshop.
 Section 8
'We have positively promoted FORS by including the logo on all our vehicles, a strapline is attached to our email signature and we openly offer our vehicles to be used in the exchanging places program.'
Section 9
Achieving the FORS Gold accreditation will confirm that Musgrave Transport Ltd operate with optimum safety, efficiency and compliance. The FORS Standard is the ideal platform to base your Transport Fleet Management Systems on, using best practice as a baseline, shall ensure we remain one step ahead in the abnormal load sector, delivering safety and compliance as a standard, a FORS Standard.
Section 10
enquiry@musgrave-transport.co.uk
Phone 01482881591
Section 11 – FORS members' feedback questionnaire
Please could you take the time to complete a short questionnaire and provide feedback about FORS. Please note all answers you provide will be strictly confidential and will only be used by FORS to help us to improve the scheme. To access the survey, please click the link here: https://www.snapsurveys.com/wh/s.asp?k=153908006313
*Please note: All published FORS Gold case studies have been submitted by the accredited company named above and transcribed verbatim