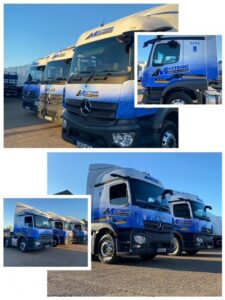 Introduction
Muztrans is a General Haulage supplier based in Belvedere, Kent on the outskirts of South East London. Established in 2009.
We have proven ourselves to be a leading provider of logistical services to a wide range of industry clients, both within London and nationwide.
Being based a stones throw from London, benefits our ever increasing customer base, delivering to a wide range of businesses in and around London, for the Construction, Rail, Civil Engineering and Manufacturing Industries.
We operate a varied fleet of vehicles ranging in size from transits and rigid vehicles up to 44 tonne articulated vehicles, including those with specialist remote lifting equipment and specialist trailers.     
Our FORS Coordinator and Compliance Officer, Donna Welsh explains our journey, as we enter into our 6th year as GOLD operators. She will explain how FORS has proven to be a driving force behind improved company operations and assisted Muztrans in reducing fuel use, CO2 emissions, improved road safety, decreased road traffic incidents and transport related fines.
Why FORS?
Muztrans were initially introduced to FORS back in 2010 via our involvement in the Crossrail project….with the ever-changing compliance demands of operating within London, we knew that FORS was the only way forward for us.
Bronze Experience
Bronze accreditation was acquired on our initial audit, this ensured us we were heading in the right direction.
This was over a decade ago now. Since then Muztrans has developed as a company alongside the progressive changes to the FORS Standards over the years.
Company policies and procedures were further developed and procedures were put in place to track fuel usage, traffic incidents and penalty charge notices. This gave us a clear baseline we needed in order to progress.
Progression
With the increasing contractual demand for Silver operators within the industry, progression to Silver was undoubtedly the only way forward for us….. accreditation was awarded in 2014.
Silver requirements are aimed at drastically improving the overall safety of your fleet. Safety has always been paramount for us at Muztrans and FORS has assisted us in enforcing these safety standards across our entire fleet. We committed to installing all the necessary equipment recommended by FORS to ensure our vehicles were safer for both drivers and for the vulnerable road user.
In order to support our commitment further, we also took the additional step and completed the installation of 4-way CCTV camera systems across our entire fleet. This 4-way system is above the standard requirement, but has assisted us in reducing our incident and collision data further and we feel, has only further prepared us for future requirements. We have now also included a 5th load camera to 6 of our brand-new vehicles, with a view to include this as standard.
Once Silver accreditation was achieved, Gold was in our sights……this progression was only possible due to the improvements made against our baseline performance figures.
Although we had previously updated our tracking technology, we took further steps in 2018 to incorporate full vehicle telematics. This gave us more accurate figures and offered us a wealth of operational improvements with a complete transport management package….with integrated software which ties in tachograph analysis along with dynamic vehicle tracking, electronic daily vehicle walk-around software, along with licence checking.
This technology also allows us to monitor Driver performance enabling us to keep track of all our drivers' actions, making it easier to highlight any issues earlier through a grade-based system. Data includes, MPG, Engine Idle, Over Speed events, Over Rev, Severe Braking, Rapid acceleration, Excess Throttle, use of Cruise Control, and Tacho Infringements. A Driver Debrief document can also be produced, along with league tables, detailing all the metrics for an individual driver or vehicle.
With all these systems in place we are further equipped to improve this data and with urban deliveries continuing to be on the increase, our overall MPG against our baseline figures have again seen vast improvements, which has in turn reduced our carbon footprint.
With close monitoring along with an effective driver re-training program and new vehicles, we can only expect these figures to improve further year on year.
The Benefits
We went on to develop a detailed Driver Induction Program and Driver Development Training was implemented. Our fleet of drivers attended the FORS Safer Urban Driving CPC courses. Back then the drivers were initially sceptical, but any misconceptions they might have had soon disappeared, as we found they all returned with only positive things to say about the training. This training is valid for 5 years, so training has since been repeated.
We have made full use of the resources FORS has to offer, which included FORS E-Learning modules, along with the online toolbox talks, this has proven to be an invaluable refresher training tool provided by FORS.  Committing to this comprehensive range of training methods provides us with huge confidence in a fully trained driving team and has aided our drivers understanding of their roles and responsibilities as professional drivers.
We gained a wealth of information from attending the FORS Practitioner workshops, it proved to be a practical way of both improving our knowledge and learning from others. Our compliance team including myself were the first to attend these and we were able to return to the office with many ideas, all of which were implemented within our company procedures.
Naithan Gunn one of our Company Directors and Transport Manager then obtained full Practitioner status in 2019.
'FORS Accreditation has enabled us to serve all the major construction projects within London.  FORS demonstrates our commitment to Safety and the Environment and in turn, ensures that we are providing a first-class service to our increasing customer base.' Donna Welsh, FORS Coordinator and Compliance Officer.

'Continuing to maintain our Gold accreditation only further promotes our reputation within the industry and provides evidence we are dedicated to improving road safety and the safety of vulnerable road users, whilst maintaining best practice.' Tarkan Mazloum, Company Director.     
Improvements Made
| | | | | | | | |
| --- | --- | --- | --- | --- | --- | --- | --- |
|   | Fuel Usage | CO2 | NOx | PM | Fleet MPG | Total Incidents | PCNs |
| Baseline Data | 688,374 | 1,822 | 3,772 | 68.84 | 8.6 | 29 | 27 |
| 2019 – 20 | 459,551 | 1,189 | 2,382 | 37.65 | 9.7 | 11 | 14 |
| 2020 – 21 | 454,245 | 1,175 | 2,270 | 35.93 | 9.4 | 9 | 14 |
| Percentage Improvement against baseline data | 34.0 % | 35.5 % | 39.8 % | 47.8 % | 8.5 % | 69 % | 48.1 % |
 All drivers are required to complete a comprehensive Fit 2 Drive Health & Fitness Declaration, together with eye sight checks. These are completed initially on induction, then 12 monthly thereafter, with eye sight checks completed 6 monthly.
Drivers are required to inform us immediately of any issues that could affect their ability to drive, including any medication being taken. Declarations are signed to confirm their compliance and understanding of this policy.
Additionally, as part of our daily walkaround routine, our PreDrive Application includes a series of health questions, which serve as a reminder for drivers to constantly assess their fitness to drive on a daily basis.
We maintain a robust recruitment policy and are trying to take steps to encourage young drivers into the industry. Firstly, we are building links to local schools in order to provide work placements and have previously been an approved work experience provider within the London Borough of Greenwich.
Our aim will be to ultimately provide apprenticeship opportunities to school leavers. 2018 saw us set up links with the RHA Apprenticeship scheme and two of our    Cat C1 drivers have since completed the full apprenticeship and obtained their full Cat C licences.
Muztrans actively assess all activities to reduce noise pollution where reasonably practical. We operate a modern fleet with the added benefit of white noise reverse beepers which can be turned off manually where required for night time use.
Our strict anti-idling policy additionally aids the reduction of onsite noise whilst loading and unloading. All our depots are located away from residential areas
Whilst Muztrans have considered both modal shift and alternative vehicles, however due to the nature of our varied work, neither railways, canals or pallet networks are an option, as were the use of alternative vehicles.
That being said Muztrans strive to compensate for this, and in recent years we set up as a Construction Consolidation Centre.  Construction Consolidation Centres are appropriately located distribution facilities where multiple bulk material deliveries are stored and transported to sites. Suppliers deliver materials to us and stock is called off when required and then picked and packed into consolidated loads. Vehicles can then be utilised for reverse logistics operations with waste, damaged goods, pallets and stillages being brought back to us on the return journey.
The use of Consolidation Centres offers a huge environmental benefit for development sites and can reduce vehicle deliveries by up to 70%. Fewer deliveries mean less construction traffic, reduced vehicle emissions, noise and pollution.     
 Future Plans
In order to make continual fleet improvements we constantly monitoring change within the transport industry and take on board all improvements that could benefit both the company and the environment.
With this in mind, this year we completed our vehicle modernisation program…. We have replaced all our older vehicles with brand new Euro VI standard engines, including those with automated manual transmissions, both offering huge benefits with fuel consumption and lower emissions.
The program will not stop there, plans are in place for increasing our fleet, with vehicles already on order for delivery late 2021 – 22.
Promoting FORS Membership
Promoting the FORS Standard has been ongoing from day one.
First and foremost, we instil the FORS standards/discipline to all our drivers, making them fully aware of the importance of safety, efficiency, and the benefits of a cleaner environment.  A FORS introduction is included in our Induction program and all new drivers to our company receive a thorough briefing into the scheme.
Supply Chain letters explaining the FORS scheme are periodically sent to all customers and suppliers, this includes the addition of this current case study, giving solid evidence of what being part of the FORS network can actually achieve.
FORS has been given a predominant feature within our company website, with a  section dedicated entirely to FORS. This section explains the key benefits and provide links for anyone who requires further information about the scheme.
Social Media accounts have also given us another platform for us to be able to promote the FORS Standard.
What Gold means to Us
Continuing to maintain our Gold accreditation only further promotes our reputation within the industry and provides evidence we are dedicated to improving road safety and the safety of vulnerable road users, whilst maintaining best practice.    
Website         –          www. Muztrans.com 
Twitter           –           www.twitter.com/muztranslimited
Facebook     –          www.facebook.com/MuztransLimited