N G Bailey Plant is a service supplier for the company with various items of plant equipment and transport to service sites throughout the UK. To service these requirement's and assists the business, in a cost effective way, LGV vehicles and Transit vans are deployed from our Bradford base.
We first heard about FORS through our Offsite factory in Bradford who were tendering for a Network Rail contract at London Bridge Station. FORS Bronze Certification was a minimum Standard required for the delivery vehicles. We researched the criteria online and immediately realised it would be sensible to upgrade our vehicles to meet the FORS standard from a Health and Safety perspective. This links directly to our company's Safety Strategy known as "Safety First and Foremost".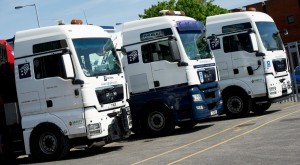 After we achieved FORS Bronze standard we began to encourage our suppliers and subcontractors to join the scheme and were pleased when they all took up the idea. By following the FORS standard we were able to make our monthly reporting more robust and this helped us analyse the different elements such as risk assessments, fuel economy.
To take further advantage of the benefits of FORS, we decided to progress to Silver and achieved this in September 2014. Within weeks our Offsite Manufacturing business won a contract for BskyB where FORS Silver was the minimum standard acceptable for all delivery vehicles. The competitive and operational edge this has given us along with the feeling of pride associated with attaining FORS Silver is what encouraged us to seek the Gold Standard.
We realised that FORS made us refocus our training requirements. Looking closely at enhanced training and development for drivers and line managers, emphasizing work related road safety.
All our LGV drivers attended a S.U.D course in London. This successfully highlighted their attention for the need to be extra vigilant when encountering cyclists and other V.R.U. The feedback from the S.U.D course was so positive we decided to send our non LGV van drivers on the course together with the Plant Services Manager and a SHEQ representative.
All our Drivers have also completed the Crossrail Driver induction, FORS online E learning modules which they found very informative, with our Lead Driver/Trainer who completed the FORS Practitioners Standard.
Involving and developing the drivers in this way has contributed to their feeling of empowerment which the company encourages we want them to take control of their own challenging situations. E.g. being able to say "no" to a customer if they feel what they are being asked to do a task that endangers themselves or anyone else in any way. The driver needs to know that if they contact me and tell me "I cannot do this because….." I would be delighted as it shows they are reacting to a situation in the correct manner and we can then resolve the issue safely and to everyone's satisfaction. Thanks to FORS we now have a reporting system for near misses, unsafe acts and unsafe conditions which the drivers are encouraged to use. This no blame, near miss system is used for data gathering by our SHEQ Team who are successfully interpreting the data and applying it to reduce accident rates.
FORS has been a great motivator for us to strive to and continue our high standards and raised our profile within the N G Bailey group. Our customers have greater confidence in us and this has been enhanced by retaining the FORS Gold Standard. The suppliers and sub-contractors whom we have also taken along with us have benefited in much the same way. FORS has already enabled us to service restricted Rail Sites in London and Birmingham and will be key to accessing an increasing number of future projects.
NG Bailey has pursued environment, efficiency, health and safety improvements outlined by FORS since 2009/10. Throughout this period using anti-idling measures, journey planning and vehicle improvements have enabled NG Bailey to cut its carbon footprint by 43% to date.
| | | |
| --- | --- | --- |
| | MPG | Incidents per 100,000 Kms |
| Nov 2012- Oct 2013 | 9.01 | 0 |
| Nov 2013 – Oct 2014 | 9.21 | 0 |
| Percentage improvement | 2.29% |  0% |
Annual improvement in MPG and Incidents per 100,000 Kms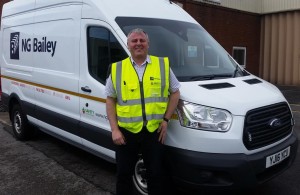 Maintaining FORS Gold will further differentiate our company from our competitors.
The measures and benefits gained through FORS, work not only for the company our customers and the environment, but also for myself and all my colleagues involved with driving and operating the vehicles.
In other words FORS is future proofing our Logistics activities.