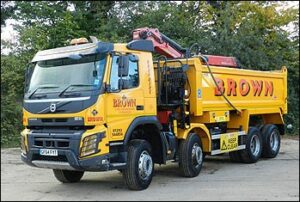 P J Brown (Civil Engineering) Ltd was incorporated on 10 March 2010. It consisted of the Civil Engineering and Haulage side of P J Brown (Construction) Ltd. Over the years, 'Construction' became heavily involved in groundworks for the major house builders in the south-east. Having signed substantive contracts in late 2019, it became impossible to expedite them in 2020 because of the pandemic and social distancing. Had we tried to do so, it would have been financial suicide. Subsequently, and as a direct result of the Covid pandemic, P J Brown (Construction) Ltd reluctantly placed into administration in June 2020.
A new licence application for the haulage and civil engineering side of P J Brown (Civil Engineering) Ltd was applied for in mid-May with the interim licence was granted in mid-June 2020. This enabled us, as a company, to safeguard circa 80 jobs from the casualty list of 'Construction' and thus retain a continual presence in Crawley as a local employer.
Initially, our introduction to FORS followed discussion with one of our clients in 2015, we visited the FORS website and felt it could possibly help us to enhance our compliance practices.
Following on from this, we decided to become a member of FORS, registered and gained our bronze accreditation the same year. We found that producing the required documentary evidence for our initial bronze audit was straightforward as we already maintained the evidence required as a matter of course.
Our overall experience of the day of the audit was a positive one and we passed our initial bronze audit at the first attempt.
Having obtained FORS Bronze it was inevitable that we would look at both Silver and Gold as it is the company's ethos to progress and achieve the highest possible accreditation to enhance and endorse our standing as a compliant operator.
We passed our initial FORS Silver on 11 September 2015 and our initial FORS Gold on 16 November 2015.
Although driver training was interrupted by the pandemic, we commenced SUD 5 yearly refresher training during the autumn of 2020 and concluded the training on 5 June 2021.
With the company having gained FORS Silver and Gold and the changes made by FORS going forward, our compliance officer (Phil Conner) attended the FORS Practitioner course, which is a requirement of G5. He successfully completed and attained the Practitioner qualification in March 2019.
As a company, we have implemented several other initiatives outside of FORS, which are now being offered by the organisation. One such example is the driver licence checking service which we had with Descartes for many years. However, in January 2019 we decided to use a dedicated licence bureau and moved to Davis Licence Check in February 2019.
'Although we implement our own policies and procedures, FORS has helped us enhance our compliance best practice' Mark Robinson Transport Manager.
Since becoming a FORS accredited operator we have put numerous systems in place to enhance our compliance further. These include:
Performance data – the original FORS data report offered a comprehensive tabular record for such items as Distance Travelled, Fuel Used, Emissions (CO2, NOX & PM), Traffic Incidents & Collisions (Insurance), and Costs of Incidents & Collisions. We modified this useful tool for our own use to give us either a 12-month crossover of data in split-years or as a complete annual record.
The data below shows the improvement made from 2018 to 2020. However, the data from 2020 also reveals the partial reduction of operational activity due to Covid.
Average

MPG

Incidents per 100,000 Kms
CO2
NOx
PM10
Number of PCNs
Proportion of fleet that uses alternative fuels
Jan-Dec 2018
7.0
1.58
3543
7052
129
3
0%
Jan-Dec 2019
7.1
1.31
3328
6876
125
13
0%
Jan–Dec 2020
7.2
1.17
2554
5160
94
7
0%
Percentage improvement
0.14%
10.69%
23.25%
24.96%
24.80%
46.15%
0%
Driver health and fitness review – In December 2019, although we already had a Medical Conditions & Ability to Drive TBT (designed as an annual refresher) which detailed the full list of DVLA notifiable conditions, we felt it was not enough. It was clear that whatever existing condition(s) our drivers had, we felt we may not be wholly aware of all conditions unless the drivers volunteered the information at first employment, which in some cases could be 5 years or more previously. Subsequently, we introduced a Medical Declaration form for all drivers to take away, complete in private and grant permission for us to assemble into a spreadsheet.
The results of this confirmed all medical conditions, medication being taken, the dosage and frequency, and also whether there was a letter on file with HR from the drivers GP. Most importantly, we wanted to know whether DVLA had been notified where it was applicable.
Drug & Alcohol Testing – from November 2017, we introduced random drug and alcohol testing. In the course of a year, we arrange up to three dates annually, and test from 12 – 15 drivers on each date. The test is never disclosed until the morning it is planned for and those being tested are not informed until that date either.
The tests include both Drugs and Alcohol, using a Dräger Alcotest 6820 breath test unit, and a Dräger 5,000 drug analyser system, both units are used by the Police. We have also used the Intelligent Fingerprint drug test analyser unit, via our fully trained external consultant for D&A testing.
Recruitment of drivers – the company is based in an area where there are several other operators carrying out similar work. With it becoming ever harder to recruit drivers, we review our driver rates annually to ensure that we retain our driver workforce in, what is, a very competitive marketplace.
One thing is for sure, we believe that the government and industry bodies need to do significantly more than they did pre-covid to help overcome the problems that operators currently face. Driver shortages cannot be placed at the industry door to sort out. It's been an issue for several years and isn't likely to get resolved all the time the powers that be bury their heads in the sand. Whatever else moving forward, we believe the following would help:
Redefine the truck driver profession and its image.
Assist with funding for driver training and simplifying the qualification process.
Reducing insurance premiums and Excess Charges for companies employing younger HGV drivers
Improving roadside facilities including building larger lay-bys on 'A' roads and substantially improving facilities at Motorway service areas where healthy food should be offered at sensible prices.
Providing clean, driver only, shower and washing facilities at service areas
Treating HGV drivers with respect as the professionals they are
For some authorities, notably the DVSA, to stop treating the haulage industry and its drivers as a 'cash cow'
Place HGV driving on the skill shortage list and allow us to sponsor drivers from countries such as South Africa
None of the above is 'Rocket Science' and all of the above are relatively easy fixes. However, no one here is holding their breath.
Noise assessment – the location of our operating centre, below Gatwick Airports flight path, means that our daily activities do not impact on local residences. To avoid other noise and inconvenience on the routes that impact other road users, our vehicle fleet leaves the 'OC' before the main build-up of local rush hour traffic and the 'school run'.
Modal shift and alternative vehicles – LNG has the potential to offer fuel cost savings when compared to diesel. It can also reduce sulphur emissions, particulates, and nitrogen oxides, and help reduce GHG emissions from production to use.
Burning LNG in spark-ignition engines is quieter than burning diesel in combustion engines. It means LNG-fuelled trucks can operate longer under noise restrictions, for example when delivering in residential areas.
However, there is still a downside, as LNG is still a fossil fuel, albeit the cleanest. For the foreseeable future, LNG is the best possible alternative to diesel. However, in early 2021, gas supplier BOC withdrew from the LNG UK market, and because of things such as this, the future for us, and all transport operators, regardless of industry sector, is likely to prove challenging.
Looking at vehicle replacements to satisfy climate change and the government emission targets shows little or no support from the powers that be.
Equally, if we decided to replace our tippers with LNG fuelled vehicles, where in the southeast is the fuel infrastructure to support it? There are no Biomethane fuel stations for HGVs in the Southeast.
Unfortunately, we are still living in an age where, the powers that be will do nothing until someone in Whitehall realises the implications of not having a fully operational and effective UK transport industry.
Vulnerable Road Users – our vehicle fleet are all Euro VI and are fitted with either 360 camera systems or in the case of our older vehicles, rear, forward facing and nearside cameras with nearside side scan, and LTAW.
The fleet also complies with Tfl's Direct Vision Standard and all 42 FORS registered vehicles have been allocated a DVS permit.
'There is no doubt that maintaining fuel, insurance, PCN and Emissions data since 2012 the company has achieved reductions in cost' – Phil Conner Transport Compliance Manager
Since gaining our initial FORS Bronze accreditation, we have promoted the FORS standard which we believe should be adopted by all hauliers within the UK as a base standard for compliance and road safety.
Initially we sent a mailshot to every company we dealt with, including service providers, upon our gaining FORS Bronze. We have had discussions with several suppliers asking about the FORS Accreditation process and what was involved, some of whom have already registered with FORS in their own right and have either gained FORS Bronze or are going through the accreditation process.
We promote FORS via the FORS Logo and our ID on the vehicle cabs and also on the offside rear of the vehicle body. We also have the FORS logo and ID as part of each company email users' signature.
Gaining FORS Gold was a positive move for the company and confirmed that we were doing everything possible to maintain a fully compliant operation at all times. Through the process, we have set up our own data collection and rolling annual data spreadsheets. These data records will always be populated, as they provide a unique resource of where we are at any point in time.
To sum up, achieving FORS Gold has provided many benefits. Importantly, it has confirmed to our insurers that we can provide up-to-date accurate driver information at the click of a mouse, without having to trawl through reams of paper. It has also enabled us to cross reference our vehicle fleet data vehicle for vehicle.
We are contactable via telephone, email or via our website at – www.pjbrown.co.uk
Our Twitter and face book accounts will be available soon.
FORS member questionnaire completed.