P J brown (Construction) Ltd was started by the company's namesake Peter John Brown in 1980, with Peter beginning as a sole trader with a single tipper lorry. In the years since then, it has grown to become the largest tipper operator in Sussex. Based in Crawley, Sussex, P J Brown (Construction) Ltd has two significant sides to its operational activities with its groundwork's and civil engineering operation being the largest part of its business and its haulage operation playing a significant supporting role.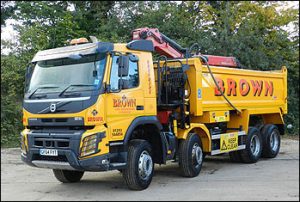 Richard (Sonny) Brown is the company's transport compliance manager and explains how P J Brown (Construction) Ltd's FORS journey has progressed through the improvements in road safety and reductions in road incidents and PCN's it has seen since becoming a FORS accredited member.
We became aware of FORS in 2014 following discussion with one of our clients and upon visiting the FORS website realised it could possibly help us to enhance our compliance practice.
Putting together the required documentary evidence for our initial Bronze audit was fairly straightforward as we already maintained the evidence as a matter of course. However, the FORS layout of folders made a great deal of sense which made things easier to find.
We passed our initial Bronze audit first time and decided it made total sense to continue with the next step of gaining Silver.
As an accredited FORS company we took advantage of the benefits that were open to us, with our first course of action being to book all of our driver workforce on the Fleetsource Safe Urban driving Course.
'We have seen improvements in road safety and reductions in road incidents and PCN's' Richard (Sonny) Brown Transport Compliance Manager
All of our vehicles are fitted with near side proximity sensors and left turn audible warning alarms. With a fleet of Euro V and VI we included Fresnel Lenses to our entire fleet which the drivers feel has made a significant difference to the near side blind spot that was always a problem. Safe Urban Driver training and FORS E-Learning courses were both a significant 'bolt-on' to our internal driver risk management program. We have also recently installed 360 camera systems to a recent delivery of 5 new tippers and will be monitoring the benefits over the next 3 months.
'FORS has helped us enhance our compliance best practice' Richard (Sonny) Brown Transport Compliance Manager
For P J Brown (Construction) Ltd, upon obtaining FORS bronze it was inevitable that we would look at both Silver and Gold as it is the company's ethos to progress and achieve the highest possible accreditation to enhance and endorse its standing as a compliant operator.
Overall, the improvements we have achieved are detailed in the table below and these achievements only serve to motivate us to further improve on our current achievements.
| | | | |
| --- | --- | --- | --- |
| | MPG | Incidents per 100,000 Kms | Number of PCNs |
| Jan-Dec 2015 | 7.1 | 1.2 | 6 |
| Jan-Dec 2016 | 7.4 | 0.9 | 0 |
| Percentage improvement | 4.23% | 25% | 100% |
Driver health and fitness review – All new drivers have to complete a Medical Declaration upon joining the  company during the induction process. However, we have recently considered introducing this on an annual basis. We also include this within the drivers handbook which is currently under review and will be updated with a more comprehensive set of guidelines.
Strategy for recruiting drivers – P J Brown (Construction) Ltd are based in an area where there are several other operators carrying out similar work to us.  With it becoming ever harder to recruit drivers, we have recently (1st September) increased our driver rates to ensure that we retain our driver workforce in what is a very competitive marketplace. Equally, we advertise extensively through our media platforms and are looking at other areas of recruitment within the local area such as schools and colleges.
Noise assessment – the location of our operating centre means that our daily activities do not impact on local residences. Equally, the only real noise generated is when our drivers are carrying their daily walk round checks prior to leaving the 'OC'. To avoid other noise and inconvenience on the routes that will impact upon other road users, our vehicle fleet has usually left the 'OC' before the main build-up of local rush hour traffic and the 'school run' not only to minimise noise impact, but equally to reduce emissions by vehicles sitting idling in traffic queues.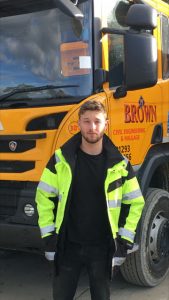 Modal shift and alternative vehicles – we have recently had a demonstration of the direct vision tipper vehicle that is currently available from Volvo trucks and this is something that we will seriously consider for the future.
FORS has afforded P J Brown (Construction) Ltd the ability to quickly, simply and effectively implement various strategies to ensure the company and its vehicle fleet operates as safely as possible. It has given us a framework that ensures we are as up to date and current as we can be and has given us access to tools such as e-learning and on site courses that we would otherwise be unaware of. Moving forward, we will continue to maintain the highest levels of compliance that are achievable.
In summary, achievement of GOLD has served to confirm that P J Brown construction ltd is both committed to meeting the highest standards of compliance and road safety whilst simultaneously striving to set new ones. Renewing our FORS Gold for a third year will confirm the benchmark of said standards and for P J Brown (Construction) Ltd means being part of a select group that has achieved its highest accreditation with FORS.
Website – https://www.pjbrown.co.uk/
Facebook – https://www.facebook.com/PJBrownConstructionLtd/
Linked-In – https://uk.linkedin.com/company/pj-brown-construction-ltd
Please note: All published FORS Gold case studies have been submitted by the accredited company named above and transcribed verbatim.