Pallet Track Logistics Ltd prides itself on the fact that its management team maintains strict adherence to managing every aspect of its operation and there is no difference when it comes to the data monitoring of its vehicle fleet.
Pallet-Track Logistics Ltd is a corporate depot of Pallet-Track Limited, the UK's fastest growing overnight-palletised freight network.
Looking to the future of the company and making a decision to aim at becoming FORS Accredited,  we achieved FORS Bronze accreditation in July 2016 and quickly began to notice the positive impact it had. We continued down the FORS road and  looked to achieve FORS Silver accreditation by the end of the year. If this could be achieved, it was agreed that FORS Gold accreditation would be our goal for 2017.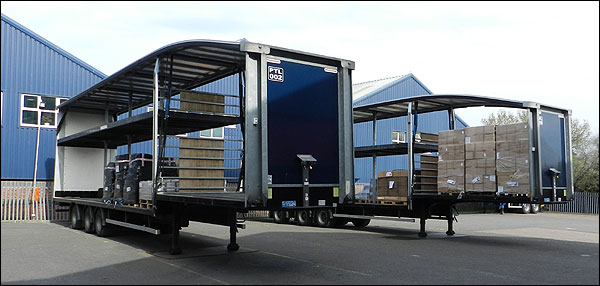 In the run-up to the end of 2016 we had taken the plunge in many areas as we looked to grow the business. With a full fleet replacement program already underway and the tentative steps of acquiring another depot, achieving FORS Silver accreditation during December was the icing on the cake and the culmination of a very busy year.
As a result of the FORS process and the many benefits that became evident, not only for us as a business, but equally for the career progression of our driver workforce and also our management team, we noted many changes that were directly attributable to our involvement with FORS.
As a result of implementing the FORS processes, our management team expanded upon the FORS requirement and designed and implemented its own data analysis programs that are easily understood and readily used across departments.
With a fully upgraded fleet, our driver workforce have benefitted from the many FORS requirements that were installed in their vehicles prior to delivery. These include, left-turn audible warning, forward, side and rear camera systems as well as the benefits of driving a fleet of Euro 6 vehicles. Asides from the obvious driver benefits, it has also given our drivers safer control of their vehicles as well as enhancing the safety of vulnerable road users.
 Safety Training
It is not only in equipment initiatives that Pallet Track Logistics Ltd have made great strides but as importantly we have done so through the training of our drivers.
Since our initial Bronze accreditation, all of our drivers have attended a Safe Urban Driving course with Fleet Source in London. The SUD course, free as a result of initial accreditation had a huge impact, with every driver confirming that it was not only beneficial, but equally gave them a better understanding of the risks vulnerable road users faced every day. As a bolt-on to the SUD course, every driver has also completed an E-learning course in cycle safety.
In conclusion, FORS has afforded Pallet Track Logistics Ltd the ability to quickly, simply and effectively implement various strategies to ensure the company and fleet operates as safely as is possible. We have built around it a framework that ensures we are as up to date and as current as we can be. Importantly, we now have access to tools such as e-learning and other training courses that we would otherwise have been unaware of.
Please note: All published FORS Gold case studies have been submitted by the accredited company named above and transcribed verbatim