Paul Smart Transport Limited is a family owned and operated haulage company based in Felton near Bristol. Paul Smart started the business in 1994 with just one truck. Our transport team now operate an expanding fleet of 17 rigid trucks, 15 bulk tippers and 3 bulk walking floor trailers. All of our vehicles are less than five years old and we are constantly working with Scania to ensure we only put the safest and most modern trucks on the road. Kate Smart-Cooke, Business Development Manager, explains how Paul Smart Transport Ltd have made large reductions in fuel use and increased the safety of vulnerable road users through the installation of modern safety equipment through FORS.
We first came across FORS when tendering for work and since joining in 2013, we have made better use of our telematics system which has subsequently changed driving behaviour, resulting in reduced fleet costs and safer driving. All of our vehicles are fitted with a comprehensive telematics system and with the full co-operation from our drivers, we have seen a huge improvement in fuel economy.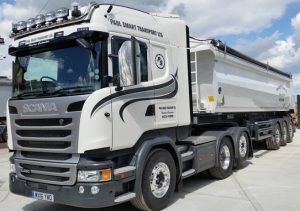 We passed our initial audit first time round. This showed us that we fully understood the FORS standard and exactly what FORS aims to achieve. From here, we were inspired to progress to Silver and ultimately Gold accreditation. Once we were Silver accredited we began to make use of the FORS e-Learning modules available to drivers. This meant that our drivers became a lot more aware of vulnerable road users' safety. We also took the opportunity to send three of our managers on the FORS Practitioner's Course which helped give them a greater understanding of the FORS standards and best practices.
'By achieving the FORS Silver accreditation, we have gained access to a customer base we didn't previously have' Paul Smart, Director
As a transport company, a key focus for us is the safety of all road users. By utilising the FORS workshops we have managed to train all our drivers in Safe Urban Driving and online Cycle Safety training. These useful training courses made available by FORS have provided invaluable learning for all our staff and have given us the tools to focus on the important elements of road safety and the additional important management aspect of sustainability and environmental awareness.
'The Safe Urban Driving course allows the driver to assess the road through the eyes of a cyclist, bringing the driver a greater awareness of vulnerable road users' FORS Practitioners – Kate Smart-Cooke, Jane Addicott & Emma Smart
It has been important for us to keep progressing within FORS for a couple of reasons. Firstly, and most importantly, it has increased our awareness of vulnerable road user's safety, resulting in all of our trucks being fitted with the latest safety equipment such as side scan, 360° recording cameras, audible left and right turn warnings, Class IV, V and VI mirrors and prominent cyclist safety signage. It has also aided us in gaining work which we wouldn't have been considered for if we weren't Silver Accredited.
| | | | | | | | | |
| --- | --- | --- | --- | --- | --- | --- | --- | --- |
| | Baseline Data     (Jan 2013) | Target | May 2017 | June 2017 | July 2017 | Aug 2017 | Sept 2017 | Oct 2017 |
| Number of Vehicles | – | – | 31 | 32 | 32 | 32 | 32 | 32 |
| MPG | 6.8 | 8.0 | 7.2 | 7.4 | 7.3 | 7.3 | 7.4 | 7.4 |
We have improved our MPG across the entire fleet from 7.2 to 7.4 in the past six months.
* Actual MPG (7.4) versus Baseline (6.8) = 0.6 MPG Improvement, resulting in a saving in October 2017 of £5,278.26
We are continually monitoring our vehicle and driver performance and through keeping accurate telematic and KPI records, we are able to carry out ongoing progressive, proactive improvements. We currently have a fleet replacement programme in place that is replacing Euro V vehicles with Euro VI vehicles, resulting in lower emissions and reducing our carbon footprint.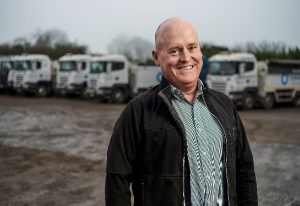 Paul Smart Transport Ltd are proud to be working with Scania developing its new generation trucks. We have operated a masked prototype for almost two years, which is the only Scania construction prototype in the UK and has now been launched by Scania as their construction XT range.
In 2018 Paul Smart, the founder of Paul Smart Transport Ltd will be celebrating 25 years in business by attempting to raise £250,000 for Cancer Research UK.
To conclude, we were proud to achieve Silver accreditation in June 2016 and with the help of FORS have become a safer and efficiently run company. To continue our journey, it is our ambition to achieve Gold accreditation. In doing so, we hope that this demonstrates a greater trust to both our customers and to vulnerable road users that Paul Smart Transport take the safety of other road users extremely seriously.
Please note: All published FORS Gold case studies have been submitted by the accredited company named above and transcribed verbatim.