Phil West Transport Ltd is based in Hertfordshire & operates 2 x 32 tonne Rigid Tippers as a franchise haulier for Tarmac. My name is Philip West & I am the Director of & a driver for the Company. We solely supply materials on behalf of Tarmac. We has noticed significant reductions in aspects such as fuel usage, reduced NOX & CO2 emissions since we started using FORS. We have also improved on our general road safety & Penalty Charge Notices since FORS was implemented.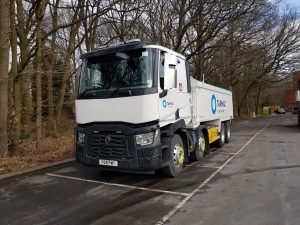 We first heard about FORS through Tarmac. We looked into the benefits of joining the scheme & saw that these were the standards & an ethos that we wished to adopt, therefore improving the safety and efficiency of our vehicles & our drivers & also reduce our Company's impact on the environment.
We found our initial Bronze Audit slightly daunting because we had to gather & put in place the necessary information required. Once we did this we were pleased to be told we had passed first time! This motivated us to look to the future with FORS & we started to aim for Silver & Gold status.
Once we gained Bronze, we used the tools given to us by FORS to help train all our drivers with FORS eLearning modules. We already had in place methods for driving licence checks & progressive training, but after attending my first Practitioner courses (9 & 10) recently, I felt very informed by the time I left. We will be booking more Practitioner courses for myself & my drivers very soon.
Phil West, Director of Phil West Transport Ltd says, "The training provided by FORS has greatly helped my Company progress with regards to business development, driver training & vehicle safety".
FORS has helped benefit us by enabling our Company to achieve higher standards through their driver training programmes, which offer both classroom based courses & eLearning modules, along with FORS toolbox talks. This has led to our drivers having a better understanding of road safety & raised their & our awareness of the needs of other vulnerable road users. This has helped keep our accident rate at zero for the past 3 years by increasing our vehicle safety equipment. All of our vehicles are fitted with 360 degree cameras, nearside proximity sensors, audible alarms & class IV/V/VI mirrors. Flashing strobes are also attached to our vehicles as well as cycle safety stickers to both rear & side.
Phil West, Director of Phil West Transport Ltd says, "ORS eLearning & Practitioner workshops has helped us as a Company to greatly progress in our industry".
We take safety very seriously, so once we gained Bronze accreditation we decided to go for Silver, which we obtained in June 2017. Once we achieved this, we then decided to show best practice & in order to be able to stand out from our competitors, we prepared & submitted our Gold Application, which we gained in December 2017.
Telematics is shown to our drivers on a regular basis to help them improve their daily compliance score. Using this tool, we have seen an improvement in our speeding & coasting compliance by 1% & 19% respectively from the previous year. Figures & evidence shown below:
SPEEDING

Percentage of Compliance

COASTING

Percentage of Compliance

FUEL CONSUMPTION

Number of Incidents

Number of PCNs

May 2016 – May 2017

98.8
89.8
9.3
0
1
May 2017 – May 2018
99.8
91.7
9.3
0

0

Percentage improvement
1%
1.9%
0%
0%

100%
In addition to our 6 monthly eyesight checks & licence checks, we have also introduced a 6 monthly licence declaration that requires details of any health issue our drivers may have. This also informs them to declare any medication that is prescribed or bought& confirm it will not affect their ability to drive. Our initial Tarmac driver induction contains all of the above elements & is carried out prior to the driver commencing work.
As of June 2018 our Company started enquiries into an apprenticeship scheme for a young trainee to learn all aspects of our industry. Unfortunately this is yet to go ahead because of issues with insurance for our vehicles. We continue to look into this, with the help of Tarmac. We are also currently looking into schemes for ex members of the Armed Forces to get back into Civilian life.
As a franchise haulier for Tarmac, they supply us with a robust noise assessment of our Company's base plant. This is carried out by Tarmac every 2 years. We also undertake our own weekly noise assessment & drivers are issued with our own policy regarding environmental & workplace noise, which outlines their responsibilities.
We are very conscious of the impact our fleet have on the public & on the environment. Our vehicle replacement scheme is driven by our wish to reduce this impact, thus running a fleet with a minimum of Euro 6 specification. We have tested 'dust cart' low emission vehicles, but unfortunately these were not suitable for our Company's line of work as they were too low to the ground and did not produce a good MPG when being driven.
In the first week of March 2018 we took delivery of our second Euro 6 vehicle. We run a 5 year lorry replacement programme & in 2 years' time our first 2015 lorry will be replaced with a new one. We will then continue to explore all avenues to reduce our Company's emissions. We will also continue to update our vehicles with the latest safety measures available to keep our incident rate as low as possible (currently zero). We also strive to look after our driver's health through regular medicals, and other routine health & hearing checks.
We are committed to improving road safety & are always looking at all aspects of sustainability & environmental impact. Through FORS we have been given the tools to achieve this. Telematics data proves that we run to a very high standard & we will strive to improve this even further through driver training & vehicle upgrades.
Visit our LinkedIn