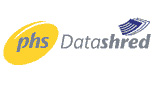 High Profiles at PHS
The PHS Group is one of the country's leading workplace services providers. The company's Datashred division recently installed in-vehicle driver profiling technology through FORS. We spoke to Ian Walsh, National Transport Manager for PHS Datashred, to find out how the system is helping improve their drivers' standards while also saving money.
Aims and objectives
"Road safety is an important part of my remit," explains Ian Walsh from his base in Cuffley, Hertfordshire.
"We've got a wide-ranging safety programme that's been successful, but we're always looking for new ideas that can help us improve further. With the new corporate manslaughter legislation, it's even more important that we can demonstrate we're doing the right thing and evaluating our drivers properly. I felt driver profiling ticked all the right boxes so I was keen to see what it could do for us."
Benefits and impacts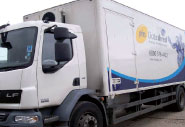 FORS accredited companies can take advantage of a free three month trial of the GreenRoad Technologies system, which monitors around 120 driving manoeuvres in real-time. "I think we'd have looked at driver profiling eventually, even without the free trial through FORS, but that certainly helped to speed things up and convince my directors it was worth trying!"
"I can log on at any time, see how our drivers are performing and, if necessary, take steps to address any issues," Ian says. "The driver also gets immediate feedback on their performance through an onboard display which turns red ('at risk'), amber or green depending on how they're driving."
Since introducing the system in October, there has been a marked reduction in the number of amber and red manoeuvres across Ian's fleet. "Our average number of manoeuvres per 10 hours is 17. That doesn't necessarily mean 17 high-risk manoeuvres - it could be accelerating and braking too hard when stopping and starting in congested areas, for example - but it was more than 70 when we started. We've still got a way to go to meet our ultimate objective of becoming a completely 'green' fleet, but it's a good start in just a few months."
As well as helping to make their vehicles safer, Ian has also noticed a positive impact on fuel economy. "Coupled with some other steps we're taking to improve efficiency, we've seen something like a 10-12 percent improvement in fuel use. So we're talking about a massive impact on our bottom line."
Road safety was the primary reason for Ian's interest in the system but the cost savings are a welcome benefit, particularly in the current climate. "The fact we get the added benefit of fuel savings, on top of the safety improvements, is fantastic. Including conservative estimates for savings on accident repairs, the system will pay for itself in seven or eight months."
Referring to his experience in introducing the system, Ian suggests that a dedicated project manager is essential if it's to succeed.
"You need to check the data on a regular basis if you're going to get the most out of it. It's no good just doing a monthly report because drivers aren't going to remember incidents from weeks ago, so someone really needs to be responsible for managing the system on a day-to-day basis. You also need someone overseeing things at the outset, to make sure you get the right approvals and can engage properly with your drivers."
As might be expected, there was some initial resistance to the system amongst Ians's drivers and he feels that openness is essential. "We've had excellent support from GreenRoad and we went out to all our operating centres, sat down with the drivers and talked through their concerns.
"We were honest about the choice they had," Ian continues. "They could have this system, which gives them the chance to take the initiative and adjust their driving style if they need to. Or we could send them on a course where they'd have someone sat next to them, criticising every move they make.
"It's inevitable we're still going to have minor knocks here and there. What we're really interested in is ensuring our drivers are performing safely enough to make sure those accidents aren't likely to include pedestrians and cyclists. The guys understand our responsibilities and we've generally had good buy-in from an early stage."
By demonstrating the impact external factors can have on their performance, the system is also benefiting drivers directly. "You can identify manoeuvres by time of day and we found a lot of the ambers and reds we were getting occurred towards the end of the day," Ian explains.
We've seen a 10-12% improvement if fuel economy. So we're talking about a massive impact on our bottom line.
"On a couple of occasions, we've spoken to the drivers concerned and they've held up their hands. They might have had to be somewhere straight after their shift so they rushed more than they would normally, but it means we can say 'Let us know if you need to be somewhere at a particular time and we can look at putting you on an earlier run'."
"Similarly, we've seen some drivers used to trunking that haven't performed as well in the city, with the volume of traffic involved. I can talk through the data with them and highlight the fact their score is being adversely affected. It's then up to the driver to take that on board and adapt accordingly."
"Some drivers have even said they're enjoying the challenge of staying on green," reveals Ian. "It shows you that driving round London can be stressful but, by adjusting their driving style, drivers can actually enjoy their routes a little bit more. And it's not taking any longer!".
"So they're certainly noticing benefits as well. We've introduced league tables both within and between operating centres and the response has been excellent. We haven't needed to offer other incentives yet, but it's something we'll look at because we've ordered 100 units and are now rolling the system out across our fleet."
"The rest of the PHS Group has seen our results so they're interested as well. There's a lot we're still to discover about it but, all in all, it's a great management tool."