Careys has been in existence since the 1970s. Established in Wembley it has become a national organisation in the construction industry with the majority of our HGV work centered in and around London.  We transport plant and equipment to construction sites with some collection of waste material. Gary Condon, Managing Director of PJ Carey Plant Hire, explains how FORS has served to validate and build upon existing good practice and achievement of the gold standard has helped us over the past 12 months.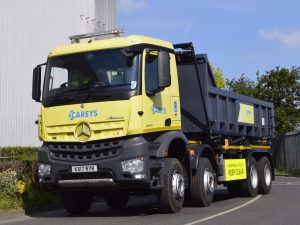 "Following achievement of gold in 2014 successfully re-accredited in subsequent years we have in the past 12 months continued to build on that success and have worked with our transport staff, as well as Directors, to ingrain a culture of continuous development towards our road safety work, ensuring that all suppliers we work with are risk rated so that they meet the high levels we aspire to. Our work with CLOCS, which I champion, both internally and externally, has seen us working closely with key stakeholders such as Mace and Skanska who regularly request the support of one of our vehicles, and a driver, at their cyclist safety events promoting, for example, blind spot awareness and associated hazards. This is good for the general awareness of the public and for our publicity as a business where we also provide sponsorship – as we did at the CLOCS event held at Earls Court in March (our second year as sponsors). In the past 12 months, we have continued to adapt to the continuing requirements of our work in London, purchasing further Euro 6 vehicles built to our specification to include additional FORS safety features which protect vulnerable road users. The HGV seen in the picture above is an example of one of our latest additions.
In January this year we were re-audited against the Bronze standard in line with the timescale for Gold accredited organisations. We found the process rigorous against challenging performance measures but it was also informative and we passed this re-accreditation at the first attempt.
Since achieving the gold standard, we proudly display our certificate in our office and have maximised the promotion of this on all our promotional material and letterheads etc. This level of accreditation has contributed to business won over the past 12 months, especially through the tendering process – we have seen turnover increase by 30% and added substantial numbers of additional staff through the increased order book. Our involvement in CLOCS and the FORS Gold accreditation are both advertised through email signatures to trade professionals and our suppliers alike of whom we stipulate FORS silver as a minimum for site deliveries.
In terms of our experiences through the FORS process when I arrived in the business Careys had already achieved Bronze FORS status and this was confirmed in January 2013. My fellow Directors and I saw the real potential for the Standard in helping us stand out amongst our competitors and following the confirmation that we continued to meet the Bronze standard a year later felt the time was right to set about achieving FORS silver which we managed in February 2014. The robust systems we already had in place, particularly for measuring fuel use and analysing road traffic incidents and penalties has, I feel, shown our commitment to the practice and spirit of FORS and the gold achievement served to demonstrate this further. Across our senior management team the Standard has always been seen as evidence of quality as well as a means of securing competitive advantage.
"The achievement of the gold standard has helped us to secure competitive advantage" Gary Condon MD of PJ Carey Plant Hire
FORS has helped us greatly in knowing, understanding and analysing our data in a professional way. The Safe Urban Driver training has given us real driver focus and has helped our fleet operatives become more involved in ensuring the fleet operation is professional and competent.
The table below provides data which shows performance comparisons between periods as members of the Scheme where, by adopting an approach of progressively training our drivers, distinct improvements can be seen, including an increase in our fleet.
| | | | |
| --- | --- | --- | --- |
| | Number of vehicles | Total Incidents | Number of PCNs |
| Apr 2014 -May 2015 | 18 | 5 | 4 |
| Apr 2016 – May 2017 | 20 | 0 | 2 |
| Percentage improvement | – | 500% | 50% |
"We will continue to take advantage of the benefits that FORS offers" Gary Condon MD of PJ Carey Plant Hire
Other ongoing activities are as follows:
At recruitment drivers are screened to check for any medical conditions potentially impacting on their ability to drive for the company. Ongoing medicals are then carried out by our external healthcare provider every 2 years to ensure they remain fit to drive.
We are in the process of advertising our driver vacancies through social media and our website to promote driving as a career with our Cycle Safety Days where we work with external partners including the Met Police to raise awareness of vulnerable road users also seen as opportunities to engage with the public and provide a further platform for this purpose.
In relation to noise assessment whilst our customer sites are based in non-sensitive areas around London and the nature of our operation and activity is below the legal health and environmental requirements we are trialing noise reduction workstations for all our operatives.
Our work at Battersea Power Station is an example of the consideration we are now giving to modal shift where by working with the client a decision has been made to transport waste
material by river. Going forward this process will be part of our discussions with future contractors to maximise the use of alternative modes. Although we currently have no alternatively powered vehicles in our HGV fleet we are open to exploring this new technology to see if they can feasibly be used in our type of operation. Our latest vehicles are Euro 6 compliant and have a pay load 1.2 Tonnes greater than our old trucks which will reduce the operational miles driven.
The Standard has given recognition to the transport operation within the company and is being recognised by our customers. Becoming a Champion of CLOCS (Construction logistics and cyclist safety) through working in partnership with Transport for London has provided even greater credibility. Going forward our aim is to continue with the promotion of quality and safety of our transport operation through further engagement with partners and stakeholders whilst continuing to take full advantage of the benefits that the standard undoubtedly provides. This is also reflected in our recognition by Commercial Fleet Magazine as "Fleet of the Year (Construction and Building)" where, during our presentation we recognized the importance of FORS and CLOCS to our business. We have also developed a "Traffic Management Plan" as part of a package offered to clients and local councils which is discussed at the tender stage".
 Please note: All published FORS Gold case studies have been submitted by the accredited company named above and transcribed verbatim.