Through the major contractors we work for, it was a requirement that we had FORS accreditation, to enable us to make deliveries to all the major building projects in London.  Although located near Eastbourne, we are a specialist company working within the construction industry, with the majority of our work centred in and around London.
We provide labour, contract lifts (including the organisation of road closures and traffic management), the installation of machinery, mechanical and electrical plant and associated equipment, storage and delivery by our transport plus the removal of redundant services and equipment.  John Miller, the Director, explains how FORS has served to validate and build upon our existing good practice:-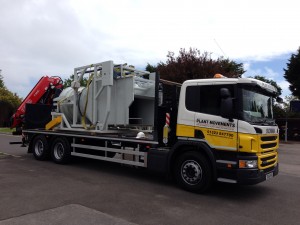 Plant Movements first achieved FORS bronze status in 2013.  I could see the potential for the standard in helping us stand out amongst our competitors and following confirmation in 2014 that we continued to meet the bronze standard, in 2015 I felt the time was right to set about achieving FORS silver, which we managed in May.
The systems we already had in place, particularly for regular checking of driving licences and eyesight checks, measuring our fuel use and analysing road traffic incidents and penalties have proved our commitment to the practice and progression to Gold was the obvious next step.
Across our industry, the FORS standard is seen as evidence of quality as well as a means of securing a competitive advantage.
The safety of vulnerable road users is another area I consider of paramount importance and working with FORS, such as through their workshops, has provided a further impetus and helped consolidate an awareness across our operations. This has been achieved through regular in-house training, toolbox talks and the financial investment in various safety equipment items for our vehicles.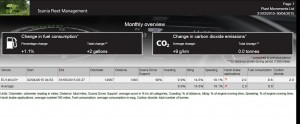 As seen on the left is an indication of the detail of performance measurement in place at Plant Movements.  At the click of a mouse, through data capture via a number of sources, we are able to show real cost savings for our business through detailed analysis which informs our best practice techniques and training content.  FORS has helped to develop our thinking in this area as I drive the business forward.