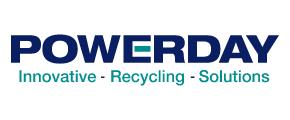 Powerday has a long and successful track record in waste management and associated services. The company has been trading since 1977, its original business supplying plant and labour to the construction sector.  During the  1980's and '90's, the company evolved into an integrated waste management business and has over the last 8 years invested significantly in the development of modern state-of-the-art recycling plant, facilities, vehicles and equipment. Our business has three operational locations, our main Materials Recovery Facility in North West London, a new MRF currently under construction in Brimsdown and a further waste transfer station in South West London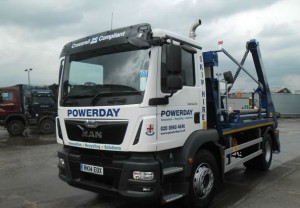 Powerday also owns and operates one of the largest independent fleets of skip, roll on roll off, mobile compactor and bulk haulage vehicles, all driven by directly employed, trained and authorised drivers. This is supported by an extensive inventory of containers, which are subject to continual appraisal refurbishment and renewal. Current industry compliance requirements demand experienced management working alongside knowledgeable authorised drivers and vehicles. In addition to Powerday's ISO 9001, ISO 14001 and OHSAS 18001 accreditation, all drivers are fully trained and vehicles are fitted with Euro 6 Standard engines, reducing our carbon footprint by 20%. All vehicles are fully compliant with the Crossrail Vehicle Specification and operate to the FORS Standard.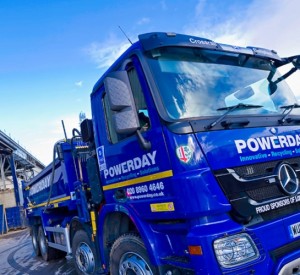 Powerday regards its corporate and social responsibilities as a priority. High profile contracts in and around London demand high operating standards. Modern business means professionalism and compliance. By gaining FORS accreditation and developing our driver's skills and qualifications through CPCS we can deliver the type of service required in a safe and compliant manner
The FORS 'Journey'
Bill Cox, Powerday's Transport Manager explains
"Powerday has always considered its CSR as a priority and regards the FORS Standard as an enhancement to this responsibility. Training plays a key role in the development of our business. All Powerday staff are provided with the correct training to enable them to carry out their duties in the most efficient and safe way. Our drivers are no exception and recognise the benefits and are keen to get involved. In addition to FORS they participate in Crossrail Compliance Training, Safe Urban Driving and the Construction Plant Certification Scheme (CPCS).
FORS has been instrumental in raising the awareness of safety issues by vehicle operators, and we welcome these improvements as the industry as a whole looks to keep safe, vulnerable road users particularly in the Capital where we operate.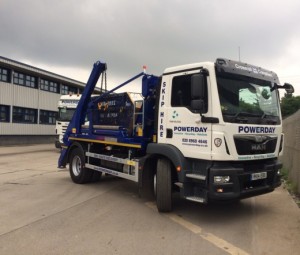 All of our vehicles are fitted with a four camera black box system which includes left hand turn alerts and side sensors. This system allows me to easily analyse driver and vehicle performance Combined with driver input and safety workgroups we are able to develop new systems of work.
We cannot forget the financial benefits that the FORS Standard brings to the business, in the form of reduced insurance premiums, fuel usage and driver incidents.
As a fully committed FORS Practitioner, I am able to use the tools for further development and training, which in turn reinforces the standard. In summary, FORS has contributed to a safer operation for Powerday and vulnerable road users"