Primagrange Limited are based in Greenwich, South East London supplying tipper lorries to the construction, civil engineering and demolition industries around London and the south east. Brendan Connolly, Director & Transport Manager, explains how Primagrange Ltd have worked hard in reducing their impact on the environment through FORS and increasing vulnerable road safety awareness.
We were introduced to FORS way back in 2008 and immediately signed up to the scheme as we were very concerned about the safety of vulnerable road users. We were also working on Crossrail projects ensuring that our vehicles were compliant with their standards and all our drivers attending the mandatory Crossrail Lorry Driver Induction courses.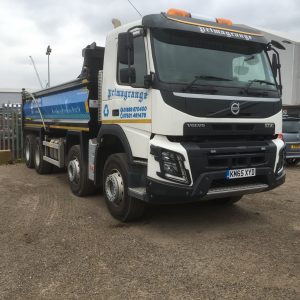 Once we were Bronze members we implemented our plan to progress towards Silver award and are now in our second year as Silver members. We have also taken advantage of the many benefits and training provided by FORS to ensure our organisation works efficiently and most importantly in a safe environment.
'Safety is the most important part of our work ethos'
FORS has been invaluable to us, helping to improve our awareness on both road traffic safety, in the workplace and environmental issues associated with road haulage in London and the South East of England.
 'Road safety first then always think of the environment'
Since becoming FORS members, we have reviewed our vehicles replacement policy, disposing of our oldest lorries and replacing them with new environmentally friendly vehicles.
 Achieving the FORS Gold accreditation would demonstrate our commitment to road safety with particular emphasis on vulnerable road user and the environment. At Primagrange we are always aiming to improve our operation and FORS has been at the forefront of helping us achieve our aims.
 Please note: All published FORS Gold case studies have been submitted by the accredited company named above and transcribed verbatim