Primagrange Limited are based in Greenwich, South East London and supply tipper lorries to the construction, civil engineering and demolition industries throughout London and the south east. Brendan Connolly, Director & Transport Manager, explains how Primagrange have remained a prominent figure in the construction & demolition industry through FORS by working to the high standards required for the Bronze, Silver and Gold accreditations.
We were introduced to FORS way back in 2008 and immediately signed up to the scheme as we were very concerned about the safety of vulnerable road users. We were also working on Crossrail projects ensuring that our vehicles were complaint with their standards and all our drivers attended the mandatory Crossrail Lorry Drivers Induction courses.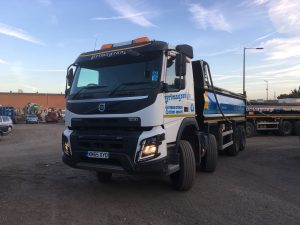 Once we were Bronze accredited we started working toward Silver and are now in our third year as Silver accredited. We have also taken advantage of the many benefits and training offered by FORS to ensure that our organisation works efficiently and more importantly in a safe environment.
Once we were Bronze we really made the most of the benefits on offer, in particular implementing a new driver training programme using the FORS eLearning and classroom based training modules.
Brendan Connolly – Director & Transport Manager 'We are committed to ongoing driver training to protect all vulnerable road users.'
Through FORS we have focused on all aspects of our business to improve our operation, from eLearning to the Safe Urban Driving modules improving driver awareness on the challenges of heavily congested road network to reducing our carbon footprint on the environment.
Chris Marshal – Assistant Transport Manager 'Safety if our first priority at all times closely followed by environmental issue.'
After gaining the Bronze accreditation we worked hard to achieve the Silver and Gold accreditations as we wanted to demonstrate to our customers and the general public of our commitments to road safety and to reducing our effect on the environment.
Performance data – We have seen vast improvements in fuel economy increased by 20% with incidents reduced by 38% and PCN's reduced by 30%.
| | | | |
| --- | --- | --- | --- |
| | MPG | Incidents per 100,000 Kms | Number of PCNs |
| Jan-Dec 2015 | 4,48 | 21 | 26 |
| Jan-Dec 2016 | 5.87 | 13 | 18 |
| Percentage improvement | 20% | 38% | 30% |
*Annual improvement in MPG and Incidents per 100,000 Kms
Driver health and fitness review – Prior to employment any driver attending an interview must sign a health declaration confirming they are medically fit to drive HGV's and then at least once every year a new health declaration must be signed. The drivers are actively encouraged to attend their healthcare professional regularly and to inform management of any issues that may affect their ability to drive including stress/anxiety, fatigue, sleeplessness or other problems.
Strategy for recruiting drivers – We have signed up with Forces Recruitment who specialise in providing ex-members of the armed forces. We currently employ an ex-member of the Royal Logistics Core as a driver.
Noise assessment – All our drivers have been briefed on our noise assessment policy to ensure that noise pollution is kept to an absolute minimum, this includes driving technique, unnecessary engine idling and avoiding noise sensitive areas by route planning. Our depot is based in an industrial complex and only used for parking the vehicles. Loading and unloading activities are only carried out at the construction sites we service and at various recycling centres or landfill sites.
Modal shift and alternative vehicles – With regards to modal shift we always try to minimise the empty running of our vehicles by transporting aggregates and removing waste from the same construction site where practicable. If this is not possible we will make deliveries/collections to different construction sites in close proximity to each other. We have contacted our vehicle provider with a view to replacing our lorries alternatively-fuelled or powered vehicles as and when they become available for our type of operation.
Our plans for the future are to grow the company, liaise with our vehicle suppliers to keep us informed of developments within the sector for alternatively powered/fuelled lorries, monitor fuel performance, actively encourage driver fitness & health and continue to use the resources and tools offered by FORS to make continual improvements to the business.
Retaining our Gold accreditation demonstrates our commitment to road safety, the safety of vulnerable road users, reducing our carbon footprint, promoting ourselves as an environmentally friendly organisation and to continually improve our business.
Please note: All published FORS Gold case studies have been submitted by the accredited company named above and transcribed verbatim.