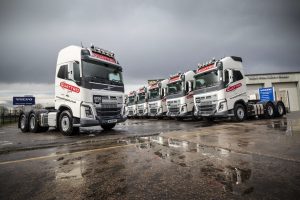 Section 1 – Introduction
Quattro Plant Ltd is an infrastructure specialist, based in Stratford London, providing professionally operated equipment and services to the rail, road and construction industries across the country, 24-7. The company was established in 1989 by John Murphy, who started with a single sweeper operated out of East London. The company grew and quickly gained a foothold within the environmental plant hire sector. Further expansion into the rail industry in 1992, lead to undertaking work with LUL Ruislip. The partnership strengthened further leading to the provision of rail vehicles. Within two years Quattro became one of the main plant suppliers within the sector, providing equipment to both LUL and Network Rail. In 2008, further expansion saw Quattro opening eight new depots across the UK resulting in the company becoming the second largest supplier of Road Rail Vehicles in the country. Recent growth saw the acquisition of AB2000, increasing Quattro's fleet to over 900 and expansion into Europe in 2018, with an operating centre in the Netherlands. Quattro Plant provides a reliable nationwide solution for plant requirements, to a variety of sectors including rail, construction and transport. Our Stratford depot operates 5 Volvo tractor units and 2 specialist Scania Hiabs.
John Murphy – Managing Director, explains how Quattro Plant Ltd has achieved increased performance, an improved safety culture, reductions in collisions, fuel usage and improvements to the company's environmental impact, through FORS.
Section 2 – Following a contractual requirement whilst tendering for work in 2012, we examined the requirements and benefits of joining FORS. As an ISO certified company, we have always focussed on quality standards and immediately saw that accreditation fitted perfectly with our ethos of improving safety, whilst complementing our drive to improve fuel efficiency and reduce our environmental impact. 
Section 3 – In 2012, Quattro Plant Ltd successfully completed our Bronze audit at the first attempt and identified improvements both during the audit preparation process, and the period following this, through access to FORS tools and training. Since achieving Bronze accreditation, in addition to the FORS performance management practices and e-learning modules, we have benefitted through pre-qualification in requests for tender, most recently with companies such as HS2, where FORS membership is a prerequisite within contracts for all suppliers.
Section 4 – Having successfully completed our Bronze accreditation, the desire and commitment to progress to FORS Silver was a natural evolutionary decision for Quattro Plant Ltd. We welcomed its introduction as a standard for us to benchmark the growth of our safe systems of work. We also took advantage of e-learning modules for staff, thereby enabling drivers to update their knowledge and working practices. These key benefits brought about immediate improvements in our operation, through more reliable checking of driving licences and training modules. Our fleet is formed of the latest versions of fully FORS Gold compliant vehicles available, and we believe that the standard is now fully embedded within the company, with the next step being attaining and extoling the virtues of the Gold standard.
'FORS is at the forefront of safety initiatives and continues to drive improvements within the industry'  Kevin Mc Glinchey – Transport Manager.
Section 6 – The improved safety culture within our company, combined with additional Vulnerable Road User safety equipment fitted to the vehicles, has led to a clear reduction in incidents. A decrease of 85% is impressive, even more so after factoring in an increase of mileage of 46% over the comparative period.
MPG

CO2 Output

(Tonnes)

Collisions

January 2019-

June 2019

Artic: 5.35

Rigid: 9.1

219
14

August 2019-

August 2020

Artic: 5.74

Rigid : 9.5

521
2
Percentage improvement

Artic: 7.2%

Rigid: 4.4%

-1.2%
85%
Following FORS guidance on incident reporting and post incident action, we have updated our procedure to include items such as, mandatory post blameworthy-collision eyesight testing and improved driver retraining for the individual and the rest of our staff, in order to reduce the likelihood of incidents being repeated. The company has undertaken a complete upgrade programme over the last two years, thus ensuring that every vehicle operated by Quattro Plant Ltd is fuel efficient [Euro VI] and therefore ULEZ compliant. All vehicles purchased have engine-idling stop start devices as standard and it is company policy to only purchase vehicles fitted with automatic or semi-automatic gearboxes, thereby further improving fuel efficiency. Additionally, our low-loaders have had specialist ramps fitted thereby enabling them to fold flat during transit. This reduces drag and helps improve fuel efficiency. Despite newer, more efficient vehicles and additional driver awareness, the nature of our business is the supply and delivery of heavy rail plant, which necessitates the use of PTO to operate lorry cranes. However, by utilising the best in-class vehicles and the most efficient cranes, we are determined to reduce our impact on the environment.
Driver health and fitness – In order to minimise the risk of incidents as a result of underlying health problems or diagnosis of conditions, we have introduced the following initiatives: communicating to drivers the benefits of the healthy diet as well as general exercising. All drivers complete a comprehensive medical declaration on an annual basis. Any medical condition that may affect their ability to drive must be reported to the company immediately: this is reinforced within the Drivers' Handbook and includes the requirement to report the use of any over the counter medicines. We have installed a fully furnished gym at the Stratford operating centre, which is accessible at all times – all drivers are encouraged to use the facilities. Additionally, we have installed a cycle-rack at our operating centre and have two members of staff who regularly cycle to work. We reinforce driver awareness of the repercussions to their continued appointment, should they encounter any preventable condition through a lack of out of work physical activity. This will be driven home through toolbox talks.
Recruitment of drivers – Quattro Plant Ltd predominately make use of their web-site to advertise vacancies. In addition, we use Facebook and Twitter. Our staff retention level is extremely high and as a consequence, driver turnover is exceptionally low. However, where staff wish to progress within the company, it is actively encouraged. Sam Christie from our Scotland depot, who started out as a receptionist was keen to progress within the company. He was encouraged and has recently passed his Transport Managers' Certificate of Professional Competence and is now the assistant transport manager. This creates a positive atmosphere and generates a sense of belonging and loyalty, with an added bonus of aiding staff retention. We encourage applications from young inexperienced drivers, safe in the knowledge that our induction and training regime, will ensure their introduction into the industry will be as seamless as possible. However, it has not been necessary to seek new drivers for a considerable amount of time. When the time comes, we plan to actively seek the recruitment of ex-military candidates and assist their transition back into the workplace.
Noise assessment – The company's Health and Safety advisor, Robert Smith BSc hons. FIIRSM, CMIOSH documented a report in July 2019, which undertook an assessment of noise exposure levels at Quattro Plant Ltd.'s operating centre in Stratford, London. It includes recommendations of actions to be carried out to ensure that Quattro Plant Ltd.'s staff comply with the requirements of 'The Control of Noise at Work Regulations 2005'. A review was carried out in June 2020. During the assessment, key operational areas of the operating centre were evaluated including: the main entrance gate; rear entrance; parking area; workshop area and a tractor unit at idle. We work to the Noise Reduction Code of Conduct which is comprehensive in the reduction of noise and being a good neighbour. Additionally, we have signed up to Noise Reduction Good Neighbour practice and as such we have a duty to minimise the noise as far as is possible, particularly during unsociable hours. We have fitted acoustic matting to the inside of the bank, which surrounds our yard. This absorbs and thereby assists in a reduction in noise created by our activities. We also issued a briefing note to staff in July 2020, re-enforcing our message in relation to noise reduction. Engine idling is monitored in an effort to reduce unnecessary noise, with the added benefits of reducing fuel consumption. We also arrange routes for mobile plant, so the amount of reversing required is minimised, thereby reducing the frequency of reverse warning bleepers being used. Where possible, we preload the plant and equipment during daylight hours. Equipment is replaced, serviced and maintained to the highest of standards, thus ensuring safe, efficient and quieter operation and assisting towards a noise reduction target of 25 percent, set by the rail industry.
Modal shift and alternative vehicles – Quattro Plant Ltd are committed to exploring the benefits of Modal shift and alternative vehicles however, due to the nature of our business, it has proved difficult. We deliver bespoke pieces of heavy plant and equipment, to sites which are more often than not, exceedingly difficult to access. Presently, Modal shift is not conducive with the majority of our operations and is as a consequence, not presently viable. However, the company will continue to reassess its viability.
Presently, there is no alternatively fuelled vehicles available in the market-place, which would replace like-for-like, the current fleet. However, we are watching developments within the industry to see where it may be heading. The current biggest hurdle is that the unit cost of alternative vehicles is far greater than its diesel alternative, with a significantly reduced payload. Additionally, we await to see greater improvements in the whole alternative fuels national infrastructure, which may benefit the industry. In the interim, we have purchased a fleet which are as fuel efficient and environmentally friendly as is currently possible [all Euro IV compliant].
Section 7 – The company has undertaken a complete upgrade programme over the last two years, thus ensuring every vehicle operated by Quattro Plant Ltd is Euro VI and thereby compliant with the London LEZ and ULEZ zones.
'We have created a bespoke training facility – The Quattro Occupational Training Academy [QOTA] providing the most effective training programmes, tailored to the requirements of organisations and contractors from a state-of-the-art training facility. '- John Murphy – Managing Director
It is our intention to add our additional operating centres to the FORS scheme, with an ultimate goal of Quattro Group attaining FORS Gold accreditation.
We are about to initiate a complete refurbishment programme with our low-loaders which we hope to complete throughout the forthcoming twenty-four months. This will ensure efficient, reliable delivery of plant for the rail industry.
'FORS has provided an excellent platform for development and growth within our company and continues to offer innovative training and performance management tools'  John Murphy – Managing Director.
Section 8 – As a FORS member aspiring to the Gold standard, we expect any future relevant contractors involved in our supply chain, to also be part of the scheme. As part of this, we have reviewed our future contractors' requirements, and will require all contractors wishing to work with us to complete a questionnaire, a registration form and agree with our terms and conditions stating that all subcontractors must hold valid FORS accreditation, relevant to the contract they are required to undertake.
All of our vehicles promote the scheme by displaying the current FORS logo stickers on front, rear and sides of the bodywork. Additionally, our website and stationery clearly display the FORS logo thereby promoting the scheme.
Section 9 – Quattro Plant Ltd is committed to focusing on the needs of the rail industry and in particular the improvement of construction transport safety and standards in regard to work related road risk. As such, being a Gold accredited member would illustrate that we are viewed as having attained a high standing within our industry and amongst our peers, and that we are leading from the front, in the campaign to reduce road and site risk. We have always embraced change and in summary, we are seeing the benefits of ongoing progressive training, enabling us to reach the necessary FORS standards of performance. For the future, we aim to continue to ensure our ongoing development as a company, continuing to reflect the values which underpin the high standards which the FORS scheme represents. Our goal is to continually evolve, with the aim of reducing risk to an absolute minimum.
Section 10 – (Optional) Please provide your social media contact details so we can follow your organisation
https://www.facebook.com/QuattroPlantLtd/
https://twitter.com/Quattro_Plant
 Section 11 – FORS members' feedback questionnaire
Questionnaire completed.
*Please note: All published FORS Gold case studies have been submitted by the accredited company named above and transcribed verbatim