R Swain & Sons Ltd based in Rochester were founded in 1918. Through five generations of Swains they have built a company which constantly seeks to provide the best possible service for general haulage, warehousing, pallet distribution, bespoke contract management and specialist abnormal loads.
 Matt Wheeler, Contract Manager explains how Swains have reduced accidents through FORS.
The FORS scheme has provided invaluable assistance in formulating our VARSG (Vehicle Accident Reduction Steering Group) initiative that we started back in 2010.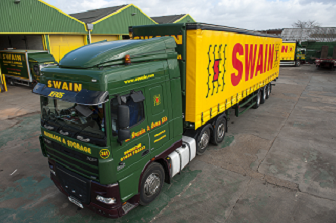 The objectives of VARSG are:
to reduce the number of vehicle accidents;
to reduce the severity and hence cost of accidents; to reduce the risks to our own staff and members of the public (particularly Vulnerable Road Users);
to try and improve the image of road haulage in general.
 "The FORS Practioner Workshops highlighted where improvements needed to be made"
Matt attended the FORS practitioner's workshops, SUD training and used the FORS helpline. He found that the perspectives gained added significantly to our VARSG process. The combined initiatives implemented within the Swain Group were:
A presentation to all drivers explaining the need to reduce accidents, the actions planned and inviting their participation and comment. A second presentation is in the process of being delivered;
A change in wage structure to encourage a more honest approach to the reporting of vehicle accidents;
A detailed training scheme for drivers who have 2 or more at fault accidents;
A campaign to fit 3 or 4 camera systems to include a recording device to all new vehicle and problem driver vehicles. This developed into a campaign to equip every vehicle as quickly as possible so that by December 2014 every Swain Group vehicle will be camera equipped, which was achieved successfully;
A detailed interview with the driver to include any camera evidence to understand the cause of the accident;
A softening of but more consistent approach regarding the disciplinary action that would be considered;
A scheme implemented to provide free eyesight tests and basic pair of glasses for all staff;
A detailed training scheme for drivers who have 2 or more fault accidents.
The fitting of Class VI mirrors across the fleet;
Any new driver induction extended from 1 to 2 days to cover all the VARSG initiatives.
"Using FORS recommendations our accident rate has reduced 33% and is still falling"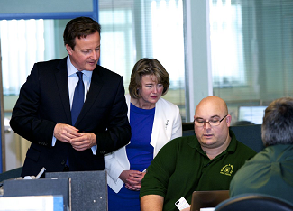 The Swain Group passed their initial Bronze Assessment first time in 2012 with Silver following in 2013 and Gold in 2015. Given the VARSG initiatives the progression was natural. The FORS award provided national recognition of all our hard work providing our customers, industry and the general public with instant information regarding the level of professionalism we aim to provide.
The number of accidents that our vehicles were involved in 2010/11 was at an average of just under 2 accidents (both internal and external) per vehicle per annum. We are now recording 1.31 a 33% reduction. With completion of the Gold FORS standard and ongoing further initiatives we are expecting this to fall further.
| | | |
| --- | --- | --- |
|   | Vehicle Accident Frequency | Percentage Improvement from previous insurance year |
| Year 2010 / 2011 | 196% | – |
| Year 2011 / 2012 | 176% | 10% |
| Year 2012 / 2013 | 170% | 3% |
| Year 2013 / 2014 | 161% | 5% |
| Year 2014 / 2015 | 141% | 12% |
| Year 2015 / 2016 | 131% | 9% |
| Overall % Improvement from base year | 33% | – |
Please note: All published FORS Gold case studies have been submitted by the accredited company named above and transcribed verbatim