Section 1 – Introduction
Rejuvo JPCS are market leading specialist in hand-applied micro asphalt based in Malpas, Cheshire and are providing exceptional carriageway and footway surfacing solutions that are as hardworking and reliable as we are. Nia Green explains how Rejuvo JPCS has achieved significant improvements through FORS. FORS has greatly improved our vehicle safety standard by introducing the side cameras and cycle safety alerts to our HGV's. The drivers are now more aware of their surroundings and the safety of vulnerable road users and the mandatory annual training required has improved the awareness of vehicle safety, driver behaviour and our impact on environment, as well as various safety aspects such as in cab technology, load security and this also encourages debate and expectations within our business.
Section 2 – How did you hear about FORS, what prompted the company to join and how long have you been a member?
We came across FORS through our clients Skanska and Ringway in 2016. We realised it would make our fleet and people safer and help us to achieve best practice and benefit us by the structured guidance, training and up to date industry standards. It also helps to keep up to date with the latest safety requirements and helped us recognise that FORS would play a significant part in our company carbon neutral goals and in turn what we could do to reduce our CO2 and NoX emissions in the largest emission area of our business.
Section 3 – What was your experience of the initial FORS Bronze audit?
Rejuvo JPCS passed their initial audit first time round with a few minors to note, the FORS auditor helped us to realise that FORS was a journey in which we would improve everyday best practice in our fleet management. It showed us where we could improve our compliance and systems from here we were encouraged to invest in an automated licence checking system and an online vehicle maintenance system that helps us to manage vehicle safety and compliance.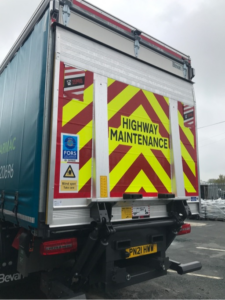 Section 4 – What was your main reason(s) for you progressing (either from Bronze to Silver and then Silver to Gold or straight from Bronze to Gold)?
Once we were Bronze we decided that we should progress to Silver because we could see the benefit of monitoring the drivers behaviour in particular how it was impacting our emissions output, which then has helped to lead us on a Carbon Net Zero journey. We had learnt already that we needed to embed FORS and its training over a number of years to ensure it became part of everyday life.
Once accredited, we really made the most of the benefits on offer, in particular the FORS online e- Learning modules that we can do as a group during are annual training and also the FORS Practitioner workshops which gave everyone in the team the option to obtain more information in simple modules that are broken down in to 10 different courses. It has made obtaining information easier and not overwhelming. Also, with the courses being online last year, it made them a whole lot more accessible which meant more of our staff could join online.
Section 6 – What improvements have you made?
We as a business recognise that FORS provides an excellent framework for best practice in keeping our drivers, vehicles, and other road users safe.
We have implemented a more robust vehicle maintenance system and now save all compliance paperwork online in addition to the paper files We have also moved from using an excel spreadsheet to check and log licence checks and now use an automated online licence checker which now sends up updates and automates all our licence checks.
Our drivers now receive a TBT once a month with a communication plan in place highlighting different subjects to reinforce their annual training and giving them greater opportunities to provide feedback on how to further improve our policies, procedures, and the safety of the vehicles.
It is the consistent communication that is sent out with every month that is helping us to really reinforce FORS culture within our business, and our drivers who are working hard all over England. Through our journey with FORS Bronze to Silver we are also monitoring driving behaviour better and have come to recognise and become more aware of the impact that CO2 and NOX are having on our planet and working towards becoming a Carbon Net Zero company.
 These shall include:
Performance data – Use data provided for FORS requirements S2 and G2. See example below for table (data can be presented in different table format if you prefer)
| | | | | | | | |
| --- | --- | --- | --- | --- | --- | --- | --- |
| | MPG | Incidents per 100,000 Kms | CO2 | NOx | PM10 | Number of PCNs | Proportion of fleet that uses alternative fuels |
| Year 2018 | 0 | 0 | 0 | 0 | 0 | 0 | 0% |
| Year 2019 | 5.11 | 0 | 3.27 | 3.56 | 3.11 | 19 | 0% |
| Year 2020 | 6.42 | 0 | 2.70 | 2.89 | 2.25 | 11 | 0% |
| Percentage improvement | 7.9% | 0% | 12.1% | 12.3% | 13.8% | 17% | 0% |
Driver health and fitness review – All our drivers must complete an annual health and Safety review and are asked to disclose any changes in health or fitness throughout the year. The company also has a health and wellbeing policy, which highlights the importance of staying active and promoting a healthy lifestyle with exercise. In addition to this, our drivers participated in a health and fitness review by an external company in 2020 to help identify any underlying health conditions, this was planned for 2021 but COVID-19 disrupted this, and we are hooping to conduct these reviews again in January 2022
Recruitment of drivers – All drivers are encouraged to take their HGV test and when recruiting. When recruitment is required, the company has a robust policy and procedure in place that demonstrates equal opportunities, a thorough induction process and right to work.
Noise assessment – The company carries out their own in-house noise assessment using FORS recommended applications.
Modal shift and alternative vehicles – Rejuvo JPCS will always consider alternative fuels and ULEZ type vehicles, with annual reviews carried out by the Directors. We have worked with our telematics provider to ascertain which of our colleagues can use electric vans and how electric vehicles can become the main stay of our fleet.
 Section 7 – What are your plans for the future?
Rejuvo JPCS intends to continually improve the safety of our vehicles ensuring they are well maintained, and older vehicles are replaced with newer vehicles with the latest Euro standard engines to minimise our fuel consumption and emissions. We are on a journey to replace our existing van fleet to EV and have undertaken a project with Masternaut, our telematics company.
Section 8 – What evidence do you have of positively promoting FORS at requirement G7?
We have positively promoted FORS through social media posts, through our inductions and presentations to schools and clients, in addition to adding a desirable requirement for our supply chain to be FORS accredited and the FORS Silver sticker is on all our vehicles and on our website.
Section 9 –What FORS Gold accredition means for your organisation/to you?
FORS Gold is a company objective for us all to achieve and as a business it would reinforce our commitment to the continual improvement of our vehicles, driver training and importance of vehicle and road safety.
Section 10 – (Optional) Please provide your social media contact details so we can follow your organisation
Section 11 – FORS members' feedback questionnaire
Please could you take the time to complete a short questionnaire and provide feedback about FORS. Please note all answers you provide will be strictly confidential and will only be used by FORS to help us to improve the scheme. To access the survey, please click the link here: https://www.snapsurveys.com/wh/s.asp?k=153908006313