Established in 2013 RKB Haulage Ltd provide support services in building and demolition sector. We offer reliable waste removal and on time deliveries of sand, aggregates, gravel and ballast. We have many hundreds of satisfied customers. Based in Greenhithe, Kent RKB is a responsible, professional, well established family run company with many years of experience in the Waste Management Industry. We operate a modern fleet and provide a first class grab hire service in Essex, Kent and London. Khushbu Basi, Director, explains how RKB Haulage Ltd have achieved large reductions in fuel use through FORS.
We came across FORS when tendering for work across London. When we looked at the requirements and benefits of joining the scheme we saw that they fitted in perfectly with our ethos of improving safety whilst complementing our drive to improve fuel efficiency and reduce our environmental impact.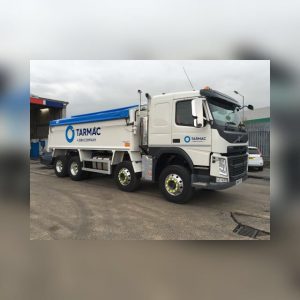 We take compliance and safety very seriously so we achieved our Bronze and Silver Accreditation first time. FORS did help us by providing training and tools that improved the policies and procedures.
We found that the performance management toolkit really helped us set our targets for reducing our carbon footprint and Penalty charge notices while improving our MPG. FORS has helped us improve our filing systems and procedures.
"Some of our staff were sceptical in the early days but they are now totally convinced that FORS is the way forward, as a company we are all totally committed to upholding the standards laid out by FORS"
 FORS has been a key element in our safety program over the last few years and we are constantly aiming to improve this by investing in new vehicles fitted with the latest safety equipment. Driver and management safety awareness training is also of the utmost importance.
'Driver safety awareness training is of the utmost importance'
 We have increased our MPG by 11% over the past 12 months by making sure our driver selects the best possible route to our sites and reduced our Idling across the Fleet: 
 

 

MPG
Incidents per 100,000 Kms
Jan-Dec 2014
11.8
0
Jan-Dec 2015
12.2
0
Percentage improvement
3.28%
0%
Annual improvement in MPG and Incidents per 100,000 Kms
 Gaining FORS Gold Accreditation will demonstrate how dedicated we are as a company to improving road safety and the safety of all vulnerable road users in London as well as nationally. We will continuously use what FORS has taught us to help reduce our carbon footprint and make the roads so safer for everyone that uses them. We have also managed to make a significant saving by reducing our fuel usage and improving our MPG.