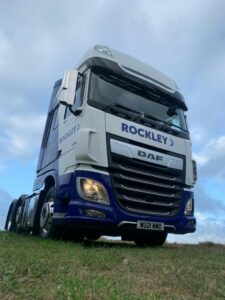 Section 1 – Introduction
Rockley Transport Limited was established in August 2020 after the merger up two long standing companies within the industry. Fermac Ltd was purchased in June 2018 and Agribulk Ltd was purchased in February 2019. Both businesses have over 30 years' experience between them and the knowledge within the Commercial, Agricultural, and Industrial bulk tipping sector, Rockley Transport Limited are strongly placed to meet all Bulk tipping requirements.
Reliability is the cornerstone of our business. On completion of the merger the two businesses offered a mix of manufacturers within the fleet. These makes being chosen specifically for their proven reliability and the backup we receive across the tipping industry. We also have a fleet of primarily Fruehauf bulk tipping trailers which again is for their proven record as one of the best in the marketplace due to build quality, lightweight and excellent backup when things go wrong which helps keep us moving and our customers happy. Whilst we are completely satisfied with the performance of our tipping trailers, we have moved forward with trials of drive belt trailers, which should help eliminate the need for raising the tipping body at height.
We employ professional fully trained LGV1 bulk tipper drivers with a state-of-the-art fleet including electric sheets, GPS technology and on-board weighing systems.
All our vehicles are fitted with 4-way cameras to assist with accident prevention and assist with road traffic investigations and meet with Euro 6 regulations.
Since 2018 we have started to deploy a fuel tanker fleet for the distribution of fuel to Commercial, industrial, agricultural, and residential sectors.
All tanker vehicles meet with euro 6 emissions regulations and are fitted with 4-way cameras.
All tanker drivers have vocational licences and have further training to obtain a petroleum driver passport.
Section 2 – How did you hear about FORS, what prompted the company to join and how long have you been a member?
During our 35 years of history, it has been our ethos to continuously improve with compliance and carbon reduction, this has culminated in the purchase of new model units that have improved MPG efficiency and the trail of alternative fuels vehicles.
Whilst being a member of FORS the classroom and online training has assisted with effective and efficient driving, whilst complimenting the driver's portfolio of safe working practices.
Section 3 – What was your experience of the initial FORS Bronze audit?
Having merged the two companies, we are in the process of bringing one of previous businesses up to the Gold Standard from Bronze. Having had experience of both Bronze and Gold Audits, this has been invaluable when accessing the needs of the merged business.
Section 4 – What was your main reason(s) for you progressing (either from Bronze to Silver and then Silver to Gold or straight from Bronze to Gold)?
Whilst working towards Gold Standard across the merged business, we have been preparing in advance to ensure that we have the correct personnel overseeing the training, fleet equipment and the paperwork trail. Having two FORS practitioners within the business has equipped the business to take this major step to Gold.
The training and developed of the drivers and staff across the business has been key to assisting with this major step to gold.
Investing and providing development for all our staff, has assisted with breeding loyalty and a professional culture within our business. FORS has been the catalyst for Rockley Transport to make the commitment to training and development of our staff, said Stuart Morgan managing director or Rockley Transport.
When merger the two businesses, it was imperative that we had people solely focused on compliance, welfare, and safety of our drivers. We have recently set up an operations department within our business.
This ensures that drivers are inducted correctly, they are made aware of expectations when it comes to training and behaviour.
This also maintains the service and roadworthiness of our vehicles and assist drivers with their safety and welfare.
Craig Harrison group operations manager said, with the newly formed operations department we can concentrate on obtaining efficiencies and best practice. Our experience with FORS has given us access to some industry lead best in class documents and learning.
Driver recruitment is publicised as difficult; however, we have taken strides to continuously employ regardless of vacancies within the business. This allows us to train drivers on a refresher and inductive basis whilst servicing our customer base.
Working with FORS E learning is a simple effective way to show staff that you are investing in them and their development.
Drivers are regularly asked to complete a health and fitness questionnaire, along with Regular sight tests. Another simple way of expressing our concern and care for the welfare of our workforce.
We have recently restructured our driver training within the business, having appointed over 10 regional driver trainers. This has allowed all drivers to receive any amount of one the job training from experienced and trained drivers. These Regional Driver trainers can also assist with Legislative, voluntary, and compulsory sector training which has benefited the business.
Finally, once introducing so many new functions within the business, it was imperative that we measured the effectiveness of them. Therefore, introduction of some key performance indicators has been introduced. This measures the effectiveness of our compliance within our operator licence standing and the measurement of incidents and accidents per number of deliveries and miles travelled.
Section 6 – What improvements have you made?
Performance data – While we have always invested in safety, it was not until we became involved in FORS that we fully appreciated how much impact on costs could be made by looking at ways to improve our mile per gallon. Therefore, all our drivers undergo at least one days in-cab safe and efficient driver training every six months now, which is already paying dividends in a significant improvement in average miles per gallon figures across the fleet. We are fortunate in that collision incidents are low and we do not have issues with penalty charge notices as we do not collect or deliver in urban environments.
Nonetheless, the introduction of an independent qualified collision champion has helped both management and drivers in understanding why incidents occur and how they can be avoided.
| | | | | | | | |
| --- | --- | --- | --- | --- | --- | --- | --- |
| | MPG | Incidents per 100,000 Kms | CO2 | NOx | PM10 | Number of PCNs | Proportion of fleet that uses alternative fuels |
| Year 2018 | 6.92 | 7.43 | 513373.58 | 13034.54 | 237.86 | 2 | 0% |
| Year 2019 | 7.22 | 9.8 | 499835.61 | 12682.62 | 231.43 | 3 | 0% |
| Year 2020 | 6.58 | 4.3 | 553345.65 | 14049.42 | 256.38 | 0 | 0% |
| Percentage improvement | – 4.91% | -42.13% | 7.79% | 7.79% | 7.79% | -100% | 0% |
Strategy for recruiting drivers – A detailed recruitment plan is in place and we actively encourage applications from all and we intend to involve ourselves in visits to local educational facilities in the very near future.
Noise assessment – Our FORS Practitioner attended the very first presentation of Workshop 10 – Managing noise in logistics – in Croydon, which resulted in all our planners undergoing refresher training on the importance of considering the environment when planning vehicle journey's.
Modal shift and alternative vehicles – Despite the difficulties in transferring the movements we carry out to alternatives to diesel vehicles, we invest a great deal of time and effort into investigating all types of vehicle available and we involve ourselves in the Freight in the City initiative, as well as trialling an electric vehicle for our office staff to use.  
Section 7 – What are your plans for the future?
All our vehicles now meet Euro 6 specification and we have implemented further safety improvements on our vehicles.
Automatic Handbrake engagement, if door is opened and handbrake is not applied it will automatically be applied. This stops vehicles rolling away.
We have started to trail alternative fuels, this is in the form of LNG, HVO & certain additives that reduce CO2 emissions. To date all have proven to improve emissions but in some areas performance of the vehicle has not been proven.
Currently we are in discussion with several manufacturers around the introduction of Hydrogen powered HGV's. This is ongoing and we have great hopes for this power source.
On merger the businesses we have found that we reduced our fleet by over 5% but have maintained the level of tonnes moved within the tipping and the litres delivered within our tanker fleet.
Section 8 – What evidence do you have of positively promoting FORS at requirement G7?
FORS Gold has now become the platform for our business to strive for better standards, encourage continuous improvement, and advertise our willingness to outperform year on year.
Section 9 –What FORS Gold accreditation means for your organisation/to you?
Retaining FORS Gold is the barometer for that achievement when it comes to training, welfare and compliance of our business and working towards Gold assists in strategic moves and planning.
Section 10 – (Optional) Please provide your social media contact details so we can follow your organisation
Website: www.rockleytransport.co.uk
Section 11 – FORS members' feedback questionnaire
Please could you take the time to complete a short questionnaire and provide feedback about FORS. Please note all answers you provide will be strictly confidential and will only be used by FORS to help us to improve the scheme. To access the survey, please click the link here: https://www.snapsurveys.com/wh/s.asp?k=153908006313