Ryder is a leading independent provider of commercial vehicle rental solutions. Ryder reputation is built on service; Ryder success is built on trust. Ryder has the widest choice of transport equipment in the UK and a national service network. I am Richard Tempest, I am based at the Ryder Stonehouse location and I am the Driver Development and Compliance Manager for Ryder.
'We came across FORS as a contractual condition request from one of our customers that was a major supplier to the Olympic construction project and now is a major supplier to Cross Rail, we realised it would benefit us by complementing Ryder Best Practice processes and policies .'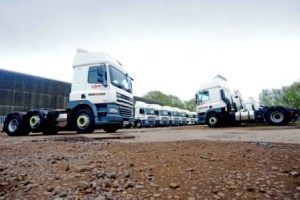 Ryder passed the Bronze assessment first time and quickly decided that we did not want to just stop at bronze. By using FORS benchmarking and Ryder vehicle telematics with fuel monitoring Ryder began to monitoring the driving style of our fleet concentrating on SAFED techniques and excessive idling of vehicles.
After achieving Bronze we decided to apply for Silver accreditation by making best use of the benefits on offer through FORS. Ryder in house CPC training now includes modules on vulnerable road users, urban driving and defensive driving along with vehicle collision prevent-ability not blameworthiness being the Ryder culture. The target is to reduce our collisions per million miles driven to 1.3 over the coming 12 months.
Ryder have seen benefits The FORS workshops and special events have assisted the company in developing and improving strategies to reduce collisions and fuel consumption and to share best practice in reducing the risk to vulnerable road users by developing toolbox talks. One of the many benefits of FORS is the training service it provides. All of our DDS drivers have completed the Safe Urban Driving course which has given them real insight into the risks faced by vulnerable road users. Ryder are also putting drivers through the E-Learning training available on the FORS-online website. As well as training our drivers on how to minimise risks while driving, we have also invested on new safety equipment for our vehicles to ensure they are as safe as possible while on the public road. All our new vehicles come fitted with, Class IV, V and VI mirrors along with Fresnel lenses, side guards, close proximity sensors, audible warning device, multi-point cameras and blind spot warning signs.
By implementing a SAFED Balanced Scorecard for our individual operations and by delivering one to one in cab SAFED training to all our drivers we have seen an improvement on overall fleet MPG and also a decrease in collisions per million miles travelled. Also we expect a reduction in fleet maintenance as the SAFED training is rolled out.
SAFED is now the common standard adopted by all drivers at Ryder
| | | |
| --- | --- | --- |
|   | MPG | Incidents per 1,000,000 miles |
| Jan-Dec 2014 | 10.29 | 1.6 |
| Jan-Dec 2015 | 11.34 | 1.4 |
Annual improvement in MPG and Incidents per 1,000,000 miles
 Moving forward Ryder estimate that in 2016 we aim make fuel savings equivalent to around £14,000 through the use of telematics and an estimated saving of £10,000 a year through SAFED training in accident repair costs.