Demonstrating our commitment to increased safety for vulnerable road users, drivers and vehicles, with a determination to act in an environmentally responsible manner.
We are a small family run business established in 1989.  We started with one lorry delivering asphalt.  Over the years, we have grown and now have two Scania 32 tonne tippers and one 18 tonne tipper working out of Aggregate Industries in Colnbrook, Berkshire and two 18 tonne tippers subcontracted to Tarmac in Radlett, Hertfordshire.
We have worked on major Government road building projects including road building and expansion of: M25 motorway,  M1 motorway, Heathrow Airport terminal 5 surrounding roads. As contractually required by Tarmac, we achieved bronze accreditation, at our first attempt, in May 2013.  We immediately saw the benefits in progressing to silver accreditation which we achieved in August 2016.
Safety has always been key for us and we have procedures in place to check driver compliance.  We embrace new technology which is demonstrated by fitting Tachograph GPS tracking devices to all our vehicles which monitors drivers' hours and breaks.  We receive weekly downloaded reports from an independent 3rd party who provide management information for us to analyse.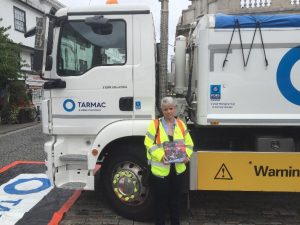 Being FORS compliant has become part of the fabric of our daily operation. Through training, our drivers and management are more aware of vehicle and driver safety, vulnerable road users and fuel efficiency.
All our drivers have regular training and attend weekly toolbox talk meetings where we discuss all aspects of safety compliance, infringements and fuel efficiency.  One of the drivers, Gurbinder Singh, was spotted by a regional director of a logistic company driving on the M25 and was mentioned in the A I haulage news magazine for his professionalism as a driver.  This is directly attributable to the training he has received.  All our drivers have clean licences which are regularly checked.  Enhanced driver training has meant that we have not had any incidents, PCNs or fines for over 3 years which, is a testament to the professionalism of our workforce.
The company Operator has attended a 'Staying Legal' training course and the General Manager is currently undergoing FORS practitioner workshops.  In September 2016, our management team attended a safety event for protecting cyclists as vulnerable road users.
Protecting the environment is one of our prime concerns so all our vehicles are Euro 6 and are governed to 54mph which reduces CO2 emissions and aids fuel efficiency.  The safety equipment fitted to our vehicles provide our drivers with extra visibility and a less stressful driving experience.  The equipment includes 360 degree cameras with in-cab monitors that reduce blind spots and aid visibility when reversing and manoeuvering.  Our vehicles are also fitted with side scan detection with audible warnings, side impact guards and lane departure warning system.
| | | |
| --- | --- | --- |
| | MPG | Incidents per 100,000 Kms |
| Jan – Dec 2014 | 7.13 | 0 |
| Jan – Dec 2015 | 7.07 | 0 |
| Percentage Improvement | -0.8% | 0 |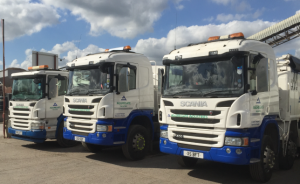 FORS has helped us considerably with putting some additional policies and procedures in place. We now have an active fuel and CO2 emissions monitoring system.  Drivers are more aware of their fuel usage.  Next year we should show considerable MPG improvements.
Having FORS accreditation is of the utmost importance to us as it demonstrates our ongoing commitment to road workplace safety through driver and management training and our continued responsibility to the environment.
Gaining FORS Gold would be a great achievement and motivation making us a company proud to be part of this industry.
 Please note: All published FORS Gold case studies have been submitted by the accredited company named above and transcribed verbatim