S Scott Transport is a sub-contractor to Tarmac and Aggregate Industries delivering asphalt in the south-east region of the country. Steve Scott, Operator and his wife, Amanda Scott, the FORS practitioner explains how FORS has helped to make improvements in the running of their business with lower fuel consumption, lower emissions and costs, ensuring cycle safety and vulnerable road user awareness.
Amanda explained, we originally came across FORS, as a sub-contractor working for Tarmac in May 2013. As part of contractual obligation we were obliged to achieve bronze FORS accreditation. Working through the adit, we realised that we already had many of the requirements needed by FORS in place. FORS helped us to organise and successfully document a comprehensive process which set a benchmark for improving safety and costs.
S Scott transport passed the bronze audit first time round. Steve said that this encouraged us to go for silver and then progress to gold. Our employees were right behind us and were motivated to achieve the next step.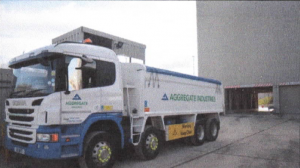 Amanda Scott said,"Once we achieved our first accreditation we made full use of the tools offered by FORS." Amanda completed all the FORS workshops to become a dedicated FORS practitioner. Amanda implemented additional health and safety toolbox talks, a training programme for employee's e-learning, introduced telematics to help with the overall operational costs, embarked on a programme of continuous improvement recruiting a fuel champion and a supervisor to assist with safe and efficient fleet management. Amanda and Steve subscribe to a number of professional publications and Steve attends regular meetings with the companies the business works with to continually improve the operation of business keeping up to date with new practices and continually reviewing and introducing new equipment to ensure that they meet and exceed safety requirements. Steve Scott, Operational Manager and owner said, "it is important that we meet high professional standards in our driving and awareness of road safety, at all times."
S Scott Transport has seen some real improvements since implementing the FORS workshops e-learning. Management has completed all modules on e-learning with drivers having completed all the modules set for them during this year, with some exceeding this requirement. The key benefits have been that the drivers have improved their knowledge and are more aware of driving safely, post accident procedure, operational costs and environmental impact. Davinder Singh, driver, said, " I didn't realise that switching the engine off while stuck in traffic would save on emissions".
It was a natural progression for S Scott Transport to work towards silver and then on to gold. S Scott Transport pride themselves on their professionalism, excellent safety record and care for the environment.
MPG                                       Incidents per                             Number of PCNs

100,000 Kms

Jan-Dec 2015
7.07
Nil
Nil
Jan-Dec 2016
7.09
Nil
Nil
Percentage improvement
-0.8
Nil
Nil
*Annual improvement in MPG and Incidents per 100,000 Kms
All drivers complete a medical questionnaire and a Fitness for Work declaration before they drive with the company for the first time. The Declaration must be renewed and signed annually. Drivers must report any changes in their medical conditions but we require them to complete and sign a new questionnaire every five years to coincide with their medical in compliance with DVLA requirements.
Currently we advertise vacant positions locally through local papers and the local Job Future recruitment of new drivers will be managed by Tarmac through their Driver Academy Scheme.
We have a "White Noise" surround sound reversing system. Operating sites are regularly monitored for noise pollution by the companies to which we are sub­
All bulk aggregates are carried by train and ships. We are contracted by Tarmac to carry out "last mile deliveries" to our customers.
During the next year, our new vehicle will include an additional 'in cab' camera to monitor driver performance, a nearside 'Vision Window', an electronic handbrake that automatically turns on when the driver door is opened and a weigh loader to further improve safety and reduce damage to road surfaces.
We saw the benefits in achieving FORS silver and gold which gave them the tools to enable them to achieve knowledgeable employees, with an awareness of the safety of vulnerable road users and the environmental impact of driving large vehicles. Steve said that he is more confident in his drivers' knowledge and abilities since working with FORS. We would like to continue improving our safety records and environmental impact embracing any changes that will help us to achieve these aims.
Email: sscotttransport(aqmail.com
Web: sscotttransport.co.uk
Please note: All published FORS Gold case studies have been submitted by the accredited company named above and transcribed verbatim