S Walsh & Sons Ltd have been based in Essex for over 30 years our core business is the supply of tipper wagons to all the major companies' construction sites around London and surrounding areas. We also have 3 recycling sites around the area to wash and recycle the material's removed from construction sites. We have moved progressively forward over these years and invested heavily into river barges and vessel's to remove the spoil from various sites within London by river. We have formed London Construction Link a storage and distribution facility in Tilbury Essex.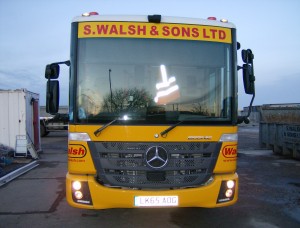 We have been a member of FORS since 2010 when we realised that the way forward for our business would benefit from joining the FORS scheme. We could see that most of our future contractual terms would require FORS accreditation.
When we joined FORS we were audited by the Metropolitan Police Auditor who made some recommendations, these were completed within a few week and we achieved Bronze Standard in February 2010.
We progressed to Silver in May 15 and Gold in June 15. As one of the Transport Managers I have sat on the same courses as the drivers. Our drivers have attended numerous training with FORS including SUDS and Crossrail training over the years. We have seen the FORS scheme being run nationally and have seen this as the way forward. We have licence checks performed on a quarterly basis and since the abolition of the paper counter part of the licence all new drivers must allow S Walsh to do a DVLA check with the new driver present at their interview.
'Ground Breaking Innovation from S Walsh'

S Walsh has now moved its Transport base to Rainham this means shorter distance travelled, less fuel, less emission's and less congestion when travelling to customer sites, also by using our river transport network we can achieve fewer HGV trips to customer sites.
The latest TfL static's show more than 5 million tonnes of freight were transported on the Thames year 2013 / 2014  that's 62% more than the year before with our London Construction Link and our river boats we can achieve  over ¼ Million less HGV trips on London's road's.
Since we joined FORS in 2010 we are constantly evolving and have embraced the cycle safety culture championed by FORS, Crossrail and CLOCS.
Since joining FORS all our vehicle have been fitted with CPSE equipment and all new vehicles fitted as standard. All new vehicle are now fitted with the new Vision Windows fitted in the passage doors. All vehicles are fitted with recordable cameras with the near side camera going to full screen when turning left.
We have invested in the new Mercedes Econic which gives the driver 90% more vision while driving.
'Fuel Savings'
| | | |
| --- | --- | --- |
| | Fuel Used Litres | Co2 Outputs Tonnes |
| 2013 – 2014 | 1,383,436 | 3,663 |
| 2014 – 2015 | 1,092,201 | 2,892 |
| 2015 -2016 | 1,351,110 |  3,434 |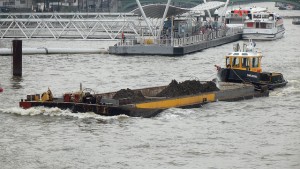 This information has been entered on to the FORS Performance management tool and summited with our FORS silver re application.
Being a FORS Gold has helped us understand the value of moving  forward and embracing forward thinking and innovation. I personally would like to see a FORS platinum accreditation. We are now  building new offices at Rainham this will house a training room to allow drivers and staff to engage in E Training and one to one training.