Secured Mail delivers over 500 million mail items every year for businesses, retailers and organisations of all shapes and sizes. We are one of the largest e-commerce, postal and retail logistics businesses in the UK with a distinctly tailored approach to our services. My name is Scott Austin; my role within the organisation is Quality & Compliance Manager within the UK.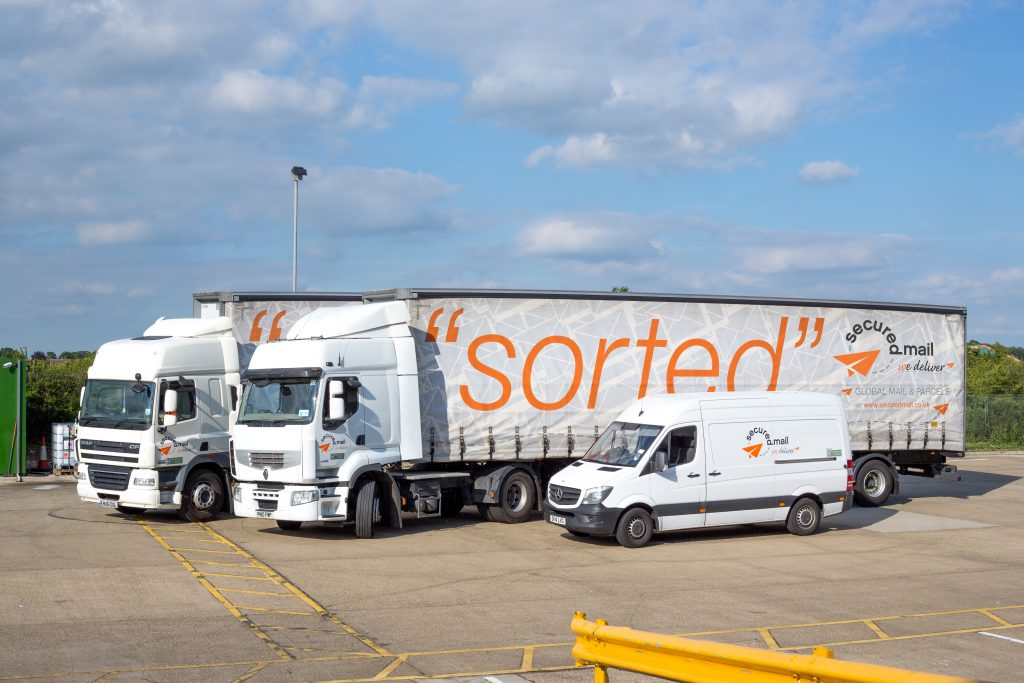 Our Senior Management Team decided 3 years ago to make a positive statement within the mail and logistics industry. Safety of all road users no matter how large or small their dependency on the road network, we wanted to work to reduce incidents and at the same time promote safety for all. We have achieved this, in no small measure due to the tools that FORS have provided to the industry and Secured Express. Our road traffic incidents have reduced year on year by 13% – with further to go! Vehicle cameras, turning sensors, vehicle mirrors, route planning systems, driver training, management reviews and team forums are all key tools in achieving this constantly evolving culture of improvement.
Initially FORS was a target, a standard that the business wanted to achieve. Whilst FORS was still young within the industry it had already obtained a formidable following.  Gradually this 'standard' started to grow within the business and take a firm root within its development and culture, it allowed the business to understand the potential within its supply chain and really use this in a pragmatic; advancing and structured system.
The FORS Standard is a well presented composite. Secured Express decided to set out a new challenge for ourselves. We decided to take apart our current systems and breakdown each element in accordance with the FORS Bronze standard.  By working methodically through each area we were able to setup milestones. Once these milestones had been achieved we linked them back to our own systems and processes – thus FORS became a living part of our organisation and not simply just an award or standard there to be waved as a flag.
On the day of the audit we passed first time, the Team had all worked extremely hard and for us, Secured Express, it was a very proud day. However, this was but one day and we had the hunger to develop and take the motivation and commitment onwards.
Once accredited as a Bronze operator we almost instinctively moved on without looking at the Silver criteria. The monitoring of our CO2, fitting of cameras, driver assessors, fleet car driver & LGV driver training, CLOCS implementation and regular performance reviews became almost second nature.
Scott Austin, Quality & Compliance Manager, said "Our organisation has developed, it is growing in strength, and will become stronger with each passing day due to the idea and reality that is – FORS."
The engagement of our Driving Team has allowed us to experience a tangible improvement.  Pride has always been a big part of our teams, the systematic approach that we have taken with FORS has kept up pace with the key people in our business – our drivers.
We monitor our daily/weekly/monthly km's/miles, we also monitor individual driving styles and individual routes taken. This has enabled us to constructively work with our people to improve driver efficiencies on a daily/weekly basis. This has been welcomed by the Team and has seen a marked reduction in idle time, harsh steering/braking, MPG and inevitably a 13% reduction in road traffic incidents whilst growing the fleet by over 25%!
In addition to the above we have also been able to provide quality training to our drivers that not only prevents incidents but also encourages empathy and understanding to other road users.
Warren Symonds, General Manager, said, "The FORS standard has helped us become more strategic, more focused. Our approach has always been 'safety first' — but working with FORS to achieve Gold has taken us to a new level."
Achieving FORS Gold would be satisfying indeed. All of our hard working teams have put so much time and effort into making this happen during the past 3 years. However, once we have Gold the hard work starts!
Please note: All published FORS Gold case studies have been submitted by the accredited company named above and transcribed verbatim