Seth Punchard Storage & Distribution is a family run business based in Wirksworth, Derbyshire and supplies transport solutions to the general haulage industry.  Our fleet is made up of flatbed vehicles including, rigid, articulated and HIAB vehicles of various sizes.
Sarah Punchard, [Partner], has been the FORS practitioner at Seth Punchard Storage & Distribution since joining the scheme in January 2014.  Her role is varied and covers many different aspects of the business including managing the accounts and payroll departments and the business development to ensure FORS compliance and progression.   As a business we are evolving the fleet and constantly monitoring and amending company policies to maintain the expectations that FORS requires.  The FORS performance management tool kits have been invaluable in helping monitor CO2 emissions, NOx and Particulate Matter emissions and the fuel consumption of vehicles.  We expect to see fuel consumption improvements as we analyse the data and update the fleet and improve driver practices.
How did you hear about F ORS and what prompted the company to join?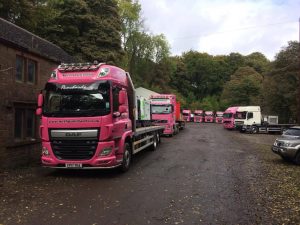 We became aware of FORS when local hauliers began enrolling and we soon realised that becoming a member would help us not only win future contracts but also demonstrate our desire to achieve and maintain the highest standards in the haulage industry.
What was your experience of the initial FORS Bronze audit?
We passed our first Bronze audit in March 2014, this confirmed that we were demonstrating best practice and compliance, however, we were encouraged to commit ourselves to improving standards further by increasing fleet efficiency, safety and minimising our environmental impact.
What were your next steps as an accredited FORS company?
Once we attained FORS Bronze we really made the most of the benefits on offer, in particular the online Performance management tool and the practitioner workshops.  The performance management tool has been invaluable in helping us monitor fuel usage and improve fuel efficiency.  The practitioner workshops have expanded our knowledge of what is expected of Silver and Gold membership and provided guidance on how to implement and maintain the FORS standard.
'Before becoming a FORS Bronze accredited company we had very few documented company policies and procedures.  FORS has encouraged us to improve our business by inspiring us to develop and implement policies that benefit not only our business, but our drivers and our customers too'  – Sarah Punchard (Partner)
Focus on a key improvement that the company have seen from FORS
Since attending the FORS practitioner workshops we have changed some of our policies and procedures.  This has improved the everyday running of the business, which now seems to be more structured and better organised.
'The content of the FORS workshops are very relevant and informative.  An extra benefit of these days are that they provide a safe environment to share ideas and experiences.  One always leaves with some good action points to help improve the business.' – Glyn Parsons (Business Development Consultant)
What was your main reason for progressing from Bronze to Silver and Silver to Gold?
We joined FORS to demonstrate our commitment to best practice, whilst also improving safety and reducing our environmental impact.  Membership has encouraged us to develop all aspects of our business and this added enthusiasm has inspired us to gain FORS silver and progress to Gold accreditation.
Quantify your improvements
| | | |
| --- | --- | --- |
| | MPG | Number of PCNs |
| May-Dec 2016 | 17.72 | 0 |
| May – April 2017 | 26.21 | 0 |
| Percentage improvement | 47% | 0% |
Driver health and fitness is very important to us and we perform regular eye sight checks at 6 monthly intervals. We are working towards introducing a more in-depth health check in the future, which would be carried out by a qualified professional.
In an effort to recruit we have employed young inexperienced drivers and financed their driver training. As a small family business we see driver training as a paramount objective in spite of the financial challenges that we encounter.
The House of Commons Transport Committee reported that 'The age of vehicles may have an impact on driver recruitment and retention'. In light of this evidence we have started to update our aging fleet with newer more efficient models.
Noise assessment will become more problematic in the future. At present we have audible warning equipment that may be switched off during unsociable hours and also encourage 'anti idling' by requesting that drivers turn off their engines whenever practicably possible.
Modal shift and alternative vehicles is something to consider in the future. We are a relatively small family business and moving part or all of our consignment is not financially or practically possible due to the nature of our work. However, this will be constantly reviewed as technology evolves and becomes more affordable.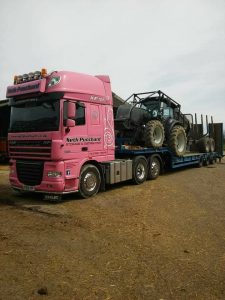 What are your plans for the future?
In order to implement fleet improvements, we will replace our fleet with newer, more efficient Euro VI vehicles.  We will also consider revising driver fitness and health checks, by gaining more frequent driver health declarations and questionnaires.  This will help us to run a more efficient fleet, increase driver retention and also improve the quality of life for our drivers and all those who are affected by the road transport industry.
What does becoming Gold accredited mean for your company/to you?
Becoming a FORS Gold Accredited member would be a massive achievement on both a personal and professional level.  We are a small family run business, competing against much larger companies that have staff dedicated solely to FORS development and progression.  We are very proud of our achievement's to date and hope that our commitment to improve, demonstrates that we are amongst the best road haulage providers in the country.
Facebook        Seth Punchard Storage & Distribution
Website           www.sethpunchard.co.uk
LinkedIn          Sarah Punchard
Please note: All published FORS Gold case studies have been submitted by the accredited company named above and transcribed verbatim