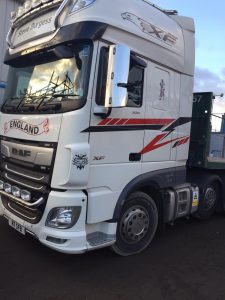 SFB Transport was established in 2009 by owner operator Steven Burgess who has been involved in the road haulage industry for over 40 years. SFB Transport are involved with the construction industry moving various loads from bricks to crane sections and specialised equipment. Steven explains how continued membership of FORS, and in particular having gained Silver accreditation, and subsequently Gold, has ensured the high standards expected within the industry are maintained
I first heard about FORS over 10 years ago through working over Heathrow airport airside. At that stage operators were all gaining bronze accreditation to match the required criteria set by BAA and various other contractors working at Heathrow and this gave me the challenge and impetus to work towards accreditation myself.
I passed my first bronze audit in August 2014 first time around. The auditor was helpful and offered sound advice to further improve how I run and manage my transport operation.
I remained at bronze level until February 2018 where it was becoming increasingly important to move up to silver accreditation to meet the criteria on the contracts I was working on.
As an accredited business I quickly made use of the training on offer and attended a Safe Urban Driving course which improved my knowledge and awareness of vulnerable road users. I have since progressed with FORS e-learning and attended a FORS lo-city webinar course which has given me useful tips for fuel efficient driving and minimising environmental impact. The training combined with the vehicle safety equipment required to meet the silver level accreditation has helped make my business a safer and more efficient operation. Gold accreditation for the past 3 years has consolidated this knowledge and helped to gain prestige within the industry.
"FORS training combined with the high standards set helps make a transport business a safer and more efficient operation" Steven Burgess – owner operator.  
Our mpg, incident rates and PCN rates have all continued to improve as indicated in the table below which compares performance for 2019/2020 to 2020/2021 including no PCNs or incidents in wither period, the latter period affected by the impact of the COVID-19 pandemic with no work carried out in April/May 2020;
| | | | |
| --- | --- | --- | --- |
| | MPG | Incidents | Number of PCNs |
| August 2019 – August 2020 (1 vehicle in fleet) | 12.91 | 0 | 0 |
| March 2020 – March 2021 (1 vehicle in fleet) | 14.04 | 0 | 0 |
| Percentage improvement | 8% | – | – |
As I am an owner operator, I take care of my health with regular health checks with my GP, healthy eating and regular exercise. I do not employ any full or part time drivers.
As an owner operator I am the sole operator of my vehicle. I have no plans to employ drivers until such time as I retire and I will then search for the suitable candidate to take over as a driver of my vehicle.
I make a conscious effort to plan the safest routes in and out of the sites I deliver/load. I also work with my customers to plan deliveries for daytime hours to minimise disruption to the local community in the area. I also monitor noise levels at the operating centre on a yearly basis.
As most of my work is specialised and direct to construction sites it is impossible to transfer any loads to alternative modes of transport, however occasionally I collect groupage loads that can be transferred with other loads onto larger double deck trailers to long distance destinations thus reducing movements.
Thinking ahead, although I am planning to retire in the not-too-distant future, being a member of the FORS brand, and at Gold level since 2018, has helped to sustain my interest in the industry and I would not hesitate in recommending the Scheme to operators I know through my day-to-day experience. As a self-employed owner driver my supply chain is limited and I don't sub-contract to other operators for any FORS work I do. I think it must speak highly of the Scheme that most of the contractors I know are already accredited members!
In summary, I believe I have been well placed to embrace the standards and opportunities that FORS has continued to present me with, and endeavour to maintain until I finally decide to retire. Going forward I will be keeping my eyes and ears open to the opportunities presented by being a FORS Gold accredited member, especially as the country emerges from the COVID related restrictions which have been prevalent over the past 12 months.
*Please note: All published FORS Gold case studies have been submitted by the accredited company named above and transcribed verbatim