Based in Sheffield our business offers specialist group-age services to the metals and engineering sectors along with palletised distribution through our Palletline member network.
Laurence Abel Managing Director of Shepherds identified that the FORS standards complimented a range of processes which already existed within the day to day operation at Shepherds; pivotal matters such as promoting safe working practices, legal compliance and a corporate social responsibility to improve the safety of road freight operations.
This 'joined up approach' is something we are extremely passionate about.
As a specialist operator based in the heart of the steel industry of Sheffield; some of our customer base manufacture product for use in the construction industry. We carry out deliveries into London and became aware of FORS in 2011. We saw FORS as an opportunity to showcase our high levels of safe working practices; whilst also adopting best practice initiatives which FORS were also promoting.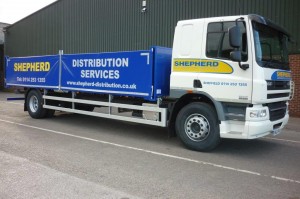 We became FORS bronze approved back in 2012 and passed the assessment first time around. The audit was very thorough and focused on safety; legal compliance; efficiency; performance and working practices.
As an accredited FORS company we compiled literature for our customer base; we included FORS on the company website and briefed our work colleagues of the accreditation.
We embedded the FORS standards into our own in-house policy documents; for example vulnerable road user awareness and safe urban driving are now an integral part of our driver training programs.
Over the last 3 years we have invested heavily in safety equipment for our extensive fleet of vehicles.
"FORS focuses the mind on trend analysis and targeting improvements"
Further developments have been made to our sophisticated transport management systems to help enhance performance monitoring and control. During the early part of 2014 we applied for FORS silver certification and we gained approval in April 2014.
"We have enhanced our driver training packages to adopt ''FORS initiatives"
Performance improvements are evident and there is greater emphasis on root cause analysis and corrective actions. The table below demonstrates improvements in two key areas.
| | | |
| --- | --- | --- |
| | Vehicle damage % (No of incidents into vehicle days) | Drivers attended SUD/Crossrail courses |
| Jan-Dec 2012 | 0.68% | 9% of driver pool attended |
| Jan – Dec 2013 | 0.53% | 28% of driver pool attended |
| Jan – Dec 2014 | 0.49% |  35% of driver pool attended |
| Improvement |  YOY down from 0.68% to 0.49% | 26% improvement since 2012 |
Managing Director Laurence Abel (pictured left) believes FORS has given Shepherds

recognition for their efforts towards improving fleet safety; driver development and environmental awareness.
We encourage the fact that FORS acts as a back stop to take the pulse of the business with its vigorous audit practices. Moving to Gold accreditation will further endorse this.