Sidhu Haulage is a well-known sub-contractor that specializes in the transportation of aggregates materials for Tarmac (Aggregates and asphalt suppliers).
Gurmit Sidhu appointed director of the company in 2011, explains how FORS has been beneficial to Sidhu Haulage. Since having introduced the FORS standard, the day-to-day operations have significantly improved.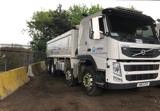 We came across FORS when tendering for work in London. We viewed all the benefits FORS had to offer and immediately began to implement procedures to improve fuel efficiency and improve road safety for all our drivers and vehicles.
FORS was very helpful in providing fundamental training and tools to achieve both accreditations first time. We are extremely pleased to be working towards the Gold accreditation.
The improvements that have been made since achieving bronze and silver have been noticeable. Having implemented new procedures, it has enabled us to measure fuel usage and provide drivers with the appropriate knowledge to help preserve our vehicles and improve road safety.
The performance management toolkit provided by FORS is faultless and has been important to our business. FORS procedures have allowed us to achieve targets of improving vehicle MPG and reducing carbon emissions. We have also installed proximity sensors, cameras and side guards to help prevent collisions and improve driver visibility. This has been extremely helpful in identifying nearby cyclists and keeping both drivers and cyclists safe.
'We are pleased to be working towards the Gold accreditation. The FORS accreditation is highly recognized and going for Gold will allows us to continue with current business and gain new contracts.' – Gurmit Sidhu
The training and knowledge we have gained from FORS has further improved our awareness and the importance of being compliant with the FORS standards. For us to continue the transportation of aggregate materials and keep our existing contract with Tarmac, the FORS accreditation has become compulsory.
'We have increased our quarter KMPL by 0.7% thanks to FORS.'
| | | |
| --- | --- | --- |
| | KMPL | Fuel Usage (litres) |
| Nov 2016 – Jan 2017 | 2.81 | 29941.93 |
| Feb – Apr 2017 | 2.83 | 30011.2 |
| Percentage improvement | 0.7% | 0.23% |
Quarter improvement in KMPL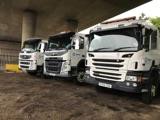 Going for the Gold will be a huge achievement for Sidhu Haulage. The toolkit provided by FORS has been extremely important for our business to make improvements. The installation of cameras, side guards and proximity sensors has helped us to reduce vehicle damages and improve our driver confidence and awareness when sharing the road with cyclists.
Please note: All published FORS Gold case studies have been submitted by the accredited company named above and transcribed verbatim