One near miss was enough
Sheffield Insulations is part of the SIG Group of companies who supply Wall products, Insulation products and various Construction accessories to the UK and European Construction Industry. Ian Gray, Logistics Manager for the West London Branch based in Ruislip, is responsible for a 62,000 sq ft warehouse and distribution operation. Our vehicle fleet at Ruislip consists of 21 vehicles ranging from 3.5t transit vans through to a 40t articulated vehicle the majority of our fleet have rear mounted Fork Lift Trucks (FLT's) which provide an onsite service to our customer.
The title of my case study is the reason why we became members of the FORS scheme. (One Near Miss was Enough) Back in the early days of the FORS scheme I received a call from Ian Brooks who was a serving police officer in Commercial Vehicle Education Unit of the Metropolitan Police, Ian informed me that he had just had an a near miss with one of my vehicles whilst riding his bike close to the branch. Ian asked if he could come in and speak to me with regard to the incident, with the seriousness of the incident and the fact that Ian was a serving police officer, I thought it would be in our best interest to invite him in and have chat.
The chat turned out to be the beginning of our relationship with FORS a relationship that has helped our business through accreditation, help develop our drivers and our driver training program. From a commercial point of view the FORS has helped us reduce our accident cost and made our fleet more fuel efficient, our drivers have become more aware of their responsibilities towards Venerable Road Users and the consequences of their actions. The FORS scheme has also helped our business commercially as members of FORS we meet the criteria for tendering for projects such as Crossrail were FORS membership is a specification.
Initially we failed our first FORS bronze assessment, mainly due to our lack of knowledge on what to expect as we had never been audited externally on our transport procedures. I am happy to say we passed second time around.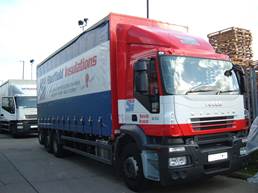 After we obtained bronze status we began work on achieving silver status through inputting our vehicle data onto the benchmarking system. Benchmarking gave us a line in the sand that we could use to take our delivery operation forward. The benchmarking helped us review poor performance and develop training plans and strategies that would provide continuous improvement in our fleet.
This information has helped us reduce accidents, fuel cost and PCN's costs but probably more importantly has helped identify the training requirements of our drivers. I am glad to say that we achieved Silver status and recently that Silver status was renewed through to 2014 as a result of the continuous improvement that we as a company have maintained.
Being members of the FORS scheme and attending the workshop program has helped us look at our business internally. Allowing us to review our policies and procedures, by benchmarking our day to day transport operations we have identified weaknesses in not only our driver training and development programs, but
"We now have the tools in place to identify our driver training needs, adding to the drivers professional status."
procedures for dealing with accidents, or even how our how customers perceive us as a supplier. I suppose the biggest success we have achieved by being members of FORS was it was not the end of the journey but only the beginning of the journey that SIG are taking to make our employee more professional in their chosen careers.
The figures below speak for themselves, year on year improvement in two of the most important areas of any transport operation. Accidents whilst there is a cost involved can often be more harmful to your reputation as business and how you are seen in the eye of the public. Reducing and dealing with accidents through driver training and driver awareness of their actions must be a priority for any business.
"From a commercial point view FORS has helped reduce fuel and accident costs, as well giving us additional status when tendering for new business."
As fuel costs continue rise any reductions in fuel costs can only be of benefit to your business reduced fuel costs equals reduced emissions that is a benefit that helps everyone.
| | | |
| --- | --- | --- |
|   | MPG | Incidents per 100,000 Kms |
| Jan-Dec 2011 | 7.5 | 0.8 |
| Jan-Dec 2012 | 8.5 | 0.7 |
| Percentage improvement | 13% | 12.5% |
Achieving gold status would mean that all the hard work done by my team was recognised. It would also mean that our drivers are a credit to their profession and industry but as previously said it's not the end of the journey. The journey continues and we will endeavour to achieve higher standards in our transport operations