Our first year as a Gold accredited operator has nearly passed and as a small company we have changed over time from being nervous and daunted by the task of implementing FORS standard and requirements to looking forward to the next step. It is a challenge to maintain, add and implement the range of policy requirements that the scheme requires but with each year that we operate under FORS the whole structure of compliance becomes more integrated and connected.
Monitoring of our fuel usage and implementing strategies to reduce idling and wastage and increase fuel efficiency have also made us aware of the environmental impact of running older vehicles. Indeed it is becoming more commonplace for customers to stipulate euro 6 as standard and with the changes in the reporting structure which now includes NOx and PM statistics we have become acutely aware of the reduction in emissions that can be achieved by newer, cleaner engines.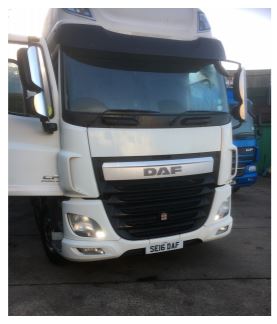 Our first encounter with FORS was in 2011 when we successfully gained bronze accreditation. Since then the changes not just to our operating procedures, reporting and planning but also to our outlook and attitude towards compliance have been marked. We strive to take on board improvements in the transport sector and value our commitment to safety, fuel economy and the environment. Our engagement with our own staff has greatly increased and we operate on an inclusive basis.
We have felt that an investment in new vehicles was a necessary part of our o ngoing development and our first new DAF which is shown here entered service for us at the end of June 2016. Not only does this offer us greater reliability and better fuel consumption as demonstrated by our fuel figures but has a greatly reduced environmental impact. As a Euro 6, the emissions are a fraction of our oldest vehicle and in considering DAF we took into account the noise impact of the power unit which is very low for the class. As an operator of just 5 vehicles we have on order 2 further DAF vehicles due to start with us in April and June 2017 both fitted with new hiab units. These will replace existing vehicles giving us two at Euro 5 and three Euro 6.
' engagement with our own staff has greatly increased and we operate on an inclusive basis '
Going forward we already have our new trucks on order and over the last year have made further improvements in fuel efficiency which are outlined in the table contained in this case study. This has been achieved partly by the introduction of one of our new vehicles but also with driver and driving improvements by way of new guidelines and procedures such as anti idling, reduced engine speed when pto is engaged and greater awareness of the base line figures which can now be demonstrated using analysis of vehicle telematics.
'Our involvement with FORS has made us aware of the benefits of operating within an enhanced compliance lead environment '
KPI improvement Year to Jan 16 to Jan 17
* Using like for like vehicles excluding 7.5 tonne

Having achieved Gold status a year ago we were able to offer this level of accreditation to our existing customers and attract new work on the basis of it. It would seem that more and more companies will require their contractors to be at or working towards the Gold level in order to comply with their own delivery and site requirements.
Involvement with FORS from initial enquiry to where we are now six years later, has given our company the opportunity to improve all round performance, made us of aware of the benefits of operating within an enhanced compliance lead environment and provided a template which fits and guides future growth and development.
Our aims for the next twelve months are to maintain and improve our operating structure in line with FORS, look for practical ways to reduce our environmental impact and offer additional supplementary training for our staff.
Please note: All published FORS Gold case studies have been submitted by the accredited company named above and transcribed verbatim