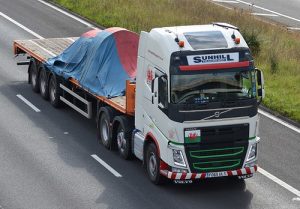 Sunhill Transport is a long-established general haulier based in Deeside, North Wales specialising in steel and bulk transport.
Peter Jones, Managing Director. We have benefited from significant improvements through our FORS journey from Bronze to Gold. We have seen a reduction in fuel use and CO2 emissions, lowered NOX emissions and improved our safety and PCN record.
FORS is now recognised across the transport industry as the "must have award" for safety and training. I wanted to be part of the initiative and I knew it would benefit us as several of our customers require FORS Silver or Gold accreditation. 
We passed our initial assessment first time with no minor marks. This said to us that we fully understood the FORS standard and the best practice it promotes.
From that point, we were inspired to move forward with both the Silver and Gold standards to give our customers the benefit of knowing they are partnered with an accredited transport provider.
Once we were accredited with the bronze standard, we set out to make the most of the benefits and tools we now had access too. We started using the performance management system and e-learning sections immediately coupled with the skills learnt on the FORS practitioner courses.
"Having the FORS accreditation, has given us the ability to compete with other larger businesses". 

– Peter Jones, Managing Director

 Our drivers' improved awareness and attitudes, have been one of the most rewarding aspects of being FORS  accredited'

– Peter Jones, Managing Director
| | | | | | | |
| --- | --- | --- | --- | --- | --- | --- |
| | MPG | Incidents year | CO2 | NOx | PM10 | Number of PCNs |
| Year 2019-2020 | 8.64 | 6 | 1696.6922 | 2224.0776 | 39.1559 | 7 |
| Year 2020-2021 | 8.80 | 5 | 1689.8096 | 2172.8887 | 38.2547 | 4 |
| Percentage improvement | 1.82 | 16 | 0.40 | 2 | 2 | 42 |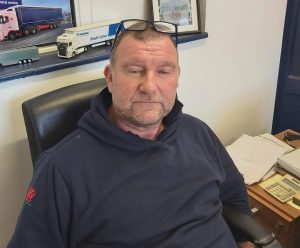 All drivers complete an in-depth health questionnaire prior to commencement of employment then annually. We activity engage with our drivers on their health through FORS tool box talks and driver CPC courses. As a business we have an Occupation Health policy and refer drivers with any health complaints.
Our company policy is to recruit and train drivers externally.  We also activity welcome drivers who have recently passed their LGV licence and spend time training them,  we feel that this has helped us as we have been able to spend time with the new drivers and train them in the way would expect them to conduct business on behalf of the Company, we believe that this strategy gives us an advantage in our area
The measures we have taken include:
Noise assessments,
Low profile, noise reducing tyres fitted to vehicles,
Fitted audible equipment on vehicles which can be turned off,
Specifying that any auxiliary equipment fitted to any new vehicles, is designed for noise reduction.
Drivers shall be expected too:
Turn off reversing alarms in any noise abatement / residential areas,
Not use their horn, unless to make others aware of their presence in emergencies,
Turn off radios / music while making deliveries,
Switch off engines while making deliveries.
Modal shift is not an option for us, and we are a road transport company specialising in steel and bulk haulage.
We have been approached by a few, to trail and electric vehicle. Unfortunately, at this time, there is no vehicles on the market which will allow us to cover the same distance and haul the same weight trailers. 
In order to make continual fleet improvements we will be only purchasing Euro VI vehicles, continue with our driver retention program, promote the FORS standard, grow or client base and invest further with driver & staff training. 
We have positively promoted FORS by displaying our certificate and logo on our emails and company letterheads.
FORS Gold accreditation proves to us that we are a company that promotes best practice as standard, invests in our staff and we achieve our goals.
*Please note: All published FORS Gold case studies have been submitted by the accredited company named above and transcribed verbatim