Tad Haulage are hauliers of readymix concrete using 32,000kg mixers.  We operate as a franchisee for Tarmac delivering to civil engineering and construction sites on their behalf, I operate out of the Tarmac batching plant at Knights Road, London, E16 2AT. I wish I could say my FORS journey bought about huge fuel savings, reduced parking fines and a reduction in incidents and collisions but as an owner driver / small business these things are an intrinsic part of my business, however, what I have gained  from FORS is knowledge and understanding of the ethos behind the FORS scheme and my responsibilities ethically, environmentally and safety to the communities around me.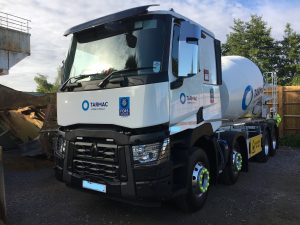 Working within the Civil Engineering and construction industry one is fully aware of the FORS and CLOCS schemes being a major factor in the individual projects logistics supply chain requirements and their responsibilities to the communities around them. By being FORS accredited it helps support and reinforce the construction industrys' commitment to safe and environmentally friendly projects to the communities around them.
Tad Haulage passed their initial audit first time round, like all small businesses we faced our initial audit with some trepidation we found the FORS auditor was professional and soon put me at ease guiding me through the audit process offering support and guidance throughout.
Having achieved Bronze accreditation, I have begun to use the benefits on offer, for example the FORS on-line eLearning modules and the driver CPC modules, it is my intention to complete all of the modules relevant to me and my operation in the near future. I have also found the FORS toolbox talks to be an invaluable source of knowledge in supporting and expanding my personal knowledge and that of my drivers.
"I have gained an understanding of the ethos behind the FORS scheme and my role in protecting the communities around me." – Tadese Mekonen, Owner.
FORS on-line eLearning, driver training courses and toolbox talks have been an invaluable benefit to myself in the provision of relevant and targeted training provision that otherwise would not necessarily been available to myself or others small businesses.
"I am looking to replace my older Euro V vehicle; will it be with the Mercedes-Benz Econic." – Tadese Mekonen, Owner.
My reason for FORS progression is one of contractual, as a Tarmac franchisee it is a requirement of Tarmac that all their contractors, suppliers and franchisees progress through the FORS accreditation levels to the GOLD standard.
As an owner driver it is hard to quantify the improvements or influence FORS has had on the performance of my business, as the benchmarks utilised by FORS are paramount in the operation of a small business such as mine.
| | | | |
| --- | --- | --- | --- |
| | KPL | Incidents per 100,000 Kms | Number of PCNs |
| Oct-Sept 2017 | 2.31 | 0 | 0 |
| April -March 2018 | 2.30 | 0 | 0 |
| Percentage improvement | .6% | 0 | 0 |
Modal shift and alternative vehicles – Being a Tarmac franchise holder gives me the added advantage of access to the Tarmac safety and environmental impact research and vehicle trials data, which helps me to make informed and strategic decisions when considering the purchase of new vehicles, ensuring I incorporate the most up to date environmentally and WRRR friendly vehicles. I am eagerly awaiting the results and recommendation from Tarmac's trial of the Mercedes-Benz Econic 26,000 concrete mixer and whether Mercedes -Benz or any other vehicle manufacturer can produce a model capable of carrying the same load as my current vehicle 32,000kg.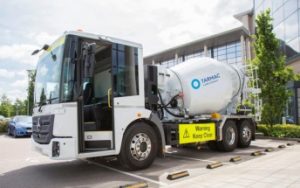 I already run a Euro VI rated vehicle and looking to replace my older Euro V model fitted with a four-camera system, side scan sensors and audible left turn alarm which exceeds the mandatory safety equipment required for FORS accreditation, so what next for Tad Haulage? Will it be the Mercedes-Benz Econic as pictured above or will the vehicle manufacturers produce an alternatively fuel powered vehicle capable of meeting the needs of my industry? Whatever the future holds I'm glad that I will benefit from the research and development capabilities of Tarmac to enable me to be at the cutting edge of my industrys' desire for a safer and environmentally sustainable future in my area of operation.
Becoming Gold accredited would demonstrate that as a small business I am committed to best practice within my industry, that I take my responsibilities to help achieve a safer and more environmentally friendly transport industry, willing to take vulnerable road users into consideration and reduce the impact to the neighbourhoods I operate in. Going forward I wish to continue contributing to the FORS ethos of a safe and responsible transport industry.