Tarmac is the UK's leading sustainable building materials group. Our innovative products, solutions and services not only deliver the infrastructure needed to grow the UK economy today but also enable a more sustainable built environment for the country's long term future. We operate a fleet of 480 vehicles, a combination of own fleet, Independent Contract Hauliers (ICH) and third party contract arrangements.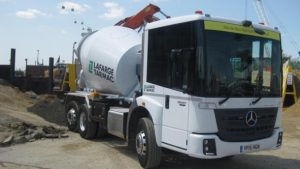 As part of our involvement as a Crossrail supplier we learned about FORS and recognised the benefits that it could bring as part of our drive to improve safety in relation to road risk. Our next step was to work with the FORS team to establish a sustainable and cost effective method to roll out the FORS accreditation process nationally across our entire business. Hence we became the first organisation to achieve Whole Fleet Accreditation. Following on from a successful trial with the Econic mixers we now have two trucks on fleet, purchased by contract hauliers and we have more on order for our Company Fleet in Euromix, due for delivery the end of 2016.
Safety is a key value of Tarmac and the company places the utmost emphasis on safety in every aspect of our business operations, including logistics.
There are an unacceptable number of accidents between construction HGVs and cyclists on UK roads with an urgent need to improve protection for vulnerable road users (VRUs).  This issue is hugely important to both us and the wider industry. We set ourselves the ongoing task of taking a leading role in delivering this change, building on close involvement with the development of Construction Logistics and Cycling Safety (CLOCS) working group. We believe that the real challenge, and most immediate opportunity to improve the safety of cyclists, lies in adapting existing fleets with cycle-safe technology and improving driver training.  Therefore as standard all new vehicles since 2012 have been fitted with VRU safety equipment including:
Side sensors to help eliminate blind spot issues with audible warnings for cyclists
Warning signage on the rear of the vehicles and on the side under run bars
Ongoing review of our minimum standards and new technologies on the market
All round camera systems are now fitted as standard on new trucks
Helping customers to understand risks
We are providing contractors and clients with an understanding of the steps that they need to take to ensure that their supply chain conforms to the cycle safety agenda. This has included a number of face to face meetings with the large national client companies in order to promote the standard not only for the benefit of Tarmac but also for the wider industry.
Improving standards across our supply chain
By gaining 'Whole Fleet Accreditation' and therefore approval to audit our fleet – including those of our contractor haulier supply chain – we are proactively driving forward a nationwide commitment to improve safety and environmental standards leading the way in this area. We are encouraging our drivers to move through the accreditation levels.
Changing behaviours through driver training
Progressive training is vitally important to changing driver behaviours. All of our drivers have completed a VRU training course to help them understand the road from a cyclist's perspective
Engaging the cycling community
We believe that reducing accidents on our roads will only be achieved by greater engagement and dialogue between the construction industry and vulnerable road user groups.  We are working with these groups, listening to their concerns and using their experiences to improve industry safety standards.
Engaging our competitors, Government and the wider construction industry
We have been lobbying in many different ways for a single standard to ensure that all are working to this good standard of training and equipment for all drivers. This has included;
The All Party Parliamentary Cycling Group
Working with our peers as part of the MPA and driving progress of FORS Whole Fleet Accreditation.
The wider construction industry through face to face meetings with our customers and the CBI.
Tarmac fully funds the supply and fitment of the required retrofit equipment to remove any financial barriers from our hauliers.
 Please note: All published FORS Gold case studies have been submitted by the accredited company named above and transcribed verbatim