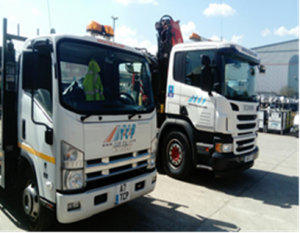 Taylor Construction Plant Ltd currently run 3 LGV's and 10 Vans from a purpose built complex of offices, workshop facilities and warehousing based in Maldon, Essex. Taylor Construction Plant Ltd has achieved significant improvements through FORS including reductions in fuel use, reduced CO2 emissions, lowered NOx and Particulate Matter emissions, improved its safety record and decreased transport related fines and charges.
Taylor Construction Plant Ltd have been supplying the UK with Construction equipment since 1989 and have a plant hire range which includes compaction equipment, battery powered wheelbarrows, battery powered plates and manufactures their own award winning Ecolite T mobile lighting units, which use 75% less fuel than standard lighting towers. Taylor Construction Plant Ltd have also developed a range of hydrogen fuel cell powered lighting and off grid power solutions.
'Michael Munn, Operations Manager – Good driving behaviour is the solution to less pollution, reducing emissions and increasing overall safety on the road'.
We have been aware of FORS for many years as an advisory body to operators working within the Capital; We realised it would help us to achieve best practice and benefit us by increasing our customer base and so our journey began towards achieving Bronze and later stepping up to Silver at Maldon Depot in 2015 and achieving Gold in 2018.
Taylor Construction Plant Ltd passed their initial audit second time round, this showed us that there were gaps within our management systems, as we never had a previous template to follow or any guidance. The auditor was thorough yet helpful and highlighted areas for improvement, from here we were encouraged do things in line with the FORS Standard, which we implemented and set systems in place, and we were accredited bronze.
Once we were Bronze we decided that we should progress to Silver and then Silver to Gold because it demonstrates how serious we are about safety, compliance and the environment in which we live and work, in particular reducing pollution and increasing overall road safety.
Once accredited, we really made the most of the benefits on offer, FORS Practitioner workshops and FORS Associates offers and discounts, etc. have helped us to improve our performance. Our modern fleet of vehicles are equipped with FORS Standard direct vision and audible warning systems as well as being fully Euro 6 compliant, as required by Crossrail, Tideway and HS2. Our drivers and staff receive training to the highest standard, which is communicated to our customer base who can be confident that Taylor Construction Plant Ltd is competent, safe and compliant. The fuel and emissions data we gather through FORS have also formed the basis of management reports for ISO14001 accreditation.
'Our drivers have all benefitted from FORS Training which includes Safe Urban Driving and Lo-City, giving them the tools necessary for a safer, greener and make them more aware of their working environment, as well as satisfying their individual development plans and CPC Requirements – Andrew Barker Managing Director'.

 'Our drivers and staff receive training of the highest standard Michael Munn Operations Manager'.
Across our fleet of mixed vehicle size and type we have seen an increase in average fuel efficiency and measures to improve driver performance through training and toolbox talks have led to a reduction in incidents and PCNs.
| | | | | | | | |
| --- | --- | --- | --- | --- | --- | --- | --- |
| | MPG | Incidents per 100,000 Kms | CO2 | NOx | PM10 | Number of PCNs | Proportion of fleet that uses alternative fuels |
| Jun18-Jun19 | 17.43 | 0 | 160.282 | 331.70 | 6.053 | 1 | 0% |
| Jun19-Jun20 | 16.23 | 0 | 162.196 | 335.66 | 6.125 | 5 | 0% |
| May20-May21 | 17.74 | 0 | 150.974 | 312.44 | 5.701 | 2 | 0% |
| Percentage improvement | 1.78% | 0% | 5.81% | 5.80% | 5.81% | 50% | 0% |
Driver health and fitness is constantly monitored, annual occupational health checks are carried out, with six monthly eyesight tests both in house and by qualified opticians, to minimise the risk of incidents because of underlying health problems or diagnosis of a condition.
We recruit locally advertising online, in local publications and agencies for suitable candidates. We have employed relatively new LGV drivers with limited experience which we as a company, have developed through quality training tailored to meet our operational needs. We also consider the use of specialist agencies for recruitment, especially candidates from the armed forces or to encourage younger drivers into the industry.
The Depot is situated on an industrial estate in Maldon Essex, we are surrounded on 3 sides by large industrial undertakings, and our vehicles are all Euro 6 compliant and have white noise reversing warning, which can be switched off for quiet operation. Our business predominantly operates 7.30am to 5pm, noise impact during loading, unloading and vehicle washing is minimal due to our proximity, while servicing is carried out by main dealerships.
We have considered the case for other transportation modes and alternative vehicles; unfortunately, Modal shift is cost prohibitive and does not lend itself in any way to our business which predominantly delivers plant to construction sites. We have one Mitsubishi Hybrid Vehicle on the fleet which runs on Electric and Petrol and as the technology develops it will be something we can possibly utilise more in the future.
To make continual fleet improvements we will consider introducing alternatively fuelled vehicles, as the technology and infrastructure develops, ensuring they are low entry/high visibility vehicles. We will be including additional operating centres in scope, as this will help our company to increase its profile and customer base.
We have positively promoted FORS with our accreditation number and status on our vehicles, website, and sales literature. We are in daily contact with our peers, suppliers, and customers who in turn insist that we ourselves are a minimum FORS Silver and promoting the FORS standard through the supply chain. 
Please follow the link below to view our awards and accreditation page.
https://www.tcp-group.co.uk/
Gold accreditation gives our existing and prospective customers the confidence that the service we offer is amongst the best in our field through the support, standards and training that FORS provides. We will continue to invest in our people with quality training available through FORS to ensure our workforce are equipped with the right tools to carry out their duties to the highest standard in a safe and competent manner.